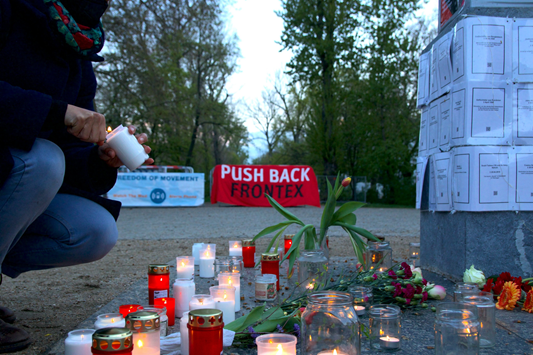 CommemorAction in Berlin. Source: A. Janda

Introduction
In the first half of 2021, the period that is covered in this analysis, the Alarm Phone supported 193 migrant boats in distress in the central Mediterranean Sea. These boats carried approximately 13,750 people on board. While many of them reached safety in Europe, not least due to the courageous intervention by civil rescuers, thousands were intercepted at sea and forcibly returned to Libya or Tunisia. Overall, as noted by the UNHCR, 20,532 people on the move reached Italy by sea – a substantial increase compared to 6,949 people in the same period in 2020. Only 244 people reached Malta via the sea, down from 1,699 sea arrivals in the same period the year before. At the same time, over 15,000 people were intercepted at sea and returned to Libya, a dramatic increase given that fewer than 12,000 people were returned in this way in the whole of 2020. Over the same period of time, about 8,000 people were returned to Tunisia.
It is, and will forever remain unclear how many people have died in the central Mediterranean Sea in the first six months of this year. While official accounts speak of about 760 deaths, the Alarm Phone has recorded 24 shipwrecks, with hundreds of fatalities. Several of these shipwrecks were not officially confirmed and thus the deaths are left out of formal statistics.
In this Alarm Phone analysis, we first provide a detailed month-by-month chronology in order to archive developments and events that are not thoroughly documented elsewhere. We then turn to the role of merchant vessels in conducting rescue operations but also illegal returns to Libya. Finally, we offer testimonies that we have received from people in Libya, who face the violent effects of EU border policies and enforcement practices.
Chronology January to June 2021
January
In January 2021, the Alarm Phone was called by people on 13 boats, carrying more than 900 people in total. One of these boats was rescued by the Open Arms, three by the Ocean Viking. One boat reached Lampedusa. We have the confirmation that five boats were intercepted and forced back to Libya. In one case, 17 people died in a shipwreck off Libya. For several boats, we have no confirmation about their fate.
The year began with the successful rescue of over 90 people by the Open Arms on 2 January. They disembarked in Porto Empedocle. As usual, Malta had refused to respond to distress calls and to provide a port of safety. In early January, several boats that called the Alarm Phone were intercepted by the so-called Libyan coastguard and one boat by the Algerian authorities.
On 9 January, we heard about a shipwreck off Sfax, Tunisia. 50 migrants were rescued by the Tunisian Navy, but one baby was found dead. Another shipwreck on 19th Jan. claimed the lives of at least 43 migrants near Zuwara. The Ocean Viking returned to the central Mediterranean on 17 January and rescued 120 people on 21 January, and three further boats that had alerted the Alarm Phone on 21/22 January. On 25 January, the Ocean Viking could disembark 373 people in Augusta. On 23 January, the Alarm Phone was alerted by a boat in distress with about 95 (first to be believed 145) people on board off Garabulli. In view of over 250 people in distress at sea, the so-called Libyan coastguard stated that they did not have the capacity to launch rescue operations. Instead of launching a rescue operation themselves, European authorities only sent out a Navtex. According to relatives, the 95 people were later able to return to the Libyan shore on their own. On 24 January, a boat capsized and 17 people lost their lives at sea while 82 survivors were returned by the so-called Libyan coastguard. The same day the Italian vessel Asso Trenta rescued 70 people off the Libyan coast. Coordinated by the Rome Maritime Rescue Coordination Centre (IMRCC), the Italian-flagged Asso Trenta was allowed to sail directly to the Italian coast to disembark the shipwrecked people.
February
February was a very busy month for the Alarm Phone, with 47 boats in the central Mediterranean, carrying almost 3,000 people. Three of these boats were rescued by Ocean Viking, one by Open Arms, one by Aita Mari and two by SeaWatch3. Five reached Lampedusa. Four boats were shipwrecks with at least 20 deaths and many people going missing. 13 of these boats and many others were intercepted by the so-called Libyan Coastguard. For several boats, we have no confirmation about their fate.
On 4/5 February, more than 1,000 migrants departed from Libya. Over 800 of them were intercepted and returned to shore, among them also five bodies. Frequently, Frontex aerial assets were guiding the so-called Libyan Coastguard to boats that were still moving north and trying to escape. Between 3-5 February, the Alarm Phone was called by 13 boats. Ocean Viking rescued three of these boats and then had 237 people on board. On 7 February, they were able to disembark the rescued in Augusta. In early February, there were also many independent arrivals in Lampedusa, including a Tunisian fishing boat with 142 young people on board. A group of 20 people who went missing after leaving from Algeria on 4 February was later found by a merchant vessel and brought safely to Sardinia. Relatives had called and alerted us to this boat, stating that the people had been at sea for about five days. On 5 February, Open Arms found a boat in the Maltese SAR zone, carrying 45 people who were rescued, transferred to an Italian Coastguard asset, and brought to Lampedusa.  Another boat with 45 people was spotted by the civil aircraft SeaBird and later found by Open Arms who experienced harassment by officers on a Libyan patrol boat, and were told to leave the Libyan SAR zone.  On 13 February, Open Arms rescued a boat with about 100 people who had called Alarm Phone.
Also on 13 February, a shipwreck took place off Tunisia: A boat with 48 people had capsized. 25 people survived, but 22 went missing and one body was found. On 19 February, after returning to the central Mediterranean, Aita Mari rescued a boat with 102 people on board who had reached out to Alarm Phone. On 20 February, yet another shipwreck took place off Lampedusa, when a boat that had alerted Alarm Phone capsized during a rescue operation. Survivors confirmed that 7 people went missing while 45 people were rescued. Also on 20 February, the Maltese media reported that eight people were caught by the police after reaching Malta by boat. One day later, there were news about 55 migrants reaching Malta on a dinghy. Alarm Phone had been alerted by several boats approaching Malta, but lost contact, and repeated attempts to contact the AFM were ignored. So the fate of some of these boats remain unclear. In February, there were also several instances where migrants resisted either being returned to Libya or being incarcerated after forced returns to Libya. On 20 February, 153 migrants were able to flee the port of Tripoli after disembarkation.  On 21 February, migrants who had been rescued by the merchant vessel Vos Triton after alerting Alarm Phone, launched a protest on board, successfully resisting their illegal pushback to Libya. They eventually disembarked in Italy, but it also emerged that 41 people had died at sea, both before the arrival of the Vos Triton and during the rescue operation itself. 77 people survived. On 26 February, Sea Watch 3 rescued 45 people who had called AP and later three other boats in distress.  Unfortunately, the month ended with bad news: 125 people on a rubber boat who had alerted us were found by the so-called Libyan Coastguard after a long delay in launching an operation. At least 15 migrants drowned, while 95 others were returned to the inhumane conditions in Libya.
March
In March, the Alarm Phone was alerted by 22 boats in distress in the central Mediterranean, carrying about 1,350 people Two of them were rescued by the Ocean Viking, three by Open Arms. Eight of these boats managed to arrive in Lampedusa. Seven boats were intercepted and forced back to Libya. Three boats leaving from Libya capsized as well as one boat leaving from Tunisia. For several boats, we have no confirmation about their fate.
On 1 March, we learned about a criminal investigation against Mediterranea, other solidarity groups in Italy and later also journalists and lawyers supporting migrants. Better news came in on 2 March: After being arbitrarily blocked for half a year, a court in Palermo suspended the detention of Sea-Watch 4. On 4 March, Sea-Watch 3 reached the port of Augusta with 363 people rescued at sea. On 8 March, about 125 Kurdish and Syrian people arrived in Leuca in Puglia on a sailing boat that had left from Turkey. On 9 March, a shipwreck occurred off the Tunisian islands of Kerkennah. 14 bodies were recovered and 140 migrants were rescued by the Tunisian Coastguards in Sfax. In the incident, at least 39 people drowned. On 18 March, the Ocean Viking rescued 10 people in distress on a fibreglass boat, about 36 nm off Libya on request of the so-called Libyan Coastguard. During the rescue operation, one person onboard the fibreglass boat expressed the will not to be brought to the Ocean Viking and to go back to Libya. The person was evacuated by the Libyan coastguard onboard their patrol vessel. His motivation was not clear, but it seems that he had connections to Libyan authorities. Also on 18 March, the Alarm Phone was alerted during the night to a boat with more than 100 people close to the Libyan coast off Zuwara. They were in panic as their boat had caught on fire. The boat was found and the survivors returned to Libya. According to survivor testimonies, up to 60 people had died in this incident.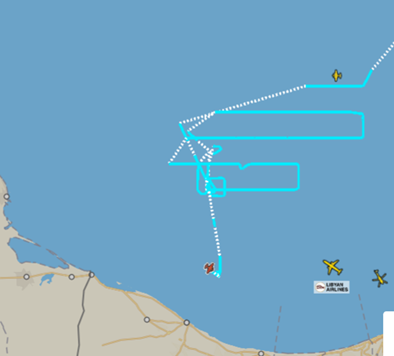 Screenshot of Osprey track at 08.50 CET. Alarm Phone requested further information on that search mission from Frontex – no answer so far. Source: Alarm Phone

Between 27 and 29 March, over 1000 migrants tried to escape Libya. However, the majority was illegally pulled back. Even from the Maltese SAR zone, a boat was forcibly returned to Libya, coordinated by Malta. On 27 March, the Open Arms rescued 37 people who had alerted the Alarm Phone. As usual, Malta and Italy had not reacted to our requests for an intervention. On 29 March, Open Arms rescued another three boats, after which they carried 219 people on board. On 30 March, the Alarm Phone was alerted by about 85 people on board a rubber boat in severe distress just a few nautical miles off the Libyan coast. The people told us that a part of the boat was deflated, and that two women and three children had gone overboard and drowned. The people were screaming on the phone "we are dying!". Ten hours after we had alerted the so-called Libyan Coastguard about the boat, there was still no help in sight. The next day we were told that the boat was found in the night. Again, we had to witness the so-called Libyan Coastguard failing to save lives. We do not know how many people lost their lives during the many hours of deliberate non-assistance.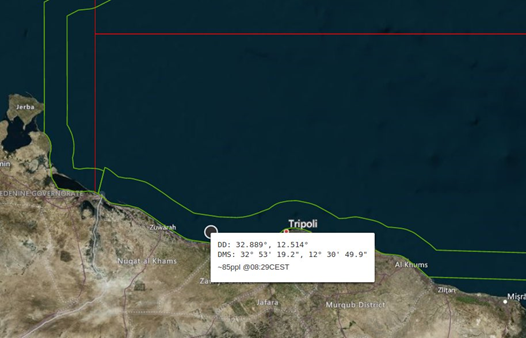 Location of the shipwreck in the making. Source: Alarm Phone.
 
April
In April, 29 boats in distress, carrying more than 2,200 people, alerted the Alarm Phone from the central Mediterranean. Two of them were rescued by the Ocean Viking, one by Sea Watch 4. Four of these boats arrived in Lampedusa. One boat arrived in Sicily. Eight boats were intercepted by the so-called Libyan Coastguard. Two boats returned to Tunisia. One of our cases was a heavy shipwreck off the Libyan coast. Another shipwreck happened off Tunisia. For several boats, we have no confirmation about their fate.
The last days of March and the beginning of April were incredibly busy in the central Mediterranean. During these days, we were informed about more than 30 boats being on the water of which 21 were Alarm Phone cases with around 1.850 people. On 2 April alone, there were three boats with 270 lives at risk in Maltese SAR. On 3 April, two of these boats were rescued to Lampedusa after three days of non-assistance. According to media reports, the third boat also arrived. The so-called Maltese coastguard finally released a statement about the boats in their SAR zone, arguing that the people had never been in distress. On 9 April, a sailing boat from Turkey with 30 migrants on board was rescued 62 miles off the Sicilian coast. The boat was finally picked up by a vessel of the Italian Coast Guard when it risked sinking due to bad weather. Good news came on 11 April: After six months, Sea-Eye was able to free their vessel Alan Kurdi from detention in Olbia. Also on 11 April, the human smuggler and arms dealer Bija was released from jail in Libya for lack of evidence. On 16 April, a shipwreck occurred off the coast of Sfax, Tunisia, when a boat capsized. 21 bodies have been recovered, but probably more people died. Former Italian Interior Minister Salvini had to stand trial on 16 April for having refused to let the Spanish rescue ship Open Arms dock in an Italian port in 2019, keeping the people onboard at sea for days. On 18 April, Open Arms was blocked in Pozzallo (Sicily) after an unjustified quarantine of 14 days and 17 hours of inspection on board. On 21 April, Alarm Phone was alerted by three boats off the Libyan coast at risk of capsizing in bad weather. Ocean Viking searched in vain for one of these boats which had departed from the western coast of Libya. Later we learned that it had reached Tunisia. One of the two other boats, which had left from Khoms further in the east, carrying about 100 people each, was returned to Libya – a woman and child died. Concerning the third boat in heavy distress, the so-called Libyan Coastguard said they would not go out to sea due to the weather conditions. Early in the morning of 22 April, three merchant vessels and the Ocean Viking were searching for the missing boat, to which we had alerted authorities 27 hours earlier, but they failed to coordinate a rescue operation. Some hours later, the crew of the Ocean Viking had to witness the devastating aftermath of the shipwreck of a rubber boat with about 130 people dying. Alarm Phone published a detailed report and provided a timeline, showing how this massacre off Libya had unfolded. Many media outlets reported about this deadly shipwreck and even the pope and the UN denounced the tragedy, which could have been prevented.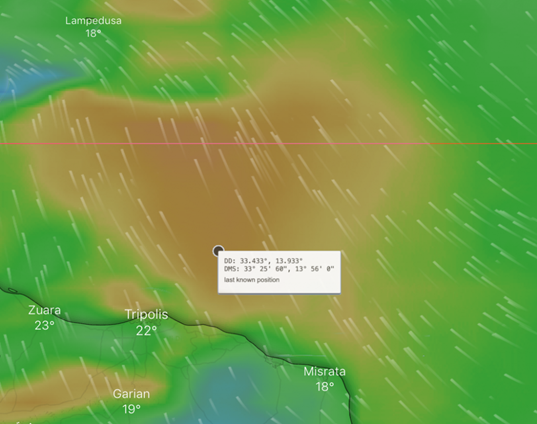 Last known position of the approx. 130 people in a storm off Libya. Source: Alarm Phone
On 27 April, the Ocean Viking rescued over 230 people off Libya who had alerted us from two rubber boats. But one day later, when we informed authorities and the Ocean Viking about two other boats in distress in international waters, the so-called Libyan Coastguard appeared, requested the civil rescue ship to change course and abducted the fleeing people to Libya. On 29 April, after less than 24 hours back in the search and rescue zone, the crew of Sea Watch 4 rescued 44 people from a boat in distress, and on 30 April another 77 people,  93 people, and 94 people. Sea Watch 4 also witnessed several interceptions by the so-called Libyan Coast Guard and beatings of people on a rubber boat.
May
In May, the Alarm Phone was alerted to 41 boats in distress, carrying approximately 3,000 people in total. At least 14 of these boats were intercepted by the so-called Libyan coastguard, two by the Tunisians. Six boats were rescued by NGOs, eight reached Lampedusa, one was rescued to Malta.  For several boats, we have no confirmation about their fate.
On 1 May, over 350 people were intercepted by the Libyan coastguard vessel Fezzan and returned to Libya. It is unclear whether 125 people who had called Alarm Phone were among them, after our contact to the boat in distress broke down. Fortunately, a boat that called Alarm Phone carrying 97 people was found by Sea-Watch 4 and rescued. Sea-Watch 4 conducted another rescue on that day, rescuing 51 people in distress. A day later, on 2 May, a boat with 95 people alerted the Alarm Phone was left in distress for hours, even though merchant vessels, including the VOS APHRODITE were at the scene and could have intervened. Eventually, the 95 people were forcibly returned to Libya. On the same day, a boat capsized off the coast of Zawiya – 11 bodies washed ashore and 12 people survived. On 9 May, the Alarm Phone was alerted to boats with approximately 80 people, 55 people, and 96 people in distress in the Maltese SAR zone. By the evening, three more boats would also find themselves in distress in Malta SAR. Once more, the Maltese authorities were not responding to alerts to their distress. While we believe that several of these boats reached Lampedusa, we cannot provide confirmation for each boat, not least given the sheer numbers of arrivals over the 9-11 May weekend, with over 2,000 people reaching Lampedusa while about 700 hundred did not succeed in the crossing and were returned to Libya. In one incident, five people died while survivors were rescued by fishermen. A day later, on 10 May, more people died when trying to escape Libya. Alarm Phone was alerted to a boat with about 66 people, 42 of whom survived the later shipwreck. One person was found dead and 23 people went missing. Another boat, with about 75 people on board, was presumably rescued to Malta, after yet another delay in rescue. On 13 May, about 100 people in distress called the Alarm Phone and were later returned to Libya. At least 17 people drowned off the Tunisian coast after having left the Libyan coast. On 14 May, abou 50 people called the Alarm Phone and were later intercepted by the Libyan authorities, as were about 150 others. On 16 and 17 May, the Alarm Phone was alerted to a boat with about 100 people who reported that their boat was deflating. All state actors failed to respond to their distress while fishermen rescued 62 people. Dozens went overboard and are missing, presumed dead. On the same day, a boat carrying about 85 people called the Alarm Phone, eventually reached Italian SAR, and was presumably rescued to Lampedusa. Between 16 and 17 May, Sea-Eye engaged in six rescues, rescuing over 400 people, while about 650 people were returned to Libya on 17 May alone. On 18 May, the Alarm Phone was in contact with a boat carrying about 88 people in distress. They were later pushed-back to Libya, from Malta SAR. A second boat with about 25 people called the Alarm Phone, who were later returned to Libya. The Alarm Phone was in contact with a third boat, carrying about 95 people on board. The boat was adrift in Malta SAR and we do not know what happened to the people after our contact with them broke down. On the same day, a shipwreck occurred off Sfax in Tunisia, with at least 50 people drowning. On 22 May, several bodies were found washed ashore in Libya. On 23 May, the Alarm Phone was alerted to a boat with about 95 people on board. After being monitored for about 20 hours by two Malta-flagged merchant vessels, the people were eventually intercepted by the Tunisian coastguard. In the period 16-22 May, about 1,500 people were forcibly returned to Libya. Between 23-29 May, another 495 people were returned to Libya while, on 28 May, over 260 people to Tunisia. On 31 May, 274 people were caught at sea and forced back to Libya. On 31 May, a fisherman informed the Alarm Phone about a boat that had departed from Zliten, carrying 87 people. According to him, 6 people had already gone overboard and died. A fisherman came to help but in total 16 people are said to have died.
June
In June, the Alarm Phone was alerted to 41 boats in distress, carrying approximately 3,300 people in total. Of them, at least 16 were intercepted by the so-called Libyan coastguard while 14 boats made it to Lampedusa. Three boats were rescued by NGOs. We know of five shipwrecks in the month of June, leading to at least 43 deaths and 87 people going missing. For several boats, we have no confirmation about their fate.
On 1 June, a boat with about 70 people at risk alerted the Alarm Phone off Zuwarah before returning to Libya as they had run out of fuel. According to a relative, two people died during the journey. Also on 1 June, the Tunisian Red Crescent stated that at least 23 migrants had drowned off the coast of Tunisia after leaving on a boat from the Libyan coast. On 10 June, a boat with 43 people on board reached out to Alarm Phone when adrift off the Libyan coast. It is unclear what happened to them, after our contact to the boat broke down. On the same day, about 450 people were forcibly returned to Libya, and a day later another 200 people. Between 10 and 11 June, the NGO asset Geo Barents conducted three rescue operations, and rescued a total of 144 people.
On 12 June, the Alarm Phone was in contact with about 300 people on four boats in distress in the Maltese SAR zone. One of these boats was rescued by the crew of Geo Barents, whose crew also rescued another three boats. Sea Bird spotted several boats also within Malta SAR, one of which was returned by the so-called Libyan coastguard. On 12 June, over 900 people reached Lampedusa, and so we hope that the boats Alarm Phone was alerted to are among them, and not among the over 1,000 people who were returned to Libya on 13 June. On 13 June, about 100 people reached out to Alarm Phone from Malta SAR. While the outcome is unclear, there are some indications that the people were brought to Malta. On 14 June, the Alarm Phone was alerted to five boats in distress in the central Med while Sea-Bird spotted ten boats in total. About 170 people on a large wooden boat reached out to Alarm Phone and were later spotted by Seabird and rescued by the merchant vessel Vos Triton. The people were later handed over to the Libyan authorities and forcefully returned to Libya. Another boat with about 90 people in distress in Malta SAR was later rescued by the Italian coastguard. One boat carrying 29 people was returned to Libya. A boat with about 65 people on board was adrift in Malta SAR. For some of these boats we do not know where they ended up. Hundreds of people reached Lampedusa while hundreds of others were returned to Libya between 14-16 June. On 16 June, a boat with over 80 people in Malta SAR alerted Alarm Phone and were later rescued by the sailing ship on monitoring mission Nadir. On 20 June, a shipwreck was feared to have taken place off the coast of Libya, although no further information on this particular case came to light afterwards.
On 23 and 24 June, Moonbird observed several boats being pushed-back to Libya. On 25 June, the Alarm Phone was alerted to a boat with 17 people on board who later reached Lampedusa, after yet another refusal on part of the Maltese authorities to rescue. On 26 June, we were in contact with over 100 people in distress – they were later found in a joint operation by Tunisian and Libyan authorities, some being brought to Tunisia, others to Libya. Another boat with about 100 people reached out to the Alarm Phone and were later pushed back to Tunisia – two people died. On 27 June, the Alarm Phone was in contact with a boat carrying about 100 people in Malta SAR. They were spotted by Moonbird and later rescued to Lampedusa. About 270 people were returned to Libya on that day. On 29 June, we were alerted to a boat with abou 110 people on board in Malta SAR who were later rescued to Lampedusa.  On 30 June, a shipwreck occurred off Lampedusa, with a total of 16 people losing their lives. A shipwreck also occurred off the coast of Tunisia, with at least nine people dying. On the same day, Seabird documented a dangerous interception attempt by the so-called Libyan coastguard, which was chasing and shooting at an escaping migrant boat.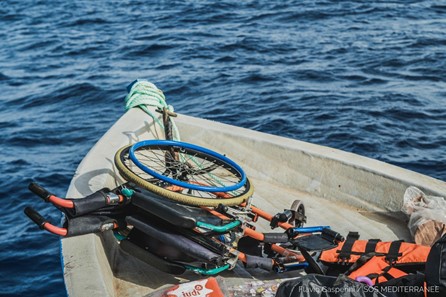 The people on this boat had alerted Alarm Phone, and reported that they were threatened by the so-called Libyan coastguard within the Maltese Search and Rescue zone. Eventually they were rescued by the Ocean Viking on 1 July 2021. During the rescue operation a wheelchair was found on board. Source: Flavio Gasperini / SOS Mediterranee. 
Merchant vessels: Used to assist in illegal push-backs
During the last months and years, merchant vessels have become significant actors in sea rescue operations in the central Mediterranean Sea, not least as European coastguards regularly choose to avoid rescues and as NGO vessels are frequently blocked by authorities from going out to rescue. Unfortunately, merchant vessels have also been drawn into illegal push-back operations to Libya, through which they have returned thousands of people to the places they had tried to escape from. In this way, they have become integrated into Europe's strategy of preventing migrant arrivals by boat.
Shipping companies, their associations, trade unions of seafarers, and crews of merchant vessels need to be reminded of their duty to rescue and, at least those flying a European flag, to avoid returning people back to Libya as it is no place of safety (POS). Here, the decision of the European Court of Human Rights in February 2012 in the case of Hirsi Jamaa and others against Italy remains relevant for such situations, forbidding collective expulsions. More recently, on 16 February 2021, five Eritreans filed a lawsuit against the Italian authorities and the shipping company Augusta Offshore over a push-back to Libya which they had experienced in 2018.
In 2021, Alarm Phone alerted merchant vessels in several distress cases at sea. We observed how European Coastguards did not give them orders to carry out rescues, but instead to simply stand by and monitor the case until a (often Libyan) patrol boat would arrive. At times, migrants were directly handed over from merchant vessels to the vessels of the so-called Libyan Coastguard.
On 1 April, a boat with about 80 people alerted us in the Maltese SAR zone. They said they were out of fuel. We informed the Portuguese ship SIDER RODI. However, the merchant vessel was not ordered to rescue. Maltese authorities denied that we had ever informed them about this distress case, although we had informed them throughout the night. Fortunately, the migrant boat was able to reach Lampedusa independently, after the merchant vessel had given them some fuel.
On 2 May, two merchant vessels were ordered to assist in an illegal pull-back to Libya. The day before, a group of 95 people on a wooden boat, drifting a few nautical miles south of the Maltese SAR zone, had called Alarm Phone. Their engine was not working anymore and the weather was worsening. The Italian authorities, after the Libyan authorities had requested their assistance, ordered two merchant vessels, the Vos Aphrodite and the Olympiysky Prospect, to approach the boat in distress and remain on standby, waiting for the arrival of the Libyan forces. When the people in distress realised they were going to be returned to Libya, the situation on board escalated. Several people fell or jumped into the water to prevent capture. Merchant vessels were then asked to rescue the people and to hand them over to the so-called Libyan coastguard, who forcibly returned them to Libya.
On 11 May, a Portuguese vessel, the Amanda F, was in the vicinity of a boat with 75 people on board who had alerted Alarm Phone when in distress in Maltese SAR. We informed RCC Malta and MRCC Lisboa. The Amanda F was ready to rescue, but ordered by RCC Malta to wait until a patrol boat would come. Fortunately these people were not pushed back, but eventually brought to Malta.
On 14 June, the shipping company Vroon was complicit in an illegal push-back by proxy: After being rescued by the merchant vessel Vos Triton in international waters, about 170 people were handed over to the so-called Libyan coastguard and returned to Libya. Vos Triton is owned by the Dutch company Vroon, whose Italian office is responsible for the ship, and flying the Gibraltar flag. The approximately 170 people on board the overcrowded wooden boat called Alarm Phone when they were in distress in international waters. They were drifting with a broken engine just 6 nautical miles off the Maltese Search and Rescue zone. Despite repeated emails and calls by the Alarm Phone to all authorities, ten hours after the first alert, no state rescue asset had intervened yet. Instead, the merchant vessel Vos Triton was sent to the boat in distress. Sea-Watch's civilian reconnaissance aircraft Seabird arrived on the scene at around the same time and could observe several people from the overcrowded boat jumping into the water to reach the Vos Triton by swimming. Eventually, after about an hour, the merchant vessel had managed to take all the people from the wooden boat aboard and headed south. Despite several attempts to reach the Vos Triton via radio and despite the many emails and phone calls to the company, the handover took place, as also confirmed and condemned by IOM and UNHCR.
On 25/26 June, Alarm Phone informed a Portuguese and a Dutch merchant vessel about a boat, carrying about 20 people in distress in the Maltese SAR, not far from these two ships. We heard from MRCC Lisboa that RCC Malta had informed them that they were taking care of this case and that the Portuguese vessel Manisa Greta was diverted to rescue another boat. Both of these suggestions were untrue. RCC Malta failed to launch or coordinate a SAR operation. Fortunately, the 17 people on this boat in distress were eventually brought to Lampedusa by the Italian Coastguard.
Testimonies from Libya
A testimony from a person who crossed the Mediterranean
During my stay in Libya, I witnessed all forms of atrocities committed towards migrants, and it's not a place to keep in your worst enemy. The situation in Libya is very difficult for migrants and refugees with no way back and no way ahead. Within the country migrants/refugees are liable to imprisonment, torture, rape or death without any reason. They suffer during travelling from one city to another or within the area they stay. At work, they are exposed to be bullied, exploited, threatened, not paid, work by force or get killed. In a country of militias, widespread of weapons and absence of the rule of law, people suffer on a daily basis, live in permanent fear, worries and anxiety for they are targeted by criminal gangs and militias.

They are targeted by traffickers who torture, rape and kill, they demand huge ransom which the individual or the families can't afford. Or they kill those who couldn't pay and throw them out without having a dignified burial. Or even sell those who paid to another trafficker. They are not equally treated in hospitals when they are sick, injured or delivering a child, they don't get treatment every human being deserves.

The UNHCR office is not doing enough to help and support them and slow procedures and an office located in Tripoli only in a country of 1.8 million km2. And IOM employees who come to ports during disembarkation are more interested in taking photos while they pretend to help or talk to women and minors instead of providing real help.

When migrants and refugees try to escape the suffering in small boats, they are collided with the European surveillance planes and Libyan coast guard vessels push them back with European assistance. Then they are imprisoned in inhuman conditions and treatment, filled like matches in a matchbox with no access to sanitation, beaten, raped, or even killed, then they are blackmailed to pay lots of money for their freedom from small detentions to bigger prison of Libya.

It's a pity that the Europeans taxpayers' money and technology is used to finance militias and criminals and to deter and increase the suffering of migrants.
A testimony from L.
Did you know that in Abu Salim prison they kill us all day and treat us bad. Last month they shot at 11 people and 6 died. It is terrible how they treat us here, they treat us like animals. They treat us badly. I don't know how to tell you. I told you they give us one bread to eat, half bread. How can a man eat half of bread from 10 in the morning til 3 o'clock.

When they shot the people, it started because they don't give us food. At 10 o'clock you eat half a bread, after that you wait until 3 o'clock. Then you eat 2 spoons of rice, then you wait until 11 o'clock and then you eat two spoons of Macaroni. How can you survive with that? After they bring you the food, you eat and you fall asleep. They put something in the food. You cannot even stand up after you eat. And the water we drink is like water with salt. People go to drink water from the bathroom, from the toilet.

I was asking myself if this is how the Italian prime minister finances Libya, this is how they treat us. This is how they treat us with the money from Italy. I ask myself all the time. But I don't get an answer from anyone because I was in jail. I was asking myself. How? This is how the Italian people let them treat migrants like this. I don't know what to say.

And you know, you know what caused the fight? In the morning they brought us the small bread they give us. There are more than 1000 people so the food is small. They have to divide the food, so the food is small to reach everyone. Even if you get a break you will start crying, like if you are not human. There are more than 1000 people in the same hall. We share one mattress. Two people share one mattress.

You cannot even find a place to rest. And you have to be in line for the bathroom and the toilet.

There is no air over there or air conditioning over there. Check the sun in Libya. Sometimes the sun can be almost 55 degrees celsius. We were in the heat, and sometimes they opened a tube, the tube for the water used to wash cars. Like a water pump. They used that to come inside the prison yard, they shot it top of us. Because the heat is too much. Every day people are dying. People are collapsing all the time. But what are you going to say? There is no medical, no-one is going to take care of you. There is no clean water, there is not any clean water. There is no good treatment for you. We are like animals. There are goats that are treated even better than me.

There are no doctors inside. There aren't any doctors there. The day I entered I saw MSF, Médicins sans Frontères. I see only MSF there. But I spent one month there and I have never seen anyone again until I left. With the shooting, we were plenty inside the room. All the time they were bringing new people from the outside. So how can they feed us? This made us start a fight. We broke the wall. There is a big gate between the prison yard and the place we sleep. A big gate, like a metal gate. So we African and migrants moved the gate and we hit the wall with the gate.

There is no fresh air, there is not even AC over there, there is not even a fan. We are treated like animals. So if they bring other people, you can't even get a place to sleep or anything to eat. This is what made us start the fight. How they treated us is what made us fight with them. We started a fight with the Libyan people and the Black people. There are also some black people who take care of us in the prison. People from Nigeria, Sudan, and Eritrea who are guards of Abu Salim. Seven people from Eritrea, three Nigerians, and five Sudanese. They are working with Libyans to kidnap people. They get money from them. These people are okay with the Libyans, they eat good food, they drink clean water. They are treated well. But we…They treat us bad. So the fight started with these people. The Eritrean and Nigerian and the Sudanese, we fight with them. You understand? It's the people who take care of us. They are communicating with the guards.

So, this caused the fight. Because of how they treat us. If you talk to the guards they will start to beat you with the water tube. They used to beat you like an animal. They will beat you with that tube. So we start to fight with them. And they run and we break the place. We also come out, for them to kill us. After we come out they start to shoot at us.

They kill almost four people. If they kill them they put them inside their car. They fired at us. They shoot the wall. When they shoot the wall, the bullet comes inside the place we are sleeping. People were trying to escape. When people tried to escape they beat them.

Everybody's blood comes from that prison. They will hit you with iron. They hurt your leg with metal. They knock your legs so you cannot even stand up. They'll beat you like animals. That's how they treat us inside the prison. So you don't have anything to say, you don't have any option. You don't have any place to calm down.

They killed four people who were on my boat. Four people and one get injured. They shoot his leg. Now he's on crutches. Two crutches. They killed four people and one got injured, all pushed back on my own boat.

The guy they shoot in the leg, they release him. Four other people got injured. After what happened, they shot us, they killed some people. Some people I know. After that, they come, they catch all of us, they put us one after another, so that they can see your face and they can point at you, to see if you were among those fighting.

They beat you like animals. Until blood comes from your body, or you cannot move or you cannot even breathe. Then they will stop beating you. They will take you to the security prison. For you to be alone for one week. In the security prison they will bring you food once a day. Once a day. They bring you water once a day, food once a day.

They have a secret room inside the prison yard. Inside Abu Salim prison yard. There is a secret prison and they took me there for one week. Because I was making a video and taking pictures. So the time they saw me, they asked me who sent me to do that. I put a lock on the phone. I said the phone is not mine. They beat me, they put me there inside the secret prison for one week, with seven people. There is no place to sleep. You cannot even walk even five meters. But seven people are inside that room. How are you going to feel? Tell me.

I used to ask myself, so with the money sent to Libya, this is how the Libyan people are treating us. How are the Italian people sending money to them. They send money to them and they treat us bad. So Italy is among those who are trying to kill us slowly. Or they don't kill us, they abuse us slowly. How come?

So that's how the Libyans treat migrants in the prison, in Abu Salim prison. They treat pigs even better than us. They treat us like pigs. We are the worst enemies. But we've never done anything, we have never killed. We only went to the sea and they caught us. We are not killers.

We started from Abu Kammash. On a rubber boat. They pushed two boats.  Our boat was red. And there was a second boat, it was yellow. We were 50 people, with women and children. We had a 7 months old kid. And a 13 years old girl and her brother. We were on our way and we almost found the Libyan oil field. We passed by that site. We then saw an aeroplane, with nobody inside. A drone, black and grey. The drone saw us, passed through us and went back. Then it came back again. And when it came back it was with the Libyan people. Then the drone came back with the Libyan coastguard. The drone saw our location and guided the Libyan coastguard to our location. They came and caught us. After they caught us. Then they got the yellow boat. It was 31 May.

Then they took us back to Madina. After they caught us. But we saw Geo Barents. Geo Barents was close to us. Almost one hour. It was blue and white. After they caught us, after one hour we saw Geo Barents with the speed boat – there were rescuing some people from a wooden boat. They had black speed boat. They tried to communicate with the Libyan coastguard but the Libyan coastguard did not give them chances. So we passed the Geo Barents. They brought us to Madina. They brought us there to take us to the detention centre.

That day they took only our two boats, the red and the yellow. After they caught us on the sea they collect our phones. Yes, it was the Fezzan, exactly. They started to rob us. They took everything, my phone, phone. Even for women, you know… women have a treasure. The man, they put their hands where they are not supposed to, in ladies parts. How can a man put his hands in women's secret places. Because they are searching for money, the Libyan people. That is what they are doing in our presence. They use their hands to enter women's secret places, to check if maybe the women hide money or anything. They put their hands there, in their secret places, to check it. They do it in our presence. Not in a private place. In our presence. If you really have to do that, just do it in private, but in our presence…Plenty of men were there, in the prison, they make you naked and put their hands inside. They check everywhere, even if you don't have money. They don't care about anything. This is how the Libyan people treat us.

The yellow boat was still moving. For us, when they saw us, we stopped. If you continue they shoot you. When they arrived on our side, we gave up, we could not continue anymore. We gave up and they forced us to enter their boat. And we enter. After, they were forcing us. They shoot one shot. They give one shot as warning before we enter their boat. Then they chased the yellow boat. The yellow boat was still continuing and the Libyans did not know how to stop the yellow boat and they shoot. They shoot the yellow boat.

They even use guns in the sea. If you do not stop the engine they will start to fire you. They will shoot you. If they say 'you should stop' they fire you. They tell you 'stop stop stop', if you do not want to stop they will start to fire you. They shoot the yellow boat in our presence. In my presence. This is not something somebody said, everything I am telling you is what happened in my presence.
A testimony from S.H., received during an Alarm Phone shift on 20 August

I am S. H. from Syria. I used to work as a psychological counselor in Syrian schools.
Escape from war to hell

The story begins when we thought about leaving Syria to Libya and from there to Europe The story began with a kidnapping from a gang that practiced robbery and became a mafia infiltrating the Syrian body A story of a kidnapping I had and my young son I paid for it what I had and more to escape from their hands I fled to Libya and from there we boarded the boat to Italy Where hope begins to grow as we advance in the boat into the depths of the sea. And our joy increased when we entered the Italian territorial waters 18 hours after taking off in Libya, and we saw the Italian plane white, I think, and our joy increased as it hovered around us, and we had two hours left to reach the shores of Lampedusa. Less than half an hour later We followed a boat that we thought was Italy He came to our rescue and the driver did not stop, so bullets were passing over our heads while we were in Italian territorial waters, so we confirmed that it was the Libyan Coast Guard. The driver increased the engine speed amid great panic among the children and women who got into the boat amid the smell of gasoline It is better to be suffocated and arrive in Italy than to remain alive and return to Naim Libya. As a small fast boat approached us and almost made us fall into the water Were it not for God's care and the surrender of the boat driver who started asking us not to say that he is the driver In the midst of this disappointment, which was mixed with the Libyan coast guard's dirty talk and its harsh blow on the head of the first who reached his hand, we all surrendered after we saw the blood on the land of the boat. And they brought us back to Libya amid feelings of fear of the fate that awaits us on the coasts of Libya

I thought a lot about throwing myself into the sea, being alone without a family, and waiting to approach the shore. And we pray to God that the journey back to Libya will be long And our shock was great when the Libyan cruiser driver told us that the Italian plane took pictures of the boat and gave them our location while we were inside Italian territorial waters. And the shock was great when we got off the boat in the port of Al-Zawiya, where the number was very large, large areas of illegal immigrants amid cursing and insults, but the most insulting and harm was against the Africans, who had the lion's share of beatings and cursing with sticks and construction tools (bale) in the Libyan

As for the Syrian families, the matter was less bad, as the guards looked at them saying, "Ajat Al-Rizqa," and they put them in the shade. As for all the young men, we were under the scorching sun. In the midst of many cases of fainting and nausea, real or fake. And resorting to individual and collective prayer as attempts to beg To the gods or to sympathize with the coast guard Bargaining attempts to pay the ransom begin, as the soldier or officer passes by and says to us, "Save your soul." Pay the ransom in the Libyan And shooting in the air to terrify us all Leakage cases start by all means to the ransom payers of all nationalities, Syrian, Egyptian, Bengali and African As for me and some of those with me, we have no power The presence of the nations or their representatives was 4 young men wearing the dress of the Relief Agency for Refugees and the Imo logo in red jackets. They distributed biscuits and juices And he took the souvenir photos with us and us while we were eating what they gave us. A person approached me and said, Save yourself, Sheibani. It is a word that is said to the white-haired old man. I asked him about the ransom and he said $100 per person. I consulted with some young men and we collected 395 dollars, which was all we had and handed it over to him. He said, "Wait for me for a quarter of an hour." Meanwhile, the anxiety began to doubt us that he would betray us. And that actually happened. And in fact, that was where they gathered us and took us all in cargo cars to the Zawia prison, and there our fear of shooting increased along the way.

We entered the courtyard of the prison and in the entrance there were drawings pointing to the construction of a kindergarten, so we hoped for good, and it quickly dissipated after their shouting at us, and we were entered into a darkened dormitory after we searched through all the insults, with blows with hoses and wood, and fortunately for me, it did not include me because I am an old man (Sheibani). We entered the dormitory rejoicing because the fear and insults stopped And worried about what awaits us in the coming days, and some worried about their families, whom we no longer see or know where they went with. The dormitory was about 32 square meters with a bathroom inside and we were about 39 people We could hear screaming outside and knock on the doors. We started looking at each other's faces, Syrians, Bengalis, Africans, Tunisians and Egyptians.

Some of us started lighting cigarettes and exchanging them and asking questions and answers from experienced people from frequent immigration and detention, and so four hours passed until it was 12 at night, when they opened the doors and served us dinner with bowls we did not know the color of and containing boiled rice that we knew from the distinctive taste and we began to joke about the quality of rice cooked And we spent the night, we didn't know who we slept next to except from the voices And in the morning they opened the doors with terrifying sounds (come out, go out) and shootings outside, and they gathered in the outer hall two young men whom we had not seen yesterday with the sentence that accompanied us from the port and all places (Qa'maz Lotta) sitting on the ground in the Libyan language.

And they asked us to take out what we had of money and phones. Otherwise, woe to us, they offered us to put it in a barrel full of the phones, which indicates that they searched dormitories before us, which contained more than 15 bags, chargers and money. Then they began to select people to search in humiliating ways, even inside underwear. The inspection revealed the tricks of hiding valuable things, and here I thank God that I left the mobile and the passport with a Libyan woman married to a Syrian How I wish I had a camera to film what happened with us The important thing is that I was lucky that they did not search me like the rest, because I am (Sheibani) amid the envious looks of some on this feature. I asked them, prompted by the youth about the families, as they assured us about them that they were in a dormitory nearby, which is a former kindergarten building They promised that their relatives would come out to see them in the afternoon

We returned to the dormitory amid heartbreak and pain because of their robbery, accompanied by begging God, asking for relief and praying for those who stole their things. And at noon, they invited those who had families abroad to check on them, and here was the relief and the intended people went out Also here I was lucky, as they took me out with families for the same feature (Sheibani), and the meeting of families was very impressive, especially for some children who were exposed to this strange situation, where they spent their last night amidst fear of people seeing them for the first time. I mean here sleeping with women from different cultures, and I mean here African women, where Each of us has his own culture, customs and language that they have not been familiar with before Which they had never seen before kept them from sleeping through the night Children's feelings are not racist, but a normal reaction for them

I also saw cases of families consisting of a man who is married to two of them and has 13 children A young Syrian man who works as a cook in prison is an Egyptian mashi. And also (the elements) the previous night robbed the wandering women, starting with African women, to intimidate others and give them what they had so that they would not be subjected to searches, and most of them are from conservative families. And we quickly forgot what happened yesterday, because every moment brought something new with it, as the smugglers started entering the prison to get their clients out and they started passing by the families and introducing themselves and making offers to get them out and showing their ability not to leave their clients detained, of course, and all this for a sum of money. As a ransom, they actually proved it and took out many of them As for families

They were promised to go out for free with their families, but when you ask them when the families will leave, the answer comes today or tomorrow And the brokers pass by everyone, offering to provide services by removing their relatives Here, I dared to ask one of the officers about the possibility of taking us out for a ransom of 4000 dinars per person And here the journey of searching for and paying the money began, and here the procrastination of the smuggler and the smuggling agents and the procrastination in paying the money began. Four days passed in prison, we and the families were in a bad situation, and relief came. They informed us of the decision to release the families without paying a ransom. Here, luck was with me that I would also go out with them, because I (Sheibani) went back to where we were with the smuggler and started working to get the rest of the young men out of prison, and for that time we were not able to get them out. Prison for militias, and I have many testimonies of what happened to us, the families, and the names of brokers, in prison and outside.