Where are they?

Testimonies of the 91 missing people's families.

Video by Mohamed Saber

c
One year ago, on 9 February 2020, at 04.09 AM, the Alarm Phone was called by a group of 91 people who were in distress on a deflating black rubber boat off Garabulli, Libya. They were in panic, but they managed to clearly communicate their GPS coordinates, which Alarm Phone immediately relayed to the Italian and Maltese authorities, as well as to the so-called Libyan coastguard.
At 05.35h CET, the people in distress called the Alarm Phone for the last time. Contact with the boat was lost ever since.
The so-called Libyan coastguard, financed and trained by Italian and European authorities in their efforts to delegate border controls and border violence, told Alarm Phone that they had no intention to search and rescue the people in distress "because the detention centers were full". 
That day, another boat was rescued to Malta, and many hoped this was the boat that had alerted Alarm Phone. However, it quickly became clear that this was a second boat in distress: a white rather than a black boat, with 82 instead of 91 people on board. 
Due to the silence by authorities on the fate of the black rubber boat, as well as of most boats in distress in the Central Mediterranean Sea, the Alarm Phone as well as relatives and friends of people in distress, often have to rely on fragmented information and try to match crucial – although minimal – details to understand what happened to people in distress. 
The days that followed 9 February 2020 clearly revealed that the 91 people were nowhere to be found. There was no trace of them on land, and nothing indicating they were still at sea. 
One month later, we wrote an open letter to all authorities asking about what happened on that day and what they have done to search and rescue the people in distress. We did not receive any answer from any of them.
Only ten months later, when we sent another request to all authorities in December 2020, Frontex responded – clearly the result of increased pressures on the EU border agency and investigations into its participation in push-backs which has prompted international attention and condemnation.  
The picture shared by Frontex, taken on 9 February 2020, shows a deflated rubber boat in a position near the one reported by the 91 people in distress. However, no human remains are visible in the picture.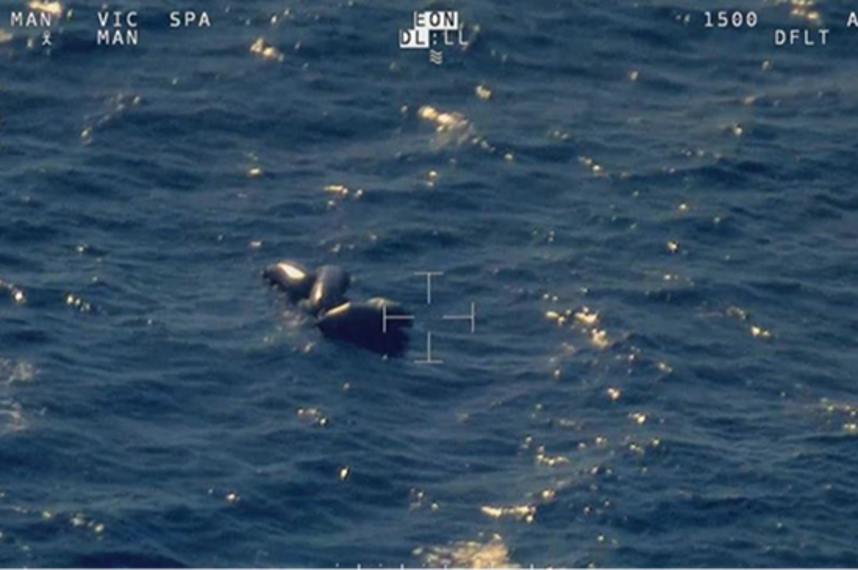 Source: Frontex
Throughout the past year, families and friends of the 91 people who were on board the black rubber boat contacted Alarm Phone as well as European authorities in their search for their loved ones, but nobody could give them answers. 
Thanks to these collective efforts and self-organisation by the families, mostly in Darfur, a list of  missing people was created, showing 62 names and many pictures, giving a name, a face, a smile to many of those who European authorities made disappear at sea. 
Without bodies being found, and without clear answers, it is impossible for their families to know their fate and to have closure. 
Click on the image below to see everybody's name and picture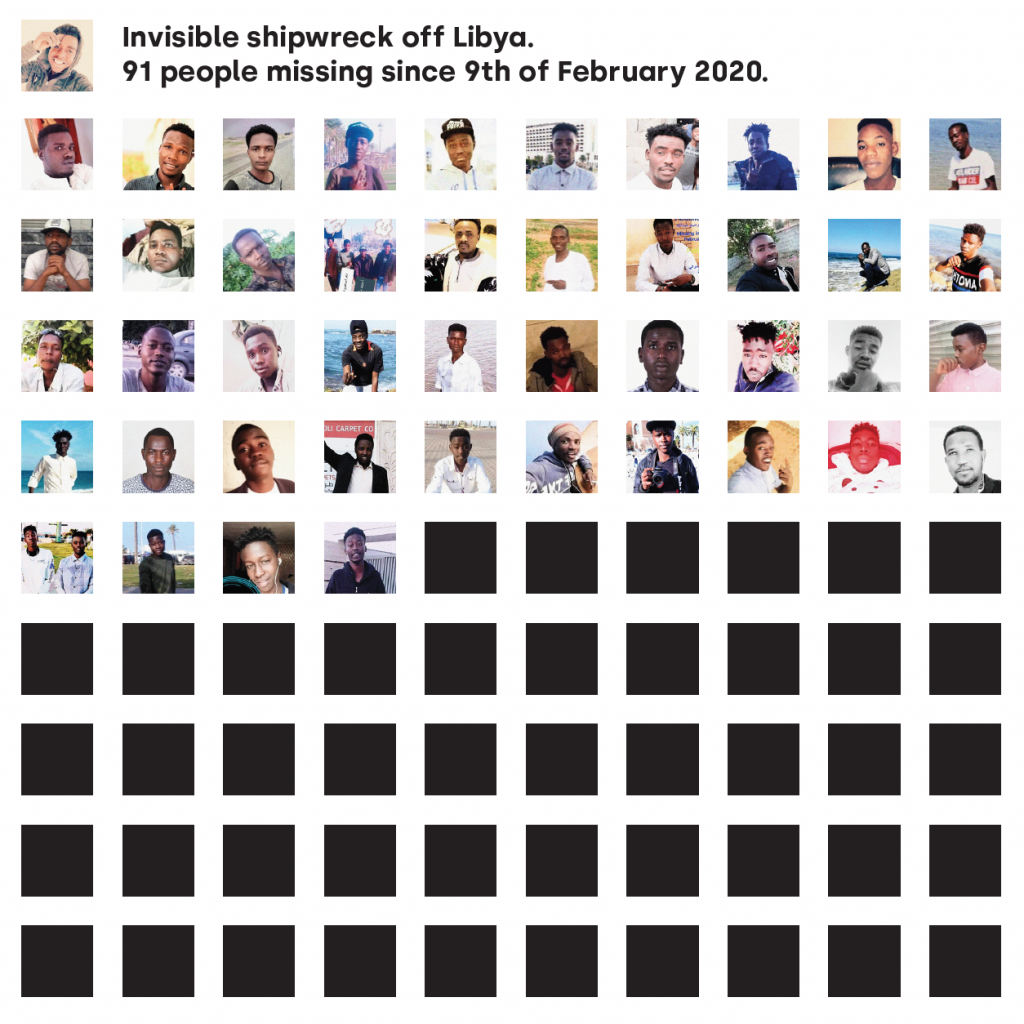 The 91 people who went missing on 9 February are not accounted for in official statistics, which only count those shipwrecks confirmed by survivors. In absence of witnesses, dozens of shipwrecks are not recorded and acknowledged by international organisations. 
We reject the logic of reducing Black/Migrant people, their lives and their deaths to numbers and statistics. This racist dehumanisation does not account for the loss of Abdul, of Aboubacar, of Adnan, of Afdel. It does not account for the pain inflicted to their mothers, their sisters, their friends. It does not account for the White supremacist violence, by action and by inaction, historical and present, that keeps murdering Black/Migrant lives or lets them die at sea.
The silence and lack of acknowledgement denies entire communities the right to know about what happened to the people who went missing. It denies entire communities the right to bury their loved ones, to mourn them, and to find closure after painful searches. 
Whilst entire communities are affected by this violent silence, they refuse to be silenced and instead mobilise to demand answers. Today, the families and friends of the 91 missing people are gathering in Al Fasher, Darfur, to commemorate their loved ones and to protest against the invisibilisation of disappearance of loved ones.
In solidarity with them, and in solidarity with the friends and families of all people who went missing or were killed by the violent European border regime, today we gather in several cities to demand answers.
Together with them, we say their names out loud, to remind Europe that each Black Life matters, that we will not forget, and that we will keep fighting against this racist border regime.
Together with them, we demand an immediate end to racist violence, to the killing of people on the move, and to their forced disappearance.
Today and every day we fight to hold Europe accountable for its racist violence, and we fight for freedom of movement for all.
Stop deaths at sea, now!
On this Facebook page you can find ongoing events and can post your solidarity messages, pictures or videos.