The Greek coastguard systematically attacks refugee boats and exposes them to life threatening situations while Turkish authorities stand aside
Over the past two weeks, Alarm Phone was contacted twice by people in the Aegean Sea who found themselves in distress after being attacked and sabotaged by the Greek coastguard and masked men. Reportedly, this occurred once in Greek and once in Turkish waters. In the first incident, the migrant boat was pushed back and, for hours, both Greek and Turkish authorities stood aside, watching the distressed shuffling water out of their boat with their shoes. In the second incident, the Greek authorities took the chance, with no other witnesses around, to even sabotage the boat inside Turkish territorial waters and then quickly escape the scene.
Alarm Phone is very concerned about the recent increase in reports of attacks on migrant boats. Since early March 2020, we have received 28 emergency calls from the Aegean Sea – in most of these cases, the distress resulted from attacks on boats carried out in Greek waters. In 18 of these cases, survivors reported of push backs where vessels of the Greek coastguard were involved and "masked men" had attacked them. They reported of dangerous actions, such as circling around their boats and causing waves, threats with guns, theft of their petrol, destruction of engines and, also, the towing back of boats to Turkish waters where they were left adrift. In some cases, they also reported Greek coastguard vessels ramming their boats, and Greek officers shooting with live ammunition in the water or air around them and beating them up. Alarm Phone is alarmed also by the dangerous lack of immediate intervention from the Turkish authorities to rescue a boat in distress. In many of the reported cases, they simply stood aside for many hours, watching and documenting the actions of the Greek forces.
Besides closing down legal pathways for people to find safety and seek asylum in Europe, national authorities on all sides fail in their obligation to rescue people in distress. Even worse, they create life-threatening situations and expose people to further dangers in order to deter people from reaching Europe or to use them for their political games.
We call on the Greek and Turkish authorities as well as the governments and institutions of the EU who are involved in Frontex missions to militarise Aegean Sea borders, to stop playing cynical games with people's lives.
29.04.2020: Greek coastguard pushes 48 protection seekers back to Turkey
On 29 April 2020, a boat carrying 48 refugees from Afghanistan, Congo and Iran, including 18 children, tried to reach Lesvos Island in the early hours of the day. According to witness accounts, after about 1 ½ hours of moving, the people suddenly found themselves confronted with a big grey boat with a blue-white line. The boat had reportedly a Greek flag and many officers on board.  Alarm Phone was alerted to this group of people after they had been pushed back to Turkish waters. Unable to move by themselves in a boat with water leaking in, the people were desperately asking for rescue. At 12:36h CEST, we informed the Greek coastguard about the boat in distress and were told that it was in Turkish waters and a Turkish coastguard vessel was nearby.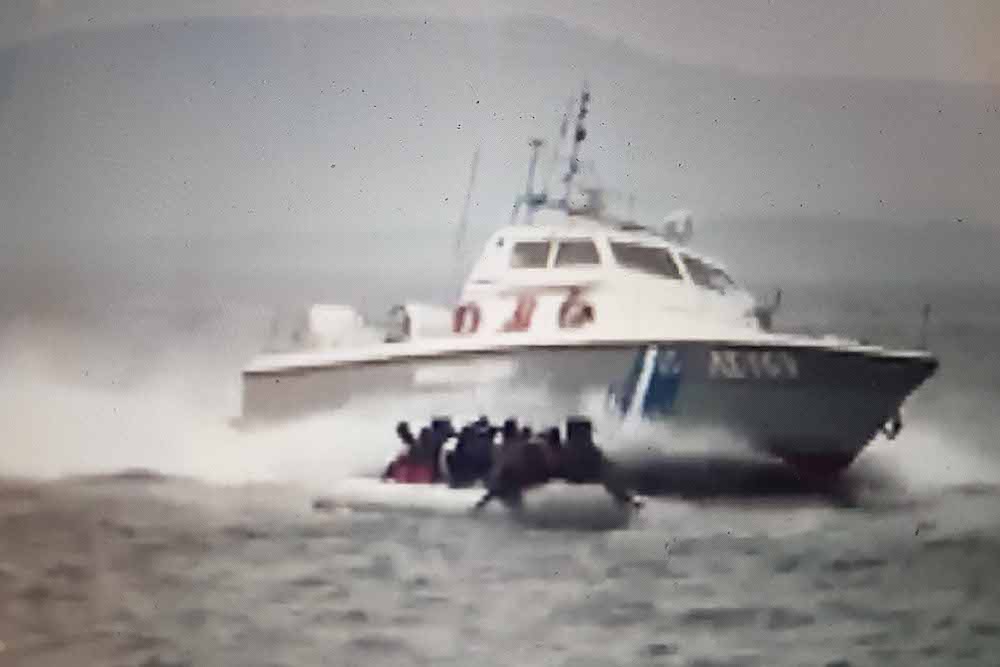 "We were very scared. We tried to continue towards Lesvos Island. It was only 20 minutes more driving to reach the Greek coast. The big boat let a highspeed boat down, which hunted us down. There were six masked men in black clothes. They stopped us and made many waves. With a long stick they took away our petrol and they broke our engine. They had guns and knives. Then they threw a rope to us and ordered us to fix it on our boat. Then they started pulling us back towards Turkey. After a while they stopped and cut the rope. They returned to the big boat and took distance from us. It was around 6am.
Then two other boats of the Greek coastguard arrived which were white and grey and drove very fast towards us, starting to make circles around our boat. They created big waves which were pushing us in the direction of Turkish waters. Our boat was taking in water and the kids were screaming. Our boat started breaking from the bottom. We were taking out the water with our boots. We threw all our belongings in the sea to make our boat lighter. Many of us had no life vests. A pregnant lady fainted. The Greeks continued making waves for a long period. A Turkish coastguard boat arrived and stood aside watching and taking photos and videos for more than six hours. Only after 13:30 o'clock the Turkish coastguard boat finally saved us. We were brought to Çanakalle police station and detained for five days."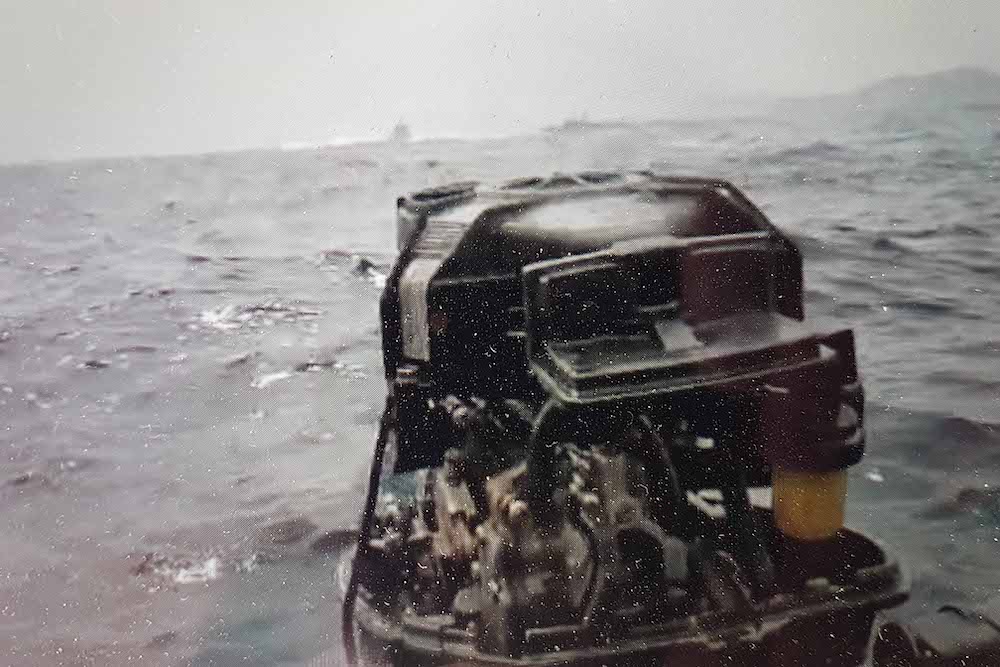 Later on the Turkish coastguard released a statement: "On 29 April 2020 at 06.10 a.m., it was reported by Greek authorities that there was a migrant boat off the coast of Çanakkale's Ayvacık district/Sivrice Burnu. CG boats were dispatched to the area immediately. However; it was detected that the mentioned migrant boat was in the Greek side and Greek Coast Guard boats were putting the lives of the irregular migrants in danger by doing dangerous maneuvers around the migrant boat instead of rescuing them. The migrants were pushed back towards Turkish territorial waters. The fuel can of the migrant boat was taken and the engine of it was broken.  25 Afghan, 22 Congolese and 1 Iranian, totally 48 irregular migrants on board (20 men, 10 women and 18 children) were rescued by CG boat."
Alarm Phone understands that the dinghy carrying protection seekers escaping from war-torn and conflict-ridden countries has been unlawfully returned by Greek authorities, pushed back from Greek to Turkish waters. They were actively brought into a situation of distress at sea. At the same time, the lack of action by the Turkish authorities who stood by for many hours, also put their lives in danger.
See video: https://www.facebook.com/watch/?v=261732498277246
Turkish Coastguard: https://en.sg.gov.tr/48-irregular-migrants-were-rescued-off-the-coast-of-sivrice-burnu
10.05.2020: Greek coastguard attacks migrant boat in Turkish waters
On 10 May 2020, an overcrowded dinghy carrying 24 persons from Afghanistan, Iran, Congo, Central African Republic and Mali, among them one woman and ten minors, left from Ayvacık district of Çanakkale province at around 4am CEST. At 8:16am, Alarm Phone was alerted to the boat which was in the middle of the sea between Lesvos and Turkey, already unable to move in any direction. The passengers stated that they had been attacked by a Greek coastguard boat in Turkish waters and their fuel had been taken away. Their boat was taking on water and they asked for rescue as they were left adrift. The Alarm Phone alerted the Turkish coastguard at 8:22 CEST and was soon informed that Turkish authorities had reached the vessel for rescue.
The survivors stated:
"We started when the sun was coming out in the early morning. Among the passengers were two women and many underage boys. After maybe one hour, the Greek coastguard stopped us while we were in the middle of the sea between Turkey and Lesvos. There were maybe 500 metres left to reach Greek waters. Their boat approached us with high speed coming from Lesvos towards us. It was white and grey. One officer had a long metal stick. He was wearing a mask. There was one more masked officer and a third person steering their boat who seemed to be the captain. He had no mask. They wear blue uniforms. The man with the stick threatened us with it. He shouted from the speaker: "Stop. Stop! Move away from the engine!" We stopped and their boat halted next to ours. He pulled of the pipe from the engine with this stick and took the petrol. The boat had a Greek flag, a blue-white stripe and a writing in non-latin characters in white colour. They tried to scare us by shouting angrily at us and threatening to beat our dinghy with the stick. Then they slightly pushed our boat with theirs. All this happened within few minutes. I think they were in great hurry, as they illegally had entered Turkish waters.
After, they quickly left returning back towards Lesvos, we noticed another big grey boat in Greek waters that was stopped in distance between us and Lesvos. It seemed to belong to the navy. I think they were observing us and making sure we would not try again to reach Greece. This boat was bigger. Our boat was taking on water and we were scared to sink. Most of us were only carrying tubes to save themselves from drowning and others had nothing to protect themselves. Two other boats appeared from Lesvos and left again – one looking like a navy boat and the other was a speedboat. But they didn't act. Two hours later, the Turkish coastguard arrived. They brought us to a camp near Ayvalik where we were fingerprinted and they took a flu test for Corona. We stayed 3 hours there. They took away all of our money for our transfer to Bursa where we were then released."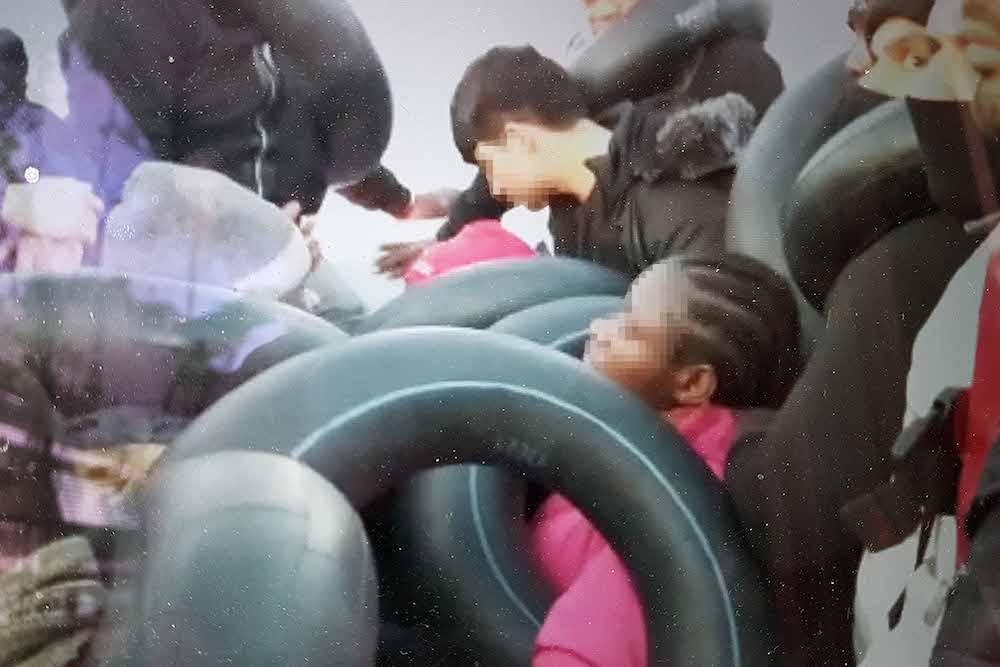 Based on witness accounts, Alarm Phone understands that the Greek coastguard had entered Turkish waters, not for rescue, but for the purpose to deter a migrant boat from reaching Greek territory. The Turkish media later wrote on this case, amongst others, pointing to the fact that the Turkish coastguard had rescued these people and other boats which the Greek coastguard had forced into life-threatening situations. People on board later reported to Alarm Phone that they had been brought in distress by the Greek coastguard, but that they wanted to emphasise that while Turkish mainstream media was celebrating each rescue and presenting the Turkish authorities as the "good guys", the Turkish authorities in their case had stolen their last money and returned them to where they had tried to escape from.
Turkish Coastguard: https://www.sg.gov.tr/canakkale-aciklarinda-24-duzensiz-gocmen-kurtarilmistir-11-5-20
Turkish News: https://www.dailysabah.com/politics/turkey-rescues-77-migrants-forced-by-greece-into-turkish-territorial-waters/news