This article originally appeared in "From the Sea to the City – 5 Years Alarm Phone"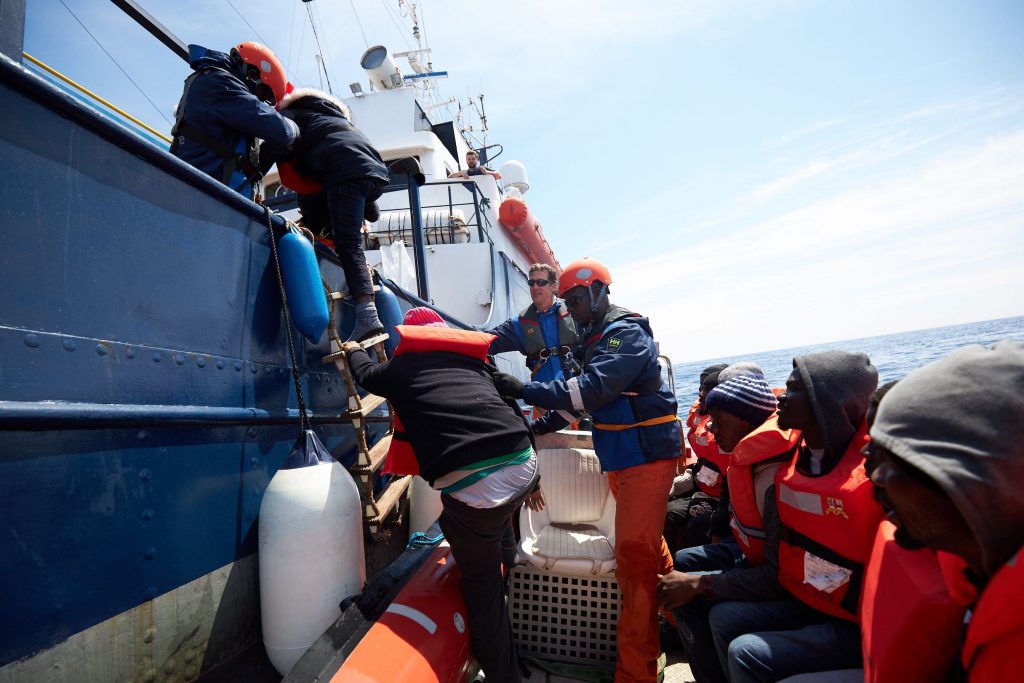 On April 3, 2019, the Sea Eye boat "Alan Kurdi" rescued 64 people in distress at sea, after an emergency call received by the Alarm Phone. Photo: Fabian Heinz / sea-eye.org
Today, the situation in the Central Mediterranean is radically different to the situation five years ago, when the Alarm Phone project started. In 2014, the number of people reaching Italy via the sea had quadrupled to the year prior (to about 170,000 arrivals). Many were rescued by the Italian military-humanitarian operation Mare Nostrum but when we started to receive distress calls from the sea, in October that year, the operation was about to end.
The resulting rescue vacuum was not filled. Instead, with the Frontex operation Triton and the military operation Eunavfor Med, EU institutions and member states ramped up measures to deter migrants from reaching European shores.
They, however, did not succeed. Numbers of crossings remained high for several years (arrivals in Italy: about 154,000 in 2015, 181,000 in 2016, 119,000 in 2017) – years that saw the crucial intervention of humanitarian rescuers in this space, the deadliest borderzone in the world. Nonetheless, something changed following 2017 and the 'memorandum of understanding' concluded between the UN-backed Libyan government and Italy.
The so-called Libyan coastguards – trained, funded and equipped by their European allies – launched mass interception campaigns at sea, returning thousands into inhumane detention camps and an active warzone. Consequently, numbers of arrivals in Europe declined drastically in 2018, dropping to about one-fifth of the number in 2017 (about 23,000 arrivals in Italy in 2018). Today, in 2019, this decline has continued, with merely about 5,300 people reaching Europe via the central route until mid-August.
The Alarm Phone has witnessed these transformations first hand. While, on average, we received one distress case from this region every three to four days in 2015, and every six days in 2016, we worked on a case only about every two weeks during 2017 and 2018. At the same time, while the overall number of calls may have gone down, never before has the Alarm Phone been contacted by such a high percentage of people trying to escape Libya. In 2019, until September 1, boats with over 3,500 people on board have reached out to us, which is over one-quarter of all people who have attempted to reach Europe from Libya in this period.
Of course, these statistics allow only a glimpse into the ongoing struggles at sea and the drama that unfolds in every single case. Cases where people were refouled back to Libya after rescue – such as those rescued by the cargo vessel 'Lady Sham' in January 2019 who remained in contact with the Alarm Phone from the Libyan detention cages. Cases where we were never able to reconnect to those who had called us – such as the 50 people who reached out to us on April 1 but were never found. Cases where the location of the people in distress was known, even marked by a smoke can dropped by a European military airplane, but where the 20 people were not rescued to safety but intercepted by the so-called Libyan authorities on April 10.
At the same time, we also engaged in situations where a non-governmental chain of solidarity prevented death or refoulement – such as the case from April 3 this year, where 64 people reached out to us and were later rescued by Sea-Eye's Alan Kurdi. The 54 people from July 4 who had already survived a night at sea when they called us and who were later discovered by Mediterranea's Alex. The three boats that alerted us and were rescued by Open Arms between August 1 and 10. Or the 80 people who dialled our number in distress and were rescued by SOS Mediterranée's Ocean Viking on August 9.
The humanitarian fleet has shrunk significantly over the past years. The constant attempts by EU institutions and member states to obstruct and even criminalise their work has taken its toll. Over the past months, nearly all rescue operations by NGOs led to stand-offs before European harbours and to investigations following disembarkations – strategies to prevent NGO boats from returning to the Central Mediterranean and bearing witness to how Europe actively turns this space into a death-zone. While every rescue has to be battled over, and while every crew risks persecution, the rescue community continues, undeterred. New boats have launched operations, such as Mediterranea's Mare Jonio and Alex in 2018 or SOS Mediterranée's Ocean Viking in 2019, while the non-governmental reconnaissance aircrafts Moonbird and Colibri continue to counter-surveille the sea.
We should never forget who the principal protagonists of sea-crossings are: the migrant travellers themselves. Despite the many ways in which Europe securitises its borders, people continue to struggle to move, and some still succeed in reaching Europe by boat. They actively seek out new routes and deploy a great diversity of tactics to circumvent Europe's deterrence apparatus. And, of course, smugglers also adapt to changing developments in the Mediterranean. Over recent months, we have seen how more boats than before seem able to reach European SAR zones or even reach Italy or Malta independently. These cases go largely unreported in the international media.
In particular since the end of May, there has been a market increase in migrant boats entering the Maltese SAR zone. It shows that those fleeing are aware that they have to bridge much longer distances to avoid being the intercepted back to Libya. On May 24, for example, the Armed Forces of Malta rescued 216 people from two rubber boats that had entered the Maltese SAR zone. Ten days later, even more boats reached this SAR zones – 370 people were rescued to Malta between June 5 and 6. In May and June, also the number of independent arrivals of migrant boats in Italy and Malta has markedly increased. Following some estimates, there were 115 people who reached Europe in this way in March, 142 in April, 295 in May and even 596 in June – this means that, over the past four months, a total of 1148 people reached Europe by boat without having to be rescued at sea.