+++ 282 counted fatalities in the Mediterranean this year +++ Refoulements to Libya by state and commercial actors +++ Solidarity Cities/Barcelona +++ 45 deaths in one shipwreck off Morocco +++ Developments in all three Mediterranean regions +++ Summaries of 29 Alarm Phone distress cases +++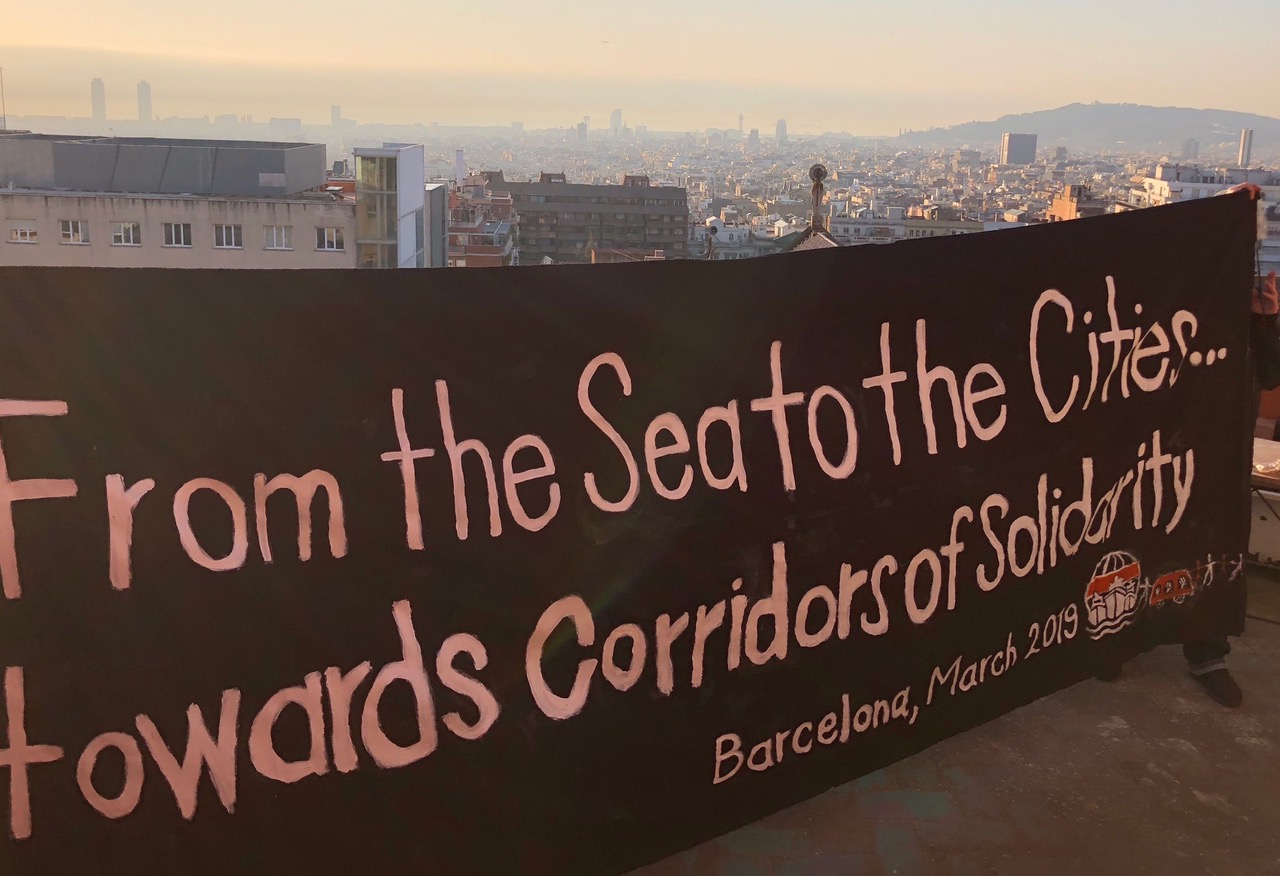 Introduction
In February 2019, Fabrice Leggeri, the director of the European border agency Frontex announced that there was "no burning crisis with the irregular crossing at external borders", pointing to the drop in arrivals between 2017 and 2018. And yet, he suggested, stronger border controls were needed.[1] As the crossings to Greece and Spain have in fact increased over the past year, the overall decrease in arrivals via the sea in 2018 stems from Europe's offensive against migrants leaving from Libya. With only about 23,000 arrivals via the Central Mediterranean route, the number of arrivals dropped by nearly a hundred thousand people to the year prior. This dramatic decrease is not due to a reduction in the need and willingness of people to cross but simply the effect of a vicious containment and deterrence practice that Europe carries out together with its allies. Currently, burning crises produced by the European border regime take place not only at the external sea borders, but also elsewhere, such as in the gruesome detention camps of Libya.
We can speak of a veritable 'refoulement industry' that has emerged in the Central Mediterranean, where a range of authorities collude to abduct those escaping at sea and to return them into inhumane camps where severe atrocities are being committed daily. Also commercial vessels, as the Alarm Phone has repeatedly documented, are part of this industry in which human rights abuses and the violation of the laws of the sea are systematically orchestrated and carried out by European governments, EU institutions, allies in Northern Africa and elsewhere, as well as commercial actors.[2] Also in the Aegean we have repeatedly witnessed and documented 'push' or 'pull-back' operations both at sea and land borders while, in the Western Mediterranean, the Spanish government is testing new avenues for systematic returns of the rescued to Morocco.
In light of this concerted assault on migrant mobilities and human rights, a collective struggle from below is needed, both at sea and on land. In late February and early March, the Alarm Phone joined a transnational meeting in Barcelona where people from Spain, Italy, Tunisia, Belgium, France, Switzerland, Germany and elsewhere came together to strategise about ways to prevent death at sea, to counter the 'refoulement industry', and to create open and welcoming cities for those rescued at sea. Nearly all non-governmental sea rescuers were present, as well as activists from a range of initiatives like welcome to Europe, sea bridge and solidarity city and representatives of progressive municipalities in Italy, Germany and Spain.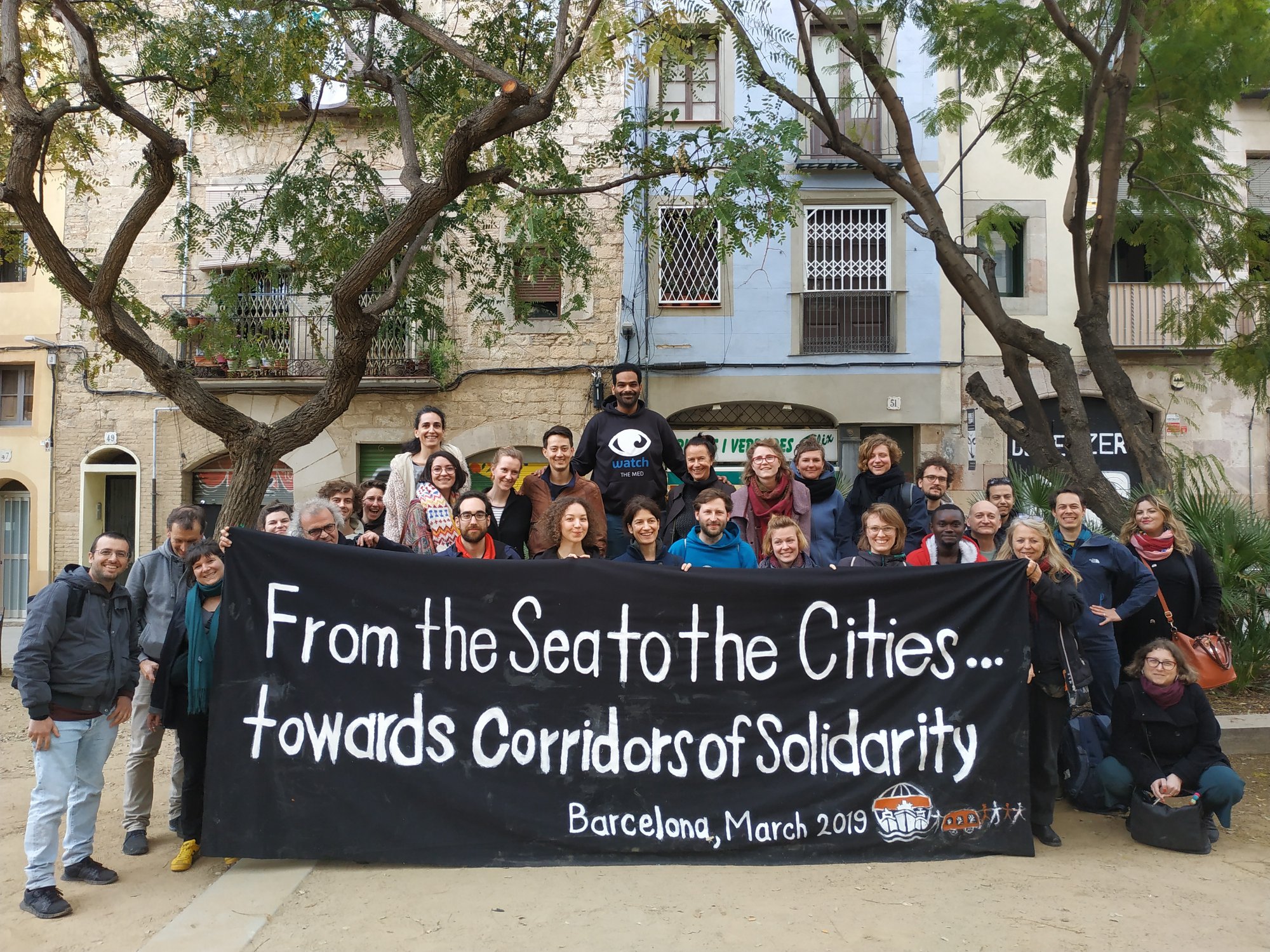 We wondered about how we, as grassroots movements, civil society actors, sea rescuers and municipalities, could work toward the (re-)opening of European harbours for the rescued. We raised the question whether it is time to initiate a civilian rescue centre as the official Maritime Rescue Coordination Centres of Europe, in particular those in Italy and Malta, have ceased to fulfil their mandate and reject their responsibility to coordinate rescue operations. We also discussed how we could assist those who were able to reach Europe in reaching their desired destinations. In light of continuous change, it is, of course, very difficult for us to assess how the situation in the Mediterranean Sea will develop over the next months, but, in any case, we are certain that we have to continue with our initiatives and strengthen transnational forms of resistance in order to open corridors of solidarity, from the sea to the cities. The 200,000 people who marched the streets of Milan in early March and called for open harbours, protested the 'Salvini decree' as well as the growing social and economic inequalities in the country showed to Italy and the world that a mass movement around the issue of freedom of movement can be formed.
Developments in the Central Mediterranean Region
As in the first month of the year, cross-border movements in the Central Mediterranean were rare also in February. In the whole of February, merely 60 people were counted as having reached Italy via this route. One would have to go back many years to find a month with a similarly low figure. So far in 2019, about 470 people are recorded as having successfully escaped from Libya by boat. It seems that, for the time being, the European refoulement industry does what it is designed to do: deter people and contain them in Libya at all cost, as was demonstrated once more on the 11th and 12th of February when the Alarm Phone was called from two groups of travellers who were eventually returned to Libya against their will.
On the 11th of February, the Alarm Phone was called from a boat in distress that carried about 130 people, including many women and children.[3] They had left from Khoms but their engine had stopped to work along the way, some of the passengers were sick, and some of the women pregnant. We alerted the Italian and Maltese coastguards, but as so often before, responsibility was rejected and the so-called Libyan coastguards were informed. A few hours later, we lost contact to the boat, and found out only later that they had indeed been refouled back to Libya. Even the IOM, a rather problematic 'manager' of international migration voiced concern about their return to "unsafe ports in Libya".[4] A day later, on the 12th of February, we were called from the sea by survivors of a Mediterranean crossing while they were illegally returned to Libya on a merchant vessel.[5] As so many others before them, also this group of 62 people was deceived by the crew and told they would be brought to Europe. One of the survivors told us what happened to them:
"It happened yesterday night around 23:00h. We had been far, we were even thinking we reached Italy when we saw something in front of us that was big like a mountain. The people were suffering, and I thought some of them were already dead. We were 62 people, all men and only one woman. Finally, a boat took us and we entered that boat. They told us 'we will go to Rome'. Then they gave us some biscuits and also some medication. We fell asleep because we were exhausted. We did not even realise where they would bring us to. At 8:45am we woke up and were in Tripoli. The Libyan police took us from the boat and detained us. We are really suffering here. If we had known before what they would do with us, we should have better died. You know, we had to flee after my father in law was killed. We have nothing left. We cannot go back and not forward. We spent all we had to pay for the ship to Italy. You have to help us! It is in the hands of the Europeans to help us and to end this suffering!"
This form of 'commercial refoulement', in which cargo vessels return rescued migrants to a place like Libya has increased over recent months, in serious breach of international law and refugee conventions.[6] Besides the ones documented in February, the Alarm Phone had documented several of such cases in January, and they continued also in March.[7] On the 8th of March, the supply vessel Vos Triton with the flag of Gibraltar rescued 54 people from international waters and returned them to Tripoli in Libya.[8]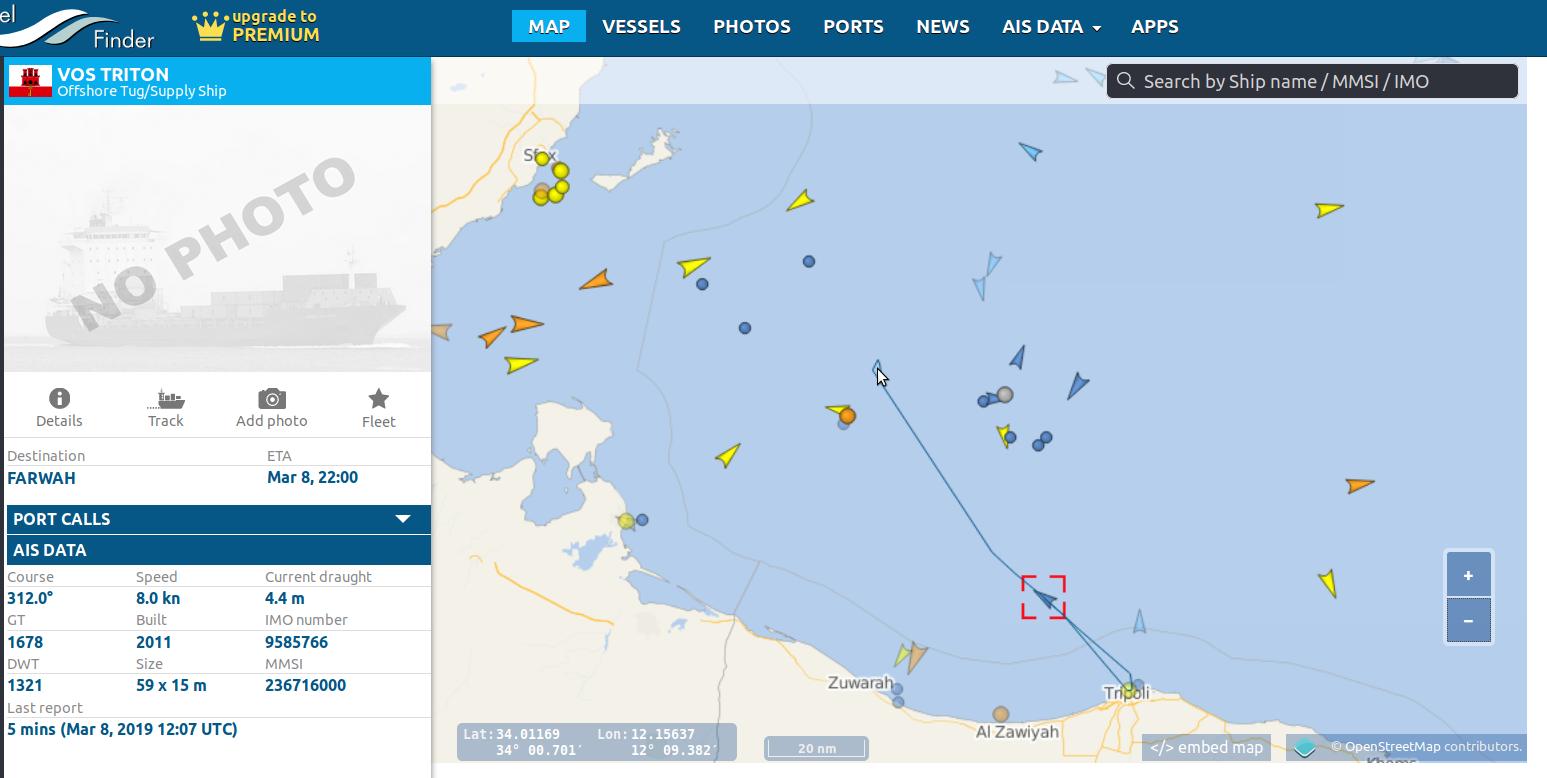 These violations speak to the new level of lawlessness at sea. Commercial actors are caught in between, aware that they would breach the non-refoulement principle when disembarking the rescued in Libya but also that any attempt to disembark them in Europe would be fraught with difficulties. It is thus not wholly surprising that instead of risking a long stand-off near European shores, these actors would take the 'easy way out' and return people into harmful conditions. On the 8th of March, we witnessed another disembarkation in North Africa, not to Libya but to Tunisia. The supply vessel Sarost V had rescued 63 persons outside Tunisian territorial waters on the 6th of March, and brought them to Zarzis/Tunisia two days later. We had been in touch with the same crew of Sarost V already in July 2018 when they cared for 40 travellers who had called the Alarm Phone and subsequently spent over two weeks on the supply vessel. As the crew us, the travellers had left from Libya.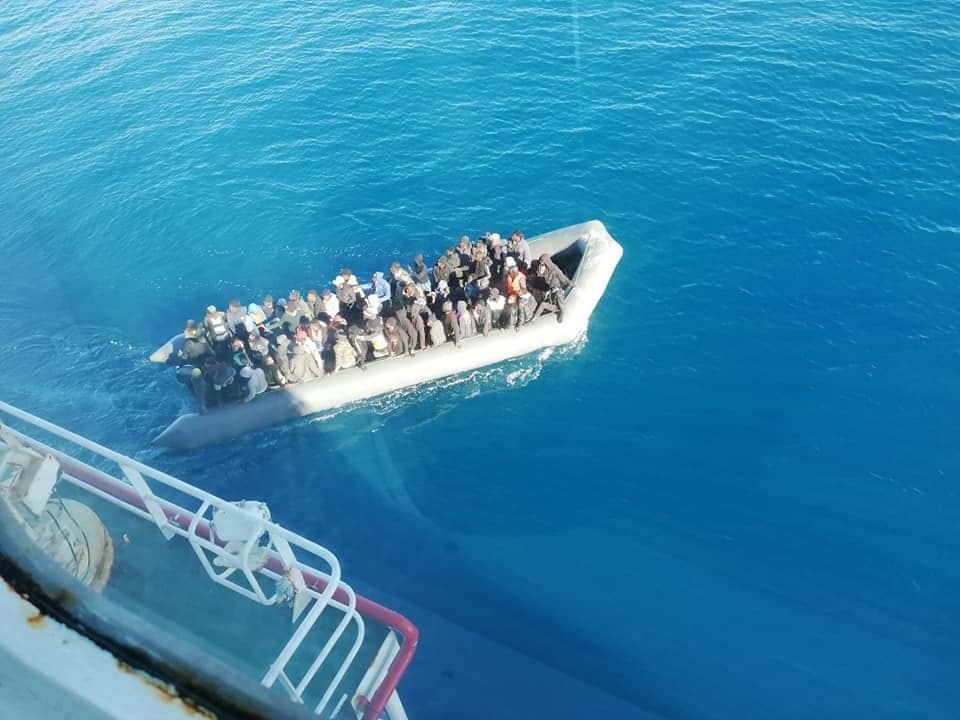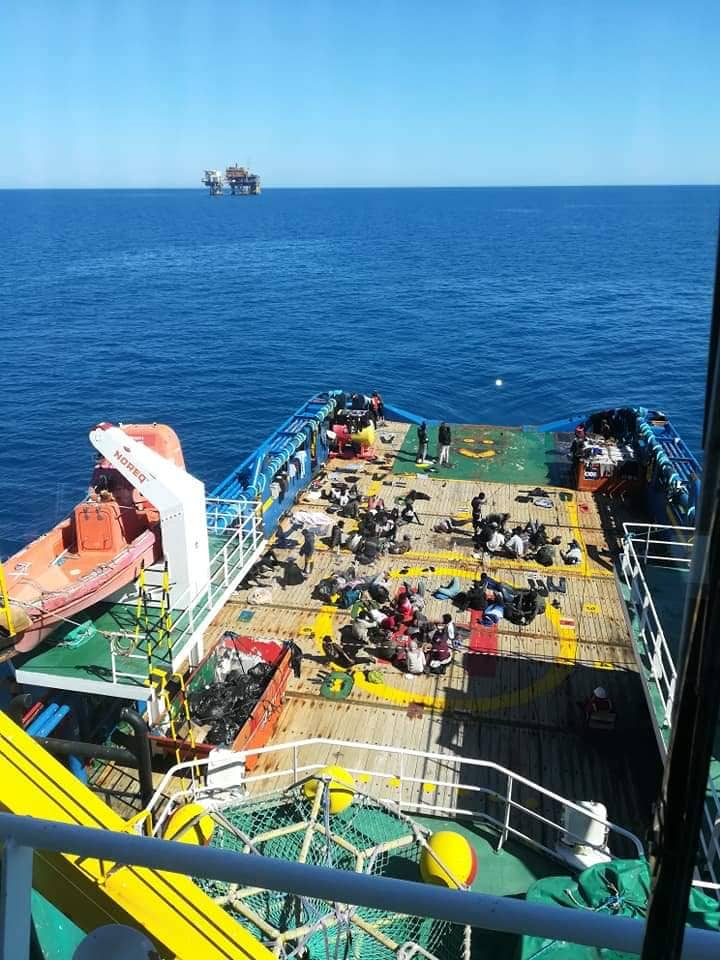 Even if the European Commission stated as recently as March 2019 that the EU would not "practice push-backs and no migrants saved by European boats are ever returned to Libya", it is clear that EU institutions and member states do everything in their power to get other actors, including commercial vessels and Libya's so-called coastguards, to do the dirty job.[9] This assertion by the European Commission was released shortly after a leaked document revealed that EU officials knew very well that their Mediterranean policies made "sea crossings more dangerous for migrants" and that "some members of the Libyan coast guard that the EU funds, equips and trains are collaborating with smuggling networks".[10] With most of the non-governmental search and rescue assets stuck at European harbours, refoulement operations back to Libya are being orchestrated by Italy and their Libyan allies in the absence of non-governmental witnesses. Even when some of the few remaining witnesses enter the Central Mediterranean, they are prevented from intervening, as was the case with Sea-Eye's Alun Kurdi when they heard about a distress case but were denied further information, so that they could not intervene.[11] The lack of rescue assets in this area was proven once more in mid-March, when 23 people stated upon their return to Libya that they had spent six days at sea.[12]
What it means for migrants to live precariously in Libya was highlighted once more in recent weeks, when Sally Hyden reported for Al-Jazeera in early March about gruesome retaliation procedures perpetrated by Libyan militias against migrants: "As many as 30 refugees and migrants, including minors, are believed to have been brought to an underground cell and allegedly tortured in Libya for breaking out and holding a protest earlier this week. An estimated 150 male detainees escaped on Tuesday from the main cell in Tripoli's Triq al Sikka detention centre, where some of them have been held for more than a year, to lodge their protest with Libya's Department of Combatting Illegal Migration (DCIM). They protested against the conditions under which they have been detained, and demanded a visit from an official from the United Nations Refugee Agency (UNHCR), according to witnesses. The majority of those detained in the past 18 months were returned to Libya by the European Union-funded Libyan coastguard after they tried to cross the Mediterranean Sea to reach Europe."[13]
Despite the ongoing threat of criminalisation, these scenes in Libya compel non-governmental rescuers to return to the Mediterranean Sea in order to support those who seek to escape from their captivity. Sea-Eye's Alan Kurdi, Sea-Watch's Sea-Watch 3 as well as Mediterranea's Mare Ionio are planning to soon enter the contentious space of the Central Mediterranean again.
Developments in the Western Mediterranean Region
Sea crossings: Recent developments
According to the UNHCR, until the 17th of March, 6,647 travellers have managed to reach Spain via the western route in 2019, of whom 5,491 were arrivals via the sea (including 105 individuals via the Atlantic route to the Canary Islands). The Western Mediterranean route is hence still the most frequented route to Europe via the Mediterranean Sea.[14] At the same time, the number of arrivals is decreasing due to repressive campaigns in Morocco and political developments in Spain that affect search and rescue operations in the Strait of Gibraltar and the Alboran Sea (see below). The Spanish Minister of the Interior, Fernando Grande-Marlaska, stated that a total of 849 travellers arrived in Spain in February this year, a figure that is 300 people fewer than in the same month in 2018, when 1,158 entered Spain.[15]
The sea passage remains dangerous, and since the beginning of 2019, at least 118 people have died at sea between Morocco and Spain.[16] By listing some of the lethal incidents here, we do not want to anonymise the deceased or think of them merely as numbers but document the loss of these lives in order not to forget. Our deep condolences to friends and families of the missing and the dead.
On February 6th, from a convoy of more than 40 travellers, at least one person drowned and two others remain missing close to the coast of Tangier.
On February 11th, a rubber boat with 12 travellers on board capsized close to the Moroccan shore near Ashakkar. Only 9 people survived the tragedy. They were detained in Tangier commissary for deportation to their countries of origin. We couldn't confirm what happened to them.
On February 28th, a rubber boat carrying 6 passengers capsized close to Tangier. Two bodies were washed ashore days later. A woman from Guinea was identified, and a 25 years-old Cameroonian called Mboma Alefta. May they rest in peace. The other passengers remain missing.
On March 3rd, an unidentified body was washed ashore the coast of Ceuta, in the Strait of Gibraltar.
On March 14th, 45 people drowned in the Alboran Sea. Only 22 survivors were rescued by the Moroccan Marine Royale.[17]
The Spanish SAR operation system: Major developments
As the Spanish government had announced to work on measures to decrease arrivals to Spain by 50% in 2019, practical changes have already been applied for several months and new plans are under consideration on how to further close-off the Western Mediterranean route.[18] First of all, there are major changes in the Spanish SAR system. Since August 2018, the military police Guardia Civil, reporting directly to the Secretary of State for Security, is in charge of the Spanish rescue organisation Salvamento Maritimo (SM). The Guardia Civil is now the head of the SAR coordination center, which means it defines its composition, directs its operations and proposes new procedures.[19] Evidently, the Guardia Civil follows a border 'protection' logic instead of investing toward an improved SAR system.
Since the 20th December 2018, SM is prevented from publishing about rescue operations on social media and its employees are not supposed to talk to the media or make statements about arrivals of travellers. Officers of the Guardia Civil are allowed to join the SAR missions of Salvamento as 'security reinforcement', though it remains unclear under which criteria.[20] The PSOE's plan is to further thwart the active patrolling of SM along the Mediterranean coasts. They will not stop attending to shipwrecks, but they will wait for distress calls before leaving the ports. This will be disastrous in urgent distress cases, as the rescue assets will need longer to arrive at the scene of distress. With these measures, the Spanish state tries to transform SM from a SAR organisation into a border control agency, which is opposed also by SM's employees themselves.[21]
The government further plans to expand the area of Moroccan SAR responsibility and to better equip the Moroccan Navy for SAR operations by providing them with two additional speed boats and by lobbying the European Commission for more financial assistance for Morocco.[22] In the meantime, SM's number of assets is being reduced while its SAR planes are still without a functioning radar system – now for over 6 months.[23] The crews on the SAR assets are looking for the boats in distress at eye level, stating that it is very difficult to see a sailboat or a dinghy without the assistance of those radars. Apart from transforming rescue missions into border control operations along its coastline, Spain tries to block any further civil society engagement in SAR situation also for the Central Mediterranean. Since January, two NGO boats are blocked in Spanish ports, the Aita Mari of the NGO MayDayTerraNeo in Bilbao and the Open Arms of ProActiva Open Arms in Barcelona. The Spanish government justifies the blockade for rather vague reasons related to matters of "legality" and "security".[24]
The newspaper El País reported on the 21st of February that the Spanish government had found an agreement with the Moroccan government according to which SM would be enabled to disembark rescued people at sea at the closest harbour, which would de facto often be a Moroccan harbour.[25] Members of SM have raised major concerns. Those rescued after risking their lives would protest and rebel against their forced return to a place they desperately seek to escape from – which has happened before, during a disembarkation in Tangier/Morocco. Just shortly after, Morocco rejected that such an agreement with Spain had been found and two days later, also Spanish Interior Minister Grande-Marlaska confirmed that SM would not push rescued travellers back to Moroccan ports.[26] It remains to be seen how this issue further develops, also in view of the general elections in Spain which will take place on the 22nd of April, possibly with right-wing forces gaining in power in the Spanish parliament.
Migrant women's voices and struggles
"Stories of women struggling across sea borders are rarely heard. When we do hear them, women are often simply portrayed as subordinate, exploited, and passive victims who depend on male companions, and who lack individual migration projects and political agency. The erasure of their agency and voices is also the effect of hegemonic narratives of migration to Europe, in which 'the migrant' is routinely imagined as young, able-bodied, and male, more an abstract figure than a human being, commonly constructed as a dangerous subject against whom border enforcement and deterrence policies are legitimised." Alarm Phone Report, March 22, 2018[27]
A year ago, we dedicated our report to the struggles of migrant women in order to create a counter-narrative to their overwhelming victimisation, to give voice to women in transit and to highlight gender-specific challenges and aspirations. A year later, the complex situation migrant women face in Morocco has not changed or has even deteriorated due to reinforced campaigns of repression and violence directed at the Sub-Saharan communities in Morocco. We asked migrant activist women who currently live in Morocco what they would like to add to this report.
Khady, from Tangier, responded: "The violation of conjugal loyalty and the frequent rapes, that's what I want to say, that worries me a lot."
Fatou, also from Tangier, said: "Migrant women face one of the most vulnerable situations in Tangier. Most of them stop cars at traffic lights and stops to ask for charity just to eat and pay rent. Or they will be used by men to try to survive. And if they come across the wrong people, it is painful for them. They end up getting pregnant or even having several children and this makes their lives even more difficult in this city where police repression does not exclude either man or woman. Even with a child you are deported back south."
Edith, from Berkane responded: "Hello everyone, and my greetings to all women. I want to send this little message to say no to the violation of women! Because women suffer a lot. It has to stop! Especially since here in Morocco, there are no human rights. Women suffer. Even if women get involved with men, they threaten them too much and everything. That has to stop! Do the United Nations think that this is normal?"
Pascaline, from Fes, commented: "The International Women's Day allows women to carry out their activities and is celebrated as it should be, but the migrant women in Morocco live another reality. They have to deal with uncovered basic needs, being marginalised, subjected to all kinds of abuse, without housing for the most part and especially in the forests, trying to cross by the sea. This crossing can have three outcomes… the most desired is reaching Europe. The other two possible outcomes constitute hell. Either a deportation under inhuman conditions by the Moroccan police or death by drowning. This is what the migrant women's day in Morocco is all about. Thank you."
Rodrigue a migrant activist man from Nador, also included message: Living from begging as there is no work, and having to take care of children, women are blocked and cannot think of continuing the journey. A woman who doesn't work can only live from begging. There are no spaces created for women, there are no schools for [migrant] children, there is no vision for suffering women, neither in the cities, nor at the borders, nor in the forests. Everywhere it's the same. The biggest concern is the guidance and education of the children that are born here in these circumstances. They have to live the same life as adults here, there are no kid's spaces. We have to show solidarity and make noise with and for the women in the whole world. Without the noise things will never change. La main sur le coeur…"
The International Women's Day on the 8th March is a day of demonstrations around the world, to give voice to women's demands and aspirations, to highlight struggles and challenges in a male-dominated society. Also in Morocco, actions and demonstrations took place in the major cities. For migrant women who live precariously in Morocco, the violation of their rights and well-being is particularly concerning, with the Moroccan armed forces frequently involved in gender-based abuse. Merely two days before the International Women's Day, a woman testified to the human rights organisation AMDH Nador of an attempted rape, physical violence and robbery perpetrated by police forces during raids in the forests around Nador. The woman resisted courageously, see her testimony here. This incident is not unique but a common experience many women have to endure when being caught by police forces in the forest. In an impressive study put together by Helena Maléno and Alianza por la Solidaridad throughout 2018, 81 women were interviewed, and their stories give a powerful testimony to the realities and challenges that travelling women face. The report can be downloaded here.[28] The EU is complicit in these forms of abuse as the Moroccan border regime and its violent excesses are supported and financed by EU institutions and member states. Although repressive actions in Morocco are well documented, Germany considers Morocco a potential 'safe country of origin'.[29]
Realities in Morocco: Ongoing repression
On the 13th of February, the Spanish King Philip VI and his Moroccan counterpart Mohamed VI signed 11 bilateral agreements in Rabat.[30] Even if the agreements that were published do not specifically address migration issues, it is unlikely that the kings did not debate the topic, as the migration regime is a crucial factor shaping the Moroccan-Spanish relationship.  Directly after the visit, the Moroccan police conducted large-scale raids in the mountains of northern Morocco and since, the auxiliary forces have continued to destroy, loot and burn nearly daily the camps in the forests around Nador, notably Bolingo, Selouane and Zoutiya.[31] In the makeshift camps, travellers live in precarious conditions whilst waiting to get on a boat or to cross the border of the Spanish enclave Melilla. Also many children live in the forests and camps and suffer from the conditions and from being chased frequently by armed forces. A 6-year-old boy who had spent three months in the woods and tried several times to cross in a rubber dinghy told Alarm Phone activists about his traumatic experiences. He is part of a generation of children who do not have access to schools and education in Morocco, and who grow up in rough conditions and have to endure enormous deprivations and violence. According to local contacts, hundreds of children currently live in the forests around the enclaves.
Meanwhile, Moroccan police forces continue to disregard the residence papers that have been granted to certain Sub-Saharan African migrants. In mid-February, an Alarm Phone activist was arrested in the city of Nador, and the police refused to check his papers until the next morning. He had to spend the night in the courtyard of the Nador commissary with about 17 others. They did not receive any water or food and had to cover themselves with cardboard boxes as they were lacking blankets for the night. On the next morning, the police had to release our activist member and two others, as all three are regularised in Morocco. According to local contacts, the rest of the group was deported to their countries of origin.
On the 21st of February, another Alarm Phone activist was arrested despite possessing papers and a legal status. The police did not accept his papers and forced him onto a deportation bus to the southern city of Tiznit. On 12th of March, yet another member of our network was arrested in spite of possessing papers. She was brought to the commissary in Bni Makada, Tangier, from where detainees are often deported to their countries of origin. With the help of comrades from the AMDH Tangier, she could prove her residency and was released later that day. Our comrade managed to film and photograph the cellar-like room where she was kept, together with a pregnant woman who was 6 months pregnant and kept vomiting blood. The woman did not receive treatment. We tried to follow up on her and learnt later that she had been deported to Rabat. She sent videos out of the deportation bus showing how another woman fainted during the deportation, as she was pregnant and in a faible health condition.
At the Algerian-Moroccan border, Moroccan police forces carry out arbitrary arrests of Sub-Saharan travellers as well. On Monday, the 11th of March, at 6am, police forces entered three districts of Oujda, where many black Africans reside. The focus of the operation was the district Andalouse, where, according to our local team's estimate, about 200 migrant travellers currently live. Reportedly, the police claimed that they were searching for five men who were suspected to be involved in human trafficking. And yet, a total of 81 people were being arrested, among them 26 women and 7 children. A delegation of Alarm Phone members went to the commissary and in collaboration with a pro bono lawyer they managed to pressure the police to free at least those whose names and legal status were known. In total, 19 people were released, among them students, as well as 4 women and 5 children whose presence undermines the claim that the initial search targeted five male individuals. In a declaration released later the same day, the police simply stated that the operation also resulted in the arrest of 'irregular' migrants, which obviously was incorrect, as many of the arrested had legal residency in Morocco. So the racist and arbitrary detention practices continue to spread, targeting now also regions that were previously rather unaffected.
Also in Timera, Rabat, about 100 Sub-Saharans were arrested during the second week of March, and in the morning of 12th of March, the makeshift camps of travellers at the bus station of Agadir were evicted and more than 120 travellers were taken by police forces. On Thursday, the 14th of March, police operations in Tangier Medina led to the arrest of another Alarm Phone member. He was woken up in his sleep by police forces who broke his door without even knocking before entering. The police entered strategically the hotels and houses in the Medina, arresting Sub-Saharan migrants. Our comrade was finally refouled to Casablanca and released there.
But there are some good news, too: Moroccan authorities closed the case against human rights activist Helena Maleno. She had been accused by a court in Tangier of human trafficking and facilitating irregular immigration. She had been investigated by the Spanish police for seven years. Eventually, the authorities concluded that her support of boats in distress in the Western Mediterranean did not constitute an illegal activity.[32] This is an important outcome for individuals and networks engaging in SAR activities in the Mediterranean, although, of course, such an investigation should have never been launched in the first place.
Situation in the West-Sahara
Over recent weeks, deportation buses leaving from Tangier have moved much further south than before, up to the cities of Dakhla and Boujour in the West-Sahara. These cities are more than 30 hours away from Tangier and the transport back is very expensive and difficult for the deported. Either the travellers stay for 5-6 months working mostly in factories in the biggest regional city and economic hub Laayoune in order to be able to return northwards, or they try to cross to the Canary Islands. This route is not only very dangerous but also heavily controlled. Local contacts report that posts of the Moroccan Navy are installed every 1 to 2 kilometres along the coastline from Tarfaya in the north of Laayoune even up to Dakhla. If travellers are intercepted or arrested during raids in the cities, they are brought to a detention center in Laayoune. Local activists witnessed even deportations northwards in the direction of Casablanca/Rabat. These deportations in the opposite direction are cynical practices, with precarious travellers being relocated back and forth as the outcome of political games and police strategies.
Moroccan-Algerian border zone: A death trap
Over the period covered by this report, the Algerian-Moroccan border between Oujda and Maghnia has shown its deadly face several times. Travellers trying to reach Morocco via this border must not only cross fences, but first of all a ditch, which in winter is a death trap. Soaked in water, at least 8 people froze to death in the last two weeks alone, among them a pregnant woman. The bodies have been found often by villagers and they were brought to the Oujda morgue. One Malian, two Bangladeshi, one Ivorian and two Cameroonians have been identified. Three bodies were also found on the Algerian side, and three other people were rescued at the last minute. The ditch is a death trap!! This needs to be addressed immediately!
#5añosTarajal – No olvidamos!
On the 9th of February, Alarm Phone members marched together with around 500 travellers and activists towards Tarajal, the border zone between the Spanish colony of Ceuta and Morocco, in order to commemorate the victims of the deadly attack of the Guardia Civil on 6th February 2014 on travellers trying to swim across the fence.[33] Several friends and members of the Alarm Phone had witnessed themselves that day how the Guardia Civil shot with tear gas and rubber bullets into the group of travellers trying to reach Spanish ground. Officially 14 deaths have been counted that night, but much more people remain missing, witnesses speak of 50 to even hundred people who are missing since. This deadly attack on unarmed travellers remains uncondemned until today. "Good" news: Just 4 days after the march, the court has agreed to extend the investigation of the case for another 18 months and to hear another survivor's testimony.[34] We demand justice for the victims. They didn't simply die at the borders, they were assassinated!
~ In memory of friends and comrades, Roger, Yves, Samba, Larios, Daouda, Luc, Youssouf, Armand, Ousmane, Keita, Jeannot, Oumarou, Blasie and many more that remain missing. ~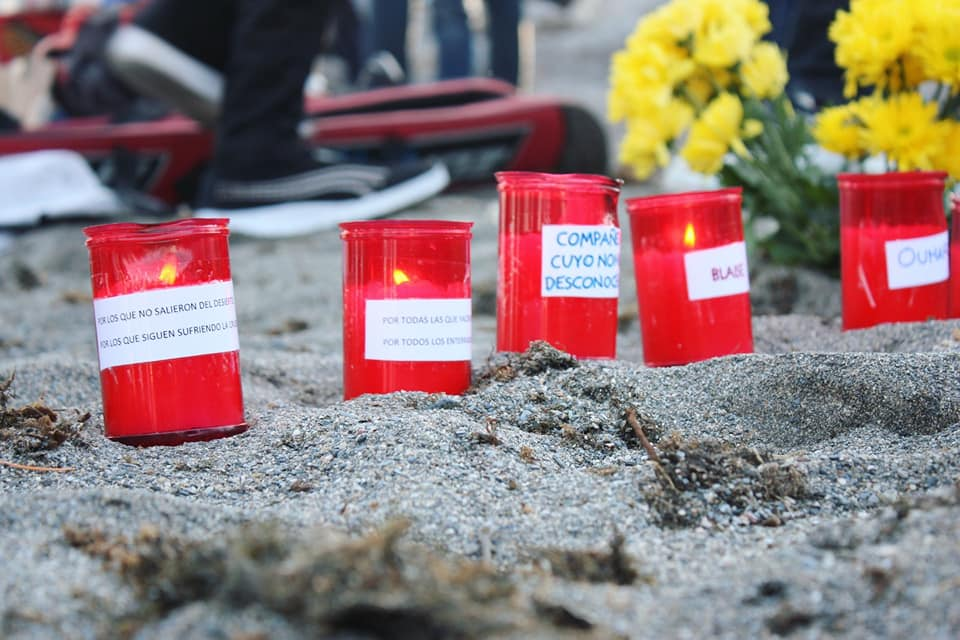 On the day of the march, cynically, up to 300 travellers were arrested on the other side of the border fence, in the forests around Cassiago/ Fnideq. The police carried out large-scale raids in the forest and deported most travellers southwards. We cannot rule out that some were also eventually deported to their countries of origin, as there is no official information on these operations.
Border developments at the Spanish enclaves
The Minister of the Interior, Fernando Grande-Marlaska, visited Ceuta on the 23rd of February and met with the current Mayor-President Juan Jesús Vivas (PP) and representatives of the police and the Guardia Civil in order to discuss border reinforcements. The Council of Ministers recently agreed to invest 32.7 million Euros to implement a plan to strengthen and modernise the land border protection system in the cities of Ceuta and Melilla. Vivas demanded more national police and Guardia Civil in order to shield the city's port that he described as a pull-factor for 'stowaways'.[35] He confirmed the city's future investment of 1.7 million Euros to fortify the port's security installations.[36] The port remains a crucial gate for travellers trying to continue their journey to mainland Spain, and the reinforcements will make their attempts more difficult and dangerous, as for many people it is not an option to remain in Ceuta, especially for the numerous minors with Moroccan nationality who cannot even access education in the enclaves. Just recently, on the 14th of February, 15-year old Ilias from the Moroccan city of Martil lost his life at the port when he tried to find a way to mainland Spain.[37]
Apart from police and Guardia Civil reinforcement, the border fence itself is still under discussion. Marlaska stated that in the coming weeks, action will be taken in the border area to replace the concertina barbed-wire. He plans to increase the height of the double-fence by '30 percent' at some more 'sensitive points'. In addition, new features will be added to the fences that will make the crossing more difficult. Guardia Civil has proposed to put in place steel plates, something that has not been verified by the minister.[38]
The Public Prosecutor's Office of Ceuta demands 6 year prison sentences for nine migrant travellers who had jumped the fence on the 26th of July 2018 They are accused of having thrown quicklime at Guardia Civil officers, causing injuries to nine of them.[39] The prosecutor also demands compensation for the Guardia Civil and the payment of 10,511 Euros to the state for damages to the fence.[40] Such ridiculous compensation claim is quite symbolic of the perversity of the situation along the fences where migrant travellers are continuously harmed and even killed in impunity, simply for trying to cross a border.
Algeria: Uprisings and implications for travellers
In several cities all over the country, mass protests have taken place in Algeria since mid-February. The biggest demonstrations took place on the 1st of March and a week later on the 8th of March when hundreds of thousands of protesters of different generations filled the streets to speak out against the renewed candidature of president Bouteflika in the next presidential elections on the 18th of April.[41] This would have been the 5th term of Bouteflika, who, 82 years old, suffered from a stroke in 2013 and is rarely seen in public since. He rules the country since 1999, and the protesters demand a regime change after his 20 years of authoritarian leadership and also demonstrate against the economic situation and the military system more generally.[42] The demonstrations remained relatively peaceful, but on the 1st of March, on the way to the presidential palace, numerous demonstrators were violently attacked by special police units and seriously injured – one protestor died. As a consequence of these protests, Bouteflika renounced his candidature for a renewed term on the 11th of March. At the same time, Prime Minister Ouyahiya resigned and was replaced by Noureddine Bedoui, the former Interior Minister.
Bouteflika also announced that elections would be postponed until the end of 2019. That statement led thousands to the streets once more, on the 12th of March. In the port of Bejaia, workers started to strike and nationwide protests assembled hundreds of thousands again on the 15th, the fourth Friday protest in a row.[43] "They wanted elections without Bouteflika, now they have Bouteflika without elections" summarised a France24 reporter.[44] Impressive images of largely peaceful protests circulated on Twitter under the hashtag #Algerie_manifestations.[45] The Arab uprisings of 2011 had not affected Algeria as much, as the memory of the 'black decade', the Algerian civil war during the 1990s, was still fresh. Now it is impressive how Algerians across all generations and all over the country demand regime change.
The number of Algerian nationals leaving the country and trying to reach the EU via Morocco, also called "Harraga", is continuously increasing. It remains to be seen whether the current political unrest will prompt an increase in emigration. The right-wing politician Marine Le Pen already demanded that the French government should suspend the granting of visas to Algerians to prevent a possible "migratory influx" related to the current political situation.[46]
Many Algerian nationals leave the country via Morocco and access the Spanish colonies Ceuta and Melilla with fake passports. But they are blocked for long time from leaving the enclaves, waiting for their turn to get the 'Salida', the permission to leave to mainland Spain. As Moroccan and Algerian nationals have to wait long periods until they are transferred, many try to board boats and vehicles leaving to the peninsula clandestinely, risking their lives, or they leave in rubber boats, paying up to several thousands of Euros for the passage that is no less dangerous. Just recently, on the 28th of February, 52 Algerians were intercepted at the port of Ceuta during an attempt to cross to mainland Spain.[47] And even after reaching Europe, Algerian nationals are rarely accepted as eligible for asylum. Germany considers Algeria still as potential 'safe country of origin'. Algerian nationals are considered 'economic migrants' and deported frequently from many European countries.[48] Whether the current situation in Algeria impacts on the deportation practice remains to be seen.
Developments in the Aegean Region
The UNHCR has counted the crossing of over 6,000 individuals into Greece in 2019, of whom around 4,000 came by boat and 2,000 via the land border in the Evros region.[49] The number of crossings for February constitutes an increase by 18 percent compared to the same period in 2018 – about 1,500 people reached the Greek islands.[50] The number of individuals returned to Turkey by the Turkish coastguards has almost doubled compared to the same period in 2018, which points to an increase of repressive measures along the Aegean route but also to a persistent vitality of migration and continuous attempts to cross the sea. Over the past six weeks, the Alarm Phone was repeatedly contacted by people in distress at sea and supported 15 groups of travellers. These crossings remain incredibly dangerous as was unfortunately proven several times over the past weeks. On the 12th of February, a 9-year-old girl drowned at sea and her body was found only several days later.[51] On the 6th of March, two small boys, aged 4, as well as their father, died when their boat sank near Samos. A few days later, besides the body of the girl from the 12th of February tragedy, the body of a woman was found, who has not yet been identified.[52]
Racist Attacks
In the early morning of the 19th of February, a violent mob attacked an apartment of migrants near Thessaloniki, with racist motifs being suspected.[53] Molotov cocktails were thrown onto the balcony of the apartment in which two women and eight children were sleeping. Fire broke out but could be extinguished by neighbours. A similar incident happened near Athens on the 15th of March. The Alarm Phone was alerted by a group of about 100 people who sent us a video they had taken.[54] With Greek police presence, the mob used petrol bombs, stones and batons to attack the whole group – men, women and children. This group was specifically moved out of the camp and resettled in a hotel outside of Athens because of their precarious situation. Just 2 hours after their arrival to the hotel, the mob attacked them and barged into their rooms. The man in the video was in his room when three men broke the door. They rammed a fire extinguisher into his chest and scared his children. The group reached out to Alarm Phone because none of them dared to step outside the hotel. We informed activists from the City Plaza in Athens who pressurised the Greek police and the IOM and who initiated a social media campaign which received widespread attention.[55]
Ongoing Criminalisation
The criminalisation of migrants who protest their incarceration in inhumane conditions on the Greek islands continues. Individuals who have protested peacefully were brought before the court, and some were convicted, charged dubiously for "occupying a public space", "disobedience", "resistance against the police" or "camping on a communal space"[56]. One trial will take place in May 2019, involving migrant individuals who had been attacked by fascists with molotow-cocktails and stones. These trials indeed "mark another peak in a chain of systematic criminalization of refugees, who are only claiming their rights and protesting against the restriction of movement."[57] Five of the eight men, who were arrested during protests in the Moria camp on Lesvos Island in March 2018 spent 11 months in prison before being brought before court on the 22nd of February 2019. They were found innocent and acquitted of all charges but they will not get back the time they spent imprisoned. There are also indications that authority pressurise individuals in migrant communities and offer benefits for cooperation with the police. In the above-mentioned case from Lesvos, the person who testified against the accused was permitted to leave the island and move to mainland Greece the day of his testimony.[58]
Inhumane conditions, inhumane treatment
The Council of Europe's anti-torture committee has criticised the inhumane treatment of migrants in Greece. They emphasised especially the lack of medical care and the insufficient protection of women and children. In the detention camp Fylakio, on the northeastern border with Turkey, they counted up to 95 people living in the same room, among them children and pregnant women. Moreover, most basic requirements were absent: sufficient water, food, medicine, sheltered spaces. Many people in the camp are suffering from diseases, including scabies, as well as police harassment, often at risk of being illegally pushed-back to Turkey.[59]Unaccompanied minors are housed together with adults which exposes them to different forms of violence. The greek authorities, however, denied to have carried out push-backs and connected the poor conditions in the camps to the pressures of increased migration.[60] On the 28th of February, the European Court of Human Rights condemned Greece for the mistreatment of unaccompanied minors, as they were left in degrading conditions in Greek police stations. They were held in different police stations in Greece between 21 and 33 days before being transferred to the Diavata Reception Centre and only subsequently to a special facility for minors. During this odyssee, the court regarded different articles of the European Convention of Human rights as violated. The court unanimously held that there had been a violation of several articles of the European Convention on Human Rights, including Article 3 (prohibition of inhuman or degrading treatment), a violation of Article 13 (right to an effective remedy) and a violation of Article 5 § 1 (right to liberty and security) and Article 5 § 4 (right  to a speedy decision on the lawfulness of a detention measure). Even though the compensation of 4000 Euros seems to be rather symbolic given the severe violations of human rights, the judgement highlights once more the inhumane conditions in Greece.[61]
The camps on Samos and Lesvos, and in Thessaloniki
The situation on Samos keeps deteriorating. The camp close to the island's capital Vathy is severely overcrowded, and according even to the Greek Minister of Migration Dimitris Vitsas, the fear is of a 'new Moria' on the island. More than one-fifth of the population are children, 229 of whom are unaccompanied, who endure in inhumane conditions. Only those considered particularly vulnerable are transferred off the island. Besides the problematic aspect of having to demonstrate one's 'vulnerability', the procedures are slow as merely one state appointed doctor works in the camp.[62] Also on Lesvos, the situation continues to be bleak, even though people are being occasionally transferred off the island. The camp designed to imprison about 2,300 people holds about 5,300 in February 2019, 1,000 of whom live in makeshift tents outside the camp. Due to the bad weather conditions and the lack of heated shelter, many are sick and also suffer from a scabies epidemic. The last state appointed doctor has quit his job already last November and there are merely two doctors from MSF.[63] One of them reported: "Such conditions I have never experienced before in any other camps in Sudan, Iraq or Ethiopia. Everyday people queue up for hours in a barred corridor for food. We treated children who broke their arms because they were pressed against the bars. I don't understand why they don't just open two more rows. Every morning I come to see if the people have survived the freezing cold of the night."[64]
The situation in mainland Greece is also very concerning. In February, a few dozen migrants left the Diavata camp in Thessaloniki to create their own makeshift camp near the old railway station where they endure in difficult circumstances. They left as the camp was completely overcrowded.[65] On the 8th of February the European Council on Refugee and Exile published a statement commenting on the inhumane living conditions in the northern camps around Thessaloniki.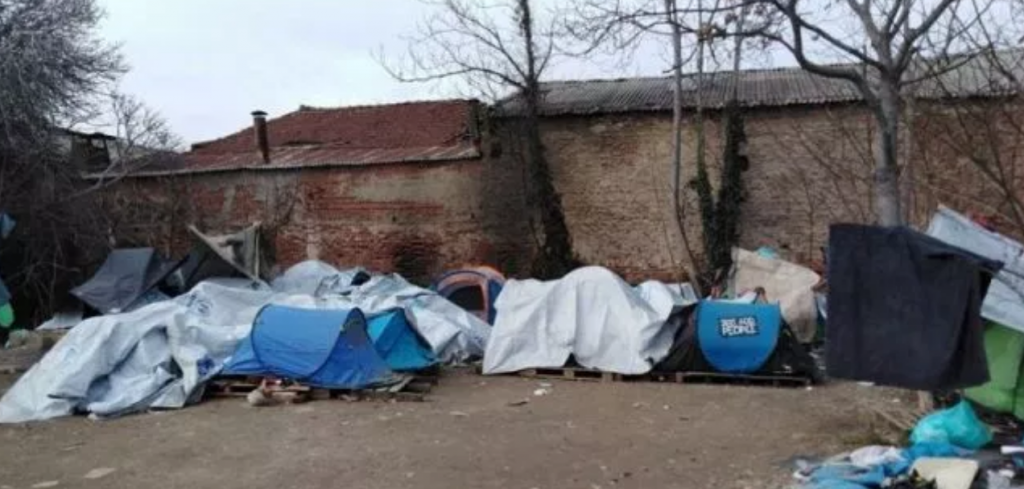 The end of the ESTIA Program
On the 15th of March the Emergency Support to Integration and Accomodation (ESTIA) will end. The program was activated in November 2015 by the European Council and ran for three years. They allocated 561 million of Euro to Greece for providing emergency support, accommodations and cash assistance for people in different phases of their asylum status.[66] Since November 2015 until February 2019, the UNHCR supported 57,145 people in 14 Greek cities and on 6 Islands, and on February 2019, still 26,186 people are benefitting from the program which is supposed to support people with access to accommodation, health care, education, language courses, employment, recreational activities, improved water and accurate hygienic conditions.[67] Now that it comes to an end, the Greek government will ask people to vacate their living places.[68] The ones affected first are people who have got their status before August 2017. In a second step people will be requested to leave their places who have a refugee status or a subsidiary protection for more than 6 months. And as the Greek Ministry of Migration Policy mentioned they will gradually stop with all the cash assistance and other support.[69] There are only exceptions for people who are so sick, that the expulsion would be a risk for their live, and for mothers shortly before or after giving birth.[70] The people have been informed by UNHCR about the procedure. If they leave their places until 31. March 2019 the cash assistance will run three months longer. If they refuse to leave, the financial assistance will be stopped immediately.
CASE REPORTS
Over the past 6 weeks, the WatchTheMed Alarm Phone was engaged in 29 distress cases, of which 11 took place in the Western Mediterranean, 15 in the Aegean Sea, and 3 in the Central Mediterranean. You can find short summaries and links to the individual reports below.
Western Mediterranean
On the 4th of February 2019 at 3:04pm CET the Alarm phone shift team was alerted to a boat with 49 people which had left from Bouyafar at 11pm the previous night. At 4:34pm we gave the Spanish search & rescue organisation Salvamento Maritimo (SM) the information that we had about the case. At 5:17pm SM said that they had found a boat with 49 people on board which was still at sea and without phone signal. At 9:32pm SM informed us that the rescued travellers would arrive in Almeria over the next couple of hours. http://watchthemed.net/reports/view/1140
On the 5th of February the Alarm shift team was alerted to two boats (carrying 95 & 75 people) which had both left from or close to Bouyafar. Both boats were rescued to Spain by the Spanish Salvamento Maritimo. http://watchthemed.net/reports/view/1141
On the 6th of February 2019 the Alarm phone shift team was alerted to two boats carrying 7 & 5 people which had left from Tangier. They were both later rescued by the Spanish search and rescue organisation Salvamento Maritimo. http://watchthemed.net/reports/view/1142
On the 10th of February 2019 at 9:54am CET the Alarm phone shift team was alerted to a boat carrying 40 people which had left from Karia at 10pm the previous evening. At 10:35am we contacted the Spanish search and rescue organisation Salvamento Maritimo (SM) about the boat, who told us that they were already aware of this case. At 1:31pm we learned from SM that the boat had been found and was awaiting rescue. At 4:45pm SM informed us that they had rescued the travellers to Spain. http://watchthemed.net/reports/view/1143
On the 11th of February 2019, at 9.09am CET, the Alarm Phone was alerted by a contact person to a boat carrying 4 people who had left Achakar/Morocco at 5am local time and were rowing toward Spain. We repeatedly tried to reach the travellers but initially we were not able to get through to them. Eventually, around 11am, we were able to get through to them and they told us that they could see a helicopter of the Spanish search and rescue organisation Salvamento Maritimo (SM). They could also see a vessel approach them. Already half an hour later, the people confirmed that they were intercepted and returned to mainland Morocco by the Moroccan Navy. http://watchthemed.net/reports/view/1144
On the 20th of February at 1.33pm CET, the Alarm Phone shift team was alerted by a contact person to a group of 36 people, including nine women and a girl. The travellers had left the previous night at 1am from around Nador, and the last contact to the boat had been at around 8am. We tried to call the travellers, but were not able to reach them. At 2.05pm we called the Spanish search and rescue organisation Salvamento Maritimo (SM), and passed on the information we had. Throughout the day we continued trying to reach the travellers, and stayed in contact with both the contact person and SM.  At 9.35am the contact person informed us that the travellers had arrived safely back to Morocco at around 5am, brought back to shore by the waves. SM confirmed this shortly after, and told us that a local fisherman had helped them reach the shore. http://www.watchthemed.net/reports/view/1145
On Saturday, 9th of March, at 4:50am CET, we were informed about a boat in distress in the Strait of Gibraltar. The travellers had left from Tangier two hours earlier, but their engine had broken down and their boat was in a critical condition. They were still close to Morocco, and they asked us to inform MRCC Rabat. We couldn't figure out their GPS position. We called the Moroccan authorities at 5:03am, but couldn't reach anyone. At 5:05am we informed the Spanish rescue organisation Salvamento Marítimo in Tarifa. At 6:36am we called MRCC Rabat. The responding officer told us that the Marine Royale was informed and would still search for the boat. At 7:42am we finally reached the travellers. They confirmed that they had been rescued by the Moroccan Marine Royale. http://watchthemed.net/reports/view/1153
On Wednesday the 13th of March at 9.22pm CET, the Alarm Phone shift team was alerted by a contact person to a group of 67 people, including 12 women, who had left from around Nador the previous night at 2am. The last contact to the boat had been at 3pm, where the travellers had informed the contact person that there was a hole in their inflatable boat. We tried calling the numbers of the travellers many times but were not able to reach them. At 10.19pm we called the Spanish search and rescue organisation Salvamento Maritimo (SM), and at 11.07pm we spoke to the Moroccan rescue authorities, who confirmed that they were looking for the boat, in a coordinated operation together with SM with both vessels and an aircraft. The following morning, however, they had no news concerning the boat. At 3.55pm The Moroccan authorities told us that they had rescued a boat in the morning carrying 22 people, including seven women. Via the contact person we found out that the 22 people rescued were the survivors from the boat we had been alerted to. Only one dead body was found so far, which means that another 44 people remain missing. http://www.watchthemed.net/reports/view/1157
On Saturday the 16th of March at 9.38am CET, the Alarm Phone shift team was alerted by a contact person to a group of 6 people, who had left from a beach close to Tangier at around 5.30am. Neither we nor the contact person were able to reach the travellers, despite many attempts. At 1.14pm we called the Spanish search and rescue organisation Salvamento Maritimo (SM) and passed on the information we had. They told us that they would hand over the case to the Moroccan rescue authorities. At 5.22pm, the Moroccan rescue authorities informed us that they had rescued the travellers and brought them back to Morocco. However, the next morning we were informed that the travellers were being deported along with 36 other people to Tiznit in the south of Morocco, something which has become a common practice in Morocco when people are intercepted at sea. http://www.watchthemed.net/reports/view/1158
Aegean Sea
On Tuesday 19th of February at 7.18pm CET Alarm Phone shift team was alerted to a group of 14 travellers, including four children, who were stuck on the Greek island Vatos. We got in touch with the travellers, who sent us their position, and urged us to alert the rescue authorities. At 9.30pm we called the port authorities on Chios, who told us that they were already on their way to rescue the group, and at 10.04pm they confirmed that the rescue operation had been carried out. http://www.watchthemed.net/index.php/reports/view/1146
On Wednesday 20th of February at 1.37am CET Alarm phone shift team was alerted to a group of 21 travellers, including 10 children and five women of which two were pregnant, who had stranded on the island of Simi. At 2.29am we managed to reach the group, who forwarded their position, and told us that they had already reached out to the Greek coast guard but had encountered communication problems as no one in the group spoke English. We immediately called the Greek coast guard on Simi, who told us that rescue was already on its way, and half an hour later we received the confirmation that they had reached the travellers, and were carrying out the rescue operation. http://www.watchthemed.net/reports/view/1147
On the 21st of February the Alarm Phone was alerted to two groups of travellers in distress in the Aegean region. One boat in urgent distress close to the Turkish coast was rescued and brought to Turkey, and a group of travellers stranded on the Greek island Agathonisi was rescued by the Greek coast guard and brought to Samos. http://www.watchthemed.net/reports/view/1148
On Saturday 23rd of February the Alarm Phone shift team was alerted by two groups of travellers in distress in the Aegean Sea. Despite bad weather, both boats managed to arrive safely on their own to the north of Lesvos, where a nine-year-old girl had lost her life just a few days earlier. http://www.watchthemed.net/reports/view/1149
On the 26th of February at 11.30pm CET, the Alarm Phone shift team was alerted to a case of a boat in distress of approximately 50 people, close to Samothraki. Although it was difficult to hear, the shift team discerned that there was water coming into the boat and bad weather. The shift team called the Greek Coast Guard and informed them of the situation. At 00.40am, the boat sent a new position, which the Greek Coast Guard claimed was in Turkish waters, so the shift team also called the Turkish Coast Guard. Later on the shift team received confirmation from the Turkish Coast Guard that they had undertaken the rescue operations. http://www.watchthemed.net/index.php/reports/view/1159
On March 2, 2019, the Alarm Phone was alerted to a group of 46 travelers that had just landed on the island of Lesvos. It was difficult to communicate with the travelers, although the shift team continuously called the number of the travelers' phone. It was thus impossible to receive their location. Ultimately, the travelers handed the phone to personnel from the rescue team who confirmed that everyone was fine. http://www.watchthemed.net/index.php/reports/view/1160
On March 3rd, 2019, the Alarm Phone shift team was alerted to a boat in distress of approximately 50 people, including 2 pregnant women, moving in the direction of Samos. The travelers were asking for urgent help. At 7.30am, the shift team alerted the Greek Coast Guard, and contacted the Coast Guard several times with updated positions of the boat. At 8.06am, the Greek Coast Guard informed the shift team that they had located the boat, and at 10.30am, the Greek Coast Guard finally confirmed the rescue of the boat in question to the port of Samos. http://www.watchthemed.net/index.php/reports/view/1161
On Tuesday, 5th of March, Alarm Phone was alerted to a boat in distress close to the island of Farmakonisi. We called JRCC Piraeus at 5:10am. At 5:33am, the contact person transferred us a new GPS position of the boat. At 5:33am we called the Greek Coast Guard to pass the new position. They informed us that the travellers were already rescued by a patrol boat. At 5:42am the contact person had reached the travellers again, they were not with the patrol boat anymore but had landed on the uninhabited military island Farmakonisi. They were with the Greek army, waiting for their transfer to Leros island. At 8:40am Leros Port authority confirmed that the travellers had been safely transferred to Leros. http://watchthemed.net/reports/view/1152
On Wednesday, 6th of March, we were alerted to a boat in distress that was eventually rescued to Samos island as well as to a group of 16 travellers that was stranded on Kalymnos. They were safely fetched by the Greek Coast Guard. http://watchthemed.net/index.php/reports/view/1155
On Saturday, 9th of March, we were alerted to 2 boats in distress. One group of 11 travellers was eventually intercepted by the Turkish Coast Guard, one group of 18 people safely arrived at Farmakonisi. http://watchthemed.net/index.php/reports/view/1156
On Monday 11th of March at 2.46am CET Alarm Phone team was alerted by a contact person to a group of four travellers, including a woman suffering from paralysis, who were stuck on land close to Dikili/Turkey. We managed to reach the travellers, and at 3.26am, after failed attempts to reach the local police, we alerted the Turkish coast guard to the situation. They promised to pass on the information to the police. Due to hypothermia the situation of the paralyzed woman became increasingly worse. At 5.26am the contact person informed us that the police had reached the four people, and at 7.45am we spoke directly to the group, who informed us that they had been taken to a school and were all safe. http://www.watchthemed.net/reports/view/1162
On Friday 15th of March at 5.33pm CET Alarm Phone team was alerted by a contact person to a group of travellers who had been attacked by local racists in a hotel in the town Vilia, close to Athens. We got in contact with the group, who told us that the hotel was suddenly attacked by a mob throwing rocks and Molotov cocktails. They broke into the room of one man and attacked him with a fire extinguisher in front of his two daughters. They further told us that there had been two police officers present when the attack happened, but that they had not made any effort to intervene. The travellers also sent us pictures and videos showing broken glass. At 5.50pm we called the Greek police and passed on the information we had. We also posted about the attack on social media, and got in touch with groups based in Greece, who did further research about the attack. According to the newspaper Elefteria Syndakton, they received information from the police that "among the gathered were the mayor of Mandra – Idylia Yianna Kriekoukou and other members of the municipal authority." http://www.watchthemed.net/reports/view/1163
Central Mediterranean
On Monday the 11th of February 2019, the Alarm Phone received a direct call from a black rubber boat in distress in the Central Mediterranean Sea, carrying 150 people, according to the travellers on board. Later it turned out that they were fewer people on board, about 130 in total. They had left in the evening of the 10th of February from Al-Khoms. Eventually, they were intercepted and refouled back to Libya. http://watchthemed.net/index.php/reports/view/1150
On the 12th of February, the Alarm Phone was called in the morning by members of a group of 62 people who were in a situation of distress in the Central Mediterranean Sea. At first, it was difficult to communicate with the group and for some time we were unable to retrieve useful information. At approximately 11am CET, we understood that the group had already been rescued from their boat and were now on a cargo vessel. With the name of the cargo vessel, we were able to contact its shipping company – Contships-Management – around noon. We found out that one of their vessels had indeed performed a rescue of 62 people and had returned them to Tripoli in Libya. After several attempts we re-established contact with the group at 1.26pm when they were already back in Libyan detention. http://watchthemed.net/index.php/reports/view/1151
On Tuesday, 5th of March, at 4:37pm CET, we were alerted by a worried relative to a boat that had left al-Khums towards Italy, carrying 70 travellers, including 10 women. We couldn't reach the travellers. At 4:51pm we called the MRCC Rome and passed the information. At 9:54pm MRCC Rome confirmed that they had passed all information to the Libyan Coast Guard. As we couldn't reach the travellers also the next days, we couldn't finally confirm whether the boat was picked up by the Libyan authorities. http://watchthemed.net/index.php/reports/view/1154
Footnotes
[1] https://uk.reuters.com/article/uk-europe-migrants/eu-illegal-migrant-arrivals-fall-but-stronger-borders-needed-frontex-head-idUKKCN1Q91X4?feedType=RSS&feedName=worldNews
[2] https://theconversation.com/migrants-calling-us-in-distress-from-the-mediterranean-returned-to-libya-by-deadly-refoulement-industry-111219
[3] http://watchthemed.net/index.php/reports/view/1150
https://www.timesofmalta.com/articles/view/20190211/world/new-crisis-looms-as-150-people-drift-at-sea-in-the-central.701736 https://www.lapresse.it/esteri/migranti_barcone_con_150_persone_in_difficolta_al_largo_della_libia-1137150/news/2019-02-11/
[4]  https://twitter.com/fladig/status/1095311506403672064
[5] http://watchthemed.net/index.php/reports/view/1151
[6] https://www.infomigrants.net/en/post/15194/when-commercial-ships-tell-migrants-rescued-at-sea-they-are-going-to-bring-them-to-europe
[7] https://theconversation.com/migrants-calling-us-in-distress-from-the-mediterranean-returned-to-libya-by-deadly-refoulement-industry-111219
[8]https://www.facebook.com/watchthemed.alarmphone/photos/a.1526182797655958/2327047704236126/?type=3&theater
[9] https://ec.europa.eu/home-affairs/sites/homeaffairs/files/what-we-do/policies/european-agenda-migration/20190306_managing-migration-factsheet-debunking-myths-about-migration_en.pdf
[10] https://www.politico.eu/article/europe-deadly-migration-strategy-leaked-documents/
[11]  https://sea-eye.org/sea-eye-schiff-alan-kurdi-erreicht-die-libysche-rettungszone/
[12] https://twitter.com/fladig/status/1105781162931306497
[13] https://www.aljazeera.com/news/2019/03/refugees-libya-tortured-breaking-detention-centre-190302181557583.html?fbclid=IwAR3-Nx0KUmoeRqeQxzFWfv3YCn54QLRAb7UnXlnHNwDZ9pDFm3vaHS-Z3GY
[14] https://data2.unhcr.org/en/situations/mediterranean/location/5226
[15]https://www.europapress.es/epsocial/migracion/noticia-849-inmigrantes-ilegales-llegaron-espana-febrero-2019-300-menos-mismo-mes-2018-gobierno-20190227202008.html
[16]https://www.jeuneafrique.com/747572/societe/soupconnes-detre-des-passeurs-de-migrants-deux-senegalais-ecroues-en-espagne/
[17] https://www.eldiario.es/desalambre/muertos-naufragio-Alboran-Caminando-Fronteras_0_877713114.html
[18] https://elpais.com/politica/2019/01/29/actualidad/1548793337_525330.html
[19] The FRONTEX Coordination and Control Centre will be integrated in this Coordination Center, as well as representatives of the Armed Forces, the National Intelligence Centre, National Police, the Department of Customs Surveillance, Maritime Captains, SASEMAR, the Red Cross and as of January 23th, a representative of the Secretary of State for Migration was added.
[20] https://elpais.com/politica/2019/02/04/actualidad/1549303380_290582.html
[21] https://www.elsaltodiario.com/refugiados/hacia-el-desmantelamiento-de-salvamento-maritimo
[22] https://elpais.com/politica/2019/02/20/actualidad/1550682280_062643.html; https://elpais.com/politica/2018/10/07/actualidad/1538937107_168009.html
[23] https://www.elmundo.es/andalucia/2019/01/10/5c366492fdddff70698b47a6.html; https://www.eldiario.es/andalucia/enabierto/Politicas-migratorias-frontera-mal-peor_6_872872740.html
[24] https://arainfo.org/pedro-sanchez-anuncia-la-fecha-de-las-elecciones-para-el-28-de-abril/ https://arainfo.org/decenas-de-personas-exigen-en-teruel-el-desbloqueo-de-los-buques-open-arms-y-aita-mari-para-que-puedan-seguir-salvando-vidas-en-el-mediterraneo/
[25] https://elpais.com/politica/2019/02/20/actualidad/1550682280_062643.amp.html?__twitter_impression=true&fbclid=IwAR18HzjArniRsM9jZDAE5YsKTrKUTNpsv27t9pmeif5cFOxQW6Tvt5LJxlQ
[26] http://fr.le360.ma/politique/emigration-clandestine-le-maroc-refuse-laccostage-de-navires-de-sauvetage-espagnols-184542; https://elforodeceuta.es/marlaska-asegura-que-los-migrantes-rescatados-por-salvamento-maritimo-seran-traidos-a-espana/
[27] https://alarmphone.org/en/2018/03/22/the-struggle-of-women-across-the-sea/?post_type_release_type=post
[28] https://www.alianzaporlasolidaridad.org/wp-content/uploads/Informa-Helena-Maleno-2018-Alzando-voces.pdf
[29] The legal framework for the conduct of arrests and deportations are de facto not applied in any documented case. See the report by Gadem: https://www.lacimade.org/wp-content/uploads/2018/10/20180927_GADEM_Couts_et_blessures.pdf;https://www.sueddeutsche.de/politik/fluechtlinge-sichere-herkunftsstaaten-bundesrat-1.4331555
[30] https://www.huffpostmaghreb.com/entry/voici-les-11-accords-de-cooperation-signes-entre-le-maroc-et-lespagne_mg_5c651f4ce4b0bcddd40e65d9
[31] https://www.lamarea.com/2019/02/26/devoluciones-maritimas-y-ataques-a-los-campamentos-el-cerco-a-la-inmigracion-subsahariana/?fbclid=IwAR1G_QvygQ0BWo8jGtxjAXX4QzgvHPwO8oBtyX4yE7YAUMDe_Lt_LB8y8cs
[32] https://cadenaser.com/ser/2019/03/10/sociedad/1552243803_352891.html
[33] The march was accompanied by a large number of Moroccan minors that live in the city precariously, trying to find a pathway to mainland Spain, by Sub Saharan travellers and activists, by Moroccan Human Rights groups and at least 20 activist groups from Ceuta and mainland Spain.
[34] https://elfarodeceuta.es/prorrogan-plazo-instruccion-causa-6f-otros-18-meses/
[35]https://www.europapress.es/epsocial/migracion/noticia-grande-marlaska-viaja-manana-ceuta-visitar-primera-vez-frontera-doble-vallado-20190222172950.html
[36] https://elpueblodeceuta.es/art/36093/la-ciudad-invertira-17-millones-para-blindar-el-puerto-y-reducir-la-presion-migratoria
[37]http://www.ceutaldia.com/articulo/en-comunidad/nino-migrante-atropellado-puerto-es-joven-15-anos-martil-ilias/20190214190705194485.html
[38]https://elfarodeceuta.es/alternativa-interior-concertinas-ceuta-subir-valla-10-metros/
[39] On 26th of July 2018 more than 600 travellers managed to jump the fences collectively and reached Ceuta.
[40]https://elfarodeceuta.es/fiscalia-ceuta-pide-8-anos-prision-subsaharianos-arrojaron-cal-viva-guardia-civil-perimetro/
[41] https://allafrica.com/stories/201903090108.html; https://www.france24.com/en/video/20190302-algerians-throng-streets-million-man-anti-bouteflika-march
[42] https://ffm-online.org/harragas-und-die-protestwelle-in-algerien/
[43] https://allafrica.com/stories/201903130001.html
[44] https://www.france24.com/en/20190315-algeria-pressure-bouteflika-protests-elections
[45] https://twitter.com/NaaLeaa/status/1106873468279312384
[46] https://www.europe1.fr/politique/marine-le-pen-demande-au-gouvernement-de-suspendre-loctroi-de-visas-aux-algeriens-3872426
[47] https://elfarodeceuta.es/la-policia-portuaria-intercepta-a-52-argelinos-y-15-menores-en-una-redada-de-inmigrantes/
[48] https://elpais.com/elpais/2019/01/07/inenglish/1546852813_001517.html
[49] https://data2.unhcr.org/en/situations/mediterranean/location/5179
[50] https://data2.unhcr.org/en/documents/download/68423
[51] https://www.facebook.com/watchthemed.alarmphone/posts/2313163202291243?__tn__=-R
[52] https://www.nytimes.com/aponline/2019/03/10/world/europe/ap-eu-greece-bodies-recovered.html?fbclid=IwAR3RR8wtdZcZ4JgGV9SEM7WkrPYOcUrJA2vFSXuaKpMuq1uhRFgxzAPBAKU
[53] https://www.keeptalkinggreece.com/2019/02/19/iraqi-refugee-family-bomb-thessaloniki-racism/
[54] https://www.facebook.com/watchthemed.alarmphone/videos/692473064506054/
[55] https://racistcrimeswatch.wordpress.com/2019/03/15/1-790/?fbclid=IwAR3AJQEYhyL_gb3sxcHBaSlOiZ4YvjlgE6la3SS4EM4-jUgVby8mH59PjIk
[56] https://dm-aegean.bordermonitoring.eu/2019/02/19/ongoing-criminalization-of-refugee-protests-upcoming-trials-against-migrants-on-lesvos
[57] https://dm-aegean.bordermonitoring.eu/2019/02/19/ongoing-criminalization-of-refugee-protests-upcoming-trials-against-migrants-on-lesvos/
One can show solidarity with the accused by donating. Cost arise for court fees, expense allowance for lawyers, ferry tickets and accommodation for defendants and witnesses. Donations should be sent to:
borderline-europe e.V.
GLS Bank, Bochum
IBAN: DE11430609674005794100
IBAN paperform: DE11 4306 0967 4005 7941 00
BIC: GENODEM1GLS (Bochum)
[58] https://noborderkitchenlesvos.noblogs.org
[59] https://www.nzz.ch/international/fluechtlinge-in-griechenland-kritik-an-behandlung-in-lagern-ld.1460937
[60] https://www.coe.int/en/web/cpt/-/greece-council-of-europe-anti-torture-committee-calls-for-the-situation-of-psychiatric-patients-to-be-improved-while-criticising-once-again-the-poor-t
[61] Unaccompanied alien minors detained in degrading … – HUDOChttps://hudoc.echr.coe.int/…/pdf?…ECHR…%20Greece%20-%20…
[62] https://rsaegean.org/en/situation-on-samos-has-reached-the-edge/; https://www.theguardian.com/global-development/2019/feb/22/greece-races-to-move-refugees-from-island-branded-new-lesbos-samos
[63] https://www.republik.ch/2019/03/16/das-freiluftgefaengnis?utm_source=newsletter&utm_medium=email&utm_campaign=republik%2Fnewsletter-editorial-sa-1603
[64] https://www.republik.ch/2019/03/16/sie-sind-nicht-hier-um-zu-bleiben
[65] https://www.keeptalkinggreece.com/2019/02/04/migrants-pakistan-thessaloniki/l; https://greece.greekreporter.com/2019/02/08/european-council-on-refugees-decries-facilities-in-thessaloniki-camp/
[66] https://ec.europa.eu/home-affairs/sites/homeaffairs/files/what-we-do/policies/european-agenda-migration/20180404-managing-migration-eu-financial-support-to-greece_en.pdf
[67] https://data2.unhcr.org/en/documents/download/68271
[68] https://blog.refugee.info/exit-accommodation-cash/?fbclid=IwAR3tln8NAaBDfRZnFhHH73moWTdyUKoFw5juptIM8fw-c-p-OcxvpwpRwAQ; https://reliefweb.int/report/greece/greece-end-activation-emergency-support-instrument-dg-echo-echo-daily-flash-13
[69] https://blog.refugee.info/exit-accommodation-cash/?fbclid=IwAR3tln8NAaBDfRZnFhHH73moWTdyUKoFw5juptIM8fw-c-p-OcxvpwpRwAQ
[70] https://blog.refugee.info/exit-accommodation-cash/?fbclid=IwAR3tln8NAaBDfRZnFhHH73moWTdyUKoFw5juptIM8fw-c-p-OcxvpwpRwAQ