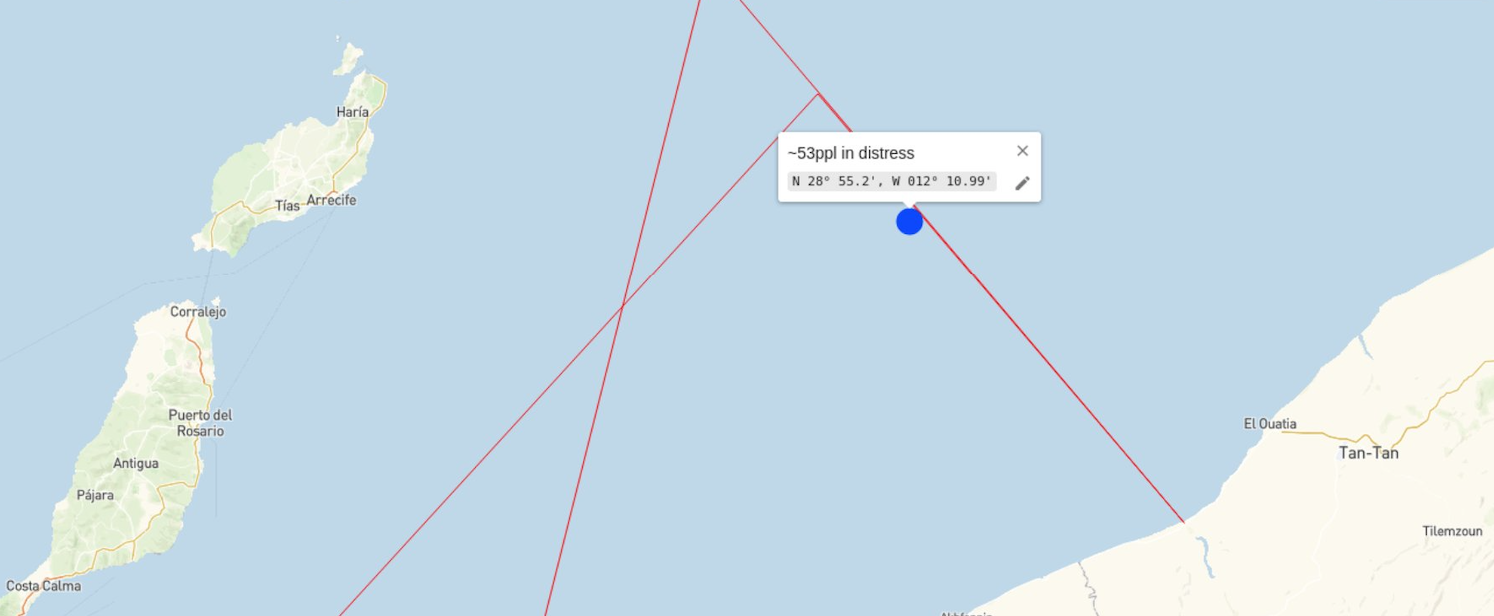 Last GPS position the Alarm Phone received from the boat. Photo: Alarm Phone
Only three survivors have been located on the cliffs of Tan-tan, Morocco and at least 50 people are dead or missing. The lack of assistance to people in distress by the Moroccan authorities for 12 days and with poor coordination with the Spanish authorities are what led for these deaths.
7 December
At 20:51 on 7 December we receive a call where we could hear over the background noise "there is water" and "please".
At 20:56 we manage to recontact the boat and they provided a GPS position: 28 50 543, 12 12 635 @20:56 CET. "We see a boat, a bit far away", "we are lost, we don't know what to do". They beg us to help them, there is water "c'est déjà fini pour le bateau"/ "it's already over for the boat".
At 21:17 we send an email alerting the authorities about the distress case.
At 21:28 we call Salvamento (SM) Las Palmas, who confirms that they received the email and also that they already know about the case and are "working on it".
At 22:23 the people in distress call Alarm Phone. The communication is very bad. The engine stopped.
"we are stopped, we can't do anything". We ask if there is water on the boat, and they say there are people in the water, and there are people in the sea. The line gets cut.
At 22:34 after unsuccessful attempts to reconnect with the boat, we call back Salvamento Las Palmas and inform them that the boat in distress is adrift.
At 23:09 we receive a call from the distress people with a new position: N 28 51 049, W 012 13 246 @23:11 CET. They say "we are tired, the little children are very tired", communication is still difficult.
At 23:22 we update position to the authorities via email.
We continued to try repeatedly to re-establish contact with people at sea without success.
8 December
At 01:05 we call to MRCC Rabat, the officer writes down last known position from 23:11. We ask about the rescue operation but ignoring the question, the officer tells us to call back.
At 01:48 we call back to MRCC Rabat, who confirms a rescue operation is ongoing. They tell us that their vessel ASSA is looking for the boat. They also sent the SOS to the fishing boats. We tell the officer that we will call back in an hour.
At 02:11 we finally receive a stable call from people in distress with a new position: 28 52.759, -12 12.111 @02:13. They say that_there is water in the boat, that the engine is not working any more, that they are drifting and that they need urgent rescue. As far as we can understand nobody is in the water, but people are very stressed and exhausted. The position matches the one received previously, boat indeed seems to be drifting and at 02:18 an email is sent to the Spanish authorities with the updated position.
At 02:26 we call MRCC Rabat 00212614208382, they just received the position from MRCC Madrid. We emphasize the urgent need for rescue and we give the position again.
At 03:27 the people in distress call back, the engine is working but the boat is in a bad situation, they cannot continue.
At 03:42 we call MRCC Rabat. The officer says a rescue ship already left at 7pm towards the boat in distress. They confirm that the name of their vessel is ASSA. We inform the officer that we see the ASSA returning to Tan-Tan harbour (on VesselFinder – a vessel tracking website). The officer only has an outdated position from 4h ago, but he confirms that he ordered the ASSA to go to the last known position. He informs us that Salvamento Las Palmas has instructed a merchant vessel (Iver Accord, Imo: 9507972) to go to the location of the distress. We can see on VesselFinder that the Iver Accord has changed course in the last hour.
At 04:58 we receive a call from the people in distress. They say that they can see a big ship approaching to which they try to make signs. We get a new position: N 28 54 180, W 012 11 981 @05:03 CET 08 DEC
At 5:12 an email is sent to the authorities with the updated GPS position.
We can observe on vessel finder at 5:25 the last position of Iver Accord (45min ago) which is pretty close to the last positions of the boat in distress.
At 06:53 We call MRCC Rabat. The officer have been told that a Moroccan fishing boat, the Azzeddine 2, has rescued several people. The ship is taking the people back to Tan Tan, but they need to wait to confirm the number of people. We agree to call them back in an hour.
At 07:25 we receive a new call from the people in distress. They give a new GPS position : N 28 55 20, W 12 10.994 CET @07:25 CET 08 Dec 2022. People are afraid, exhausted, they don't see any boat around. They ask for the number of MRCC Rabat, which we provide.
At 07:35 call to MRCC Rabat. The officer says the boat we alerted for was rescued by a fisherman. We inform them, the people are still into the water and don't see any boat around. The officer copies de GPS position and confirm they will coordinate rescue. We send an email with the last position at 07:48 to the authorities (Salvmamento Marítimo and MRCC Rabat).
For several hours we try to reach the people in distress without success.
At 11:50 Call to MRCC Rabat, the officer says the rescue operation is ongoing and we can call back in the afternoon at @15:00 to have news.
At 15:15 call MRCC Rabat. They claim that the people in distress have been rescued by a Moroccan fishing boat, Azzeddine 2, which rescued 57 people. They confirm everybody was alright and they have been brought back to Tan-tan.
At 19:00 a relative contacts us and confirms that he spoke with someone on the boat, they have not been rescued. Finally their engine is working and they are trying to move.
Our attempts to communicate with the distressed vessel were reduced to an almost unintelligible exchange of a few words until 19:40. From then on, nobody picked the phone anymore and at some point our calls were reduced to a voice message from the operator stating that the number we were calling was not reachable at the moment.
9 December
At 13:40 of 9.12 We receive a call from a relative who reported last contact to people in distress was 03 am this morning.
At 15:28 we call SM Las Palmas. They have the case still open, but no further information. Positions are in Moroccan SAR zone so SM didn't search for them.
10 December
On 10 December at 8:29 we call to MRCC Rabat, who reports that 'the search is in progress'.
While Salvamento denies their involvement and advises us to call Rabat because they are the responsible actors, Rabat does not provide any information if a search and rescue operation is underway.
11 December
It was not until the following day, 11.12 at 12:07 CET, that MRCC Rabat confirmed that the Marine Royale was searching for the boat "in the indicated area" but did not find them. They claim that the rescue operation is ongoing because the people are still at sea.
We continued to call the people in distress for another day while the operator indicated that the connection was unavailable.
19 December
On 19 December we received the sad news from a relative that three people had been found on the cliffs of Tan Tan while the other passengers of the boat of at least 53 people were missing.
One of our members in the area went to the Tan-tan hospital where they had been admitted in the following days.
The 3 survivors were in shock and very weak. They had been at sea for 12 days. They could not give a precise number of how many people were on board, about fifty, including five women and two children.
They reported that they were lost, that they had lost their way. Unable to continue because the boat was deflating and lacking fuel, they tried to get back to land. No one came to their aid, they insisted.
During the 12 days at sea, they ran out of food and water. Some of them drank water from the sea. Knowing how to swim helped the three survivors to reach the cliffs once they were close enough, the others never did.
They could have been rescued the first night authorities were alerted. At least two ships were close to them before turning their back, letting around 50 people die in the Atlantic. The so called coordination system between Spanish and Moroccan authorities has yet again failed to put human lives above all others political objectives. This tragedy shouldn't have happened.
How many more lives have to be lost before this fatal migration policy stops?
The Moroccan official response in distress cases at sea has sadly proven again that Moroccan authorities are incapable of providing a safe and secure way to search and rescue. Moreover, we must remember that the Spanish and European authorities are equally responsible for implementing deadly migration policies at their borders and by externalizing the controls over people on the move.
We grieve these losses with family members and survivors.
Their voices still reverberate within us.
For freedom of movement for all.