On 9. August 2022 in the early morning Alarm Phone was alerted by a group of 29 people who were in distress in the Aegean Sea. After they were brutally pushed back by the Hellenic Coast Guard (HCG), we talked again to one of the people from the group, who provided a detailed testimony about the events:
We left from Mugla/Datca in Turkey with 29 people (5 people from Palestine, 24 people from Syria), then shortly after Symi Island our motor broke down. We were in distress and could not move on and then the Hellenic Coast Guard pulled us to Rhodes Island with a rope with their vessel. Then the HCG kept us on the shore in Rhodes, we were not allowed to leave our boat and enter Rhodes Island. The HCG kept us on our boat next to the island.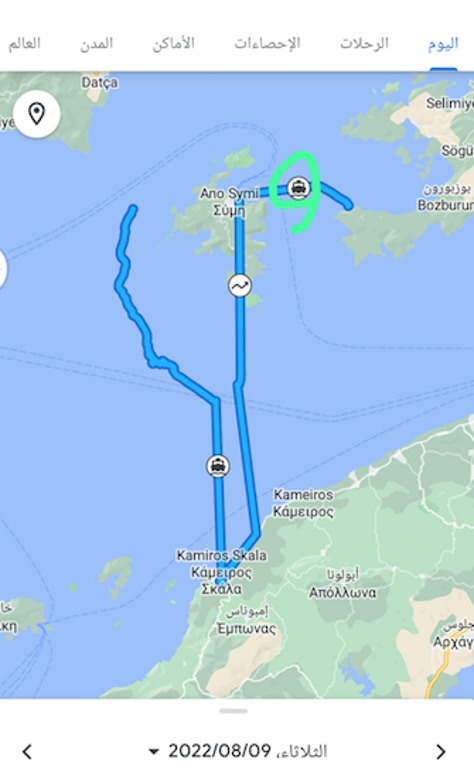 This is the map of our track of the journey and how we were pulled back and forth, the green circle shows the point until where the HCG-vessel pulled us in the end.

Then the HCG brought us to Symi island again, back, towards this location (https://maps.app.goo.gl/8des49Kc3R9wXTYw6) next to the ferry places.

There they took us, took our phones, beat us up heavily and took our personal belongings. (I could hide my phone, so one phone was left with our whole group). Then the Hellenic Coast Guard took 2 people of us (both Syrian nationals) and beat them up very hard and kept them there. Since then we don't know anything about the 2 people – we have no contact to them anymore.

Then the HCG pulled the rest of us, 27 people, towards Turkish waters (see marked point with green color on the Map). Afterwards, the Turkish Coast Guard picked us up and brought us back to Turkey. There we stayed for 2 days in detention and after that our resident permission expired as a penalty. I am afraid, my residency is not valid anymore, I am from Syria and no one wants us. In Turkey I fear deportation and Europe is not accepting us. Tell me my friend, what should I do, where should I go to live a decent life?
Each year thousands of people who attempt to cross the Aegean Sea are being pushed back to Turkey by European actors. Most of the survivors then loose their residency status in Turkey, which can lead to deportations to countries such as Syria.
We condemn the violent and illegal practices of the Coast Guards at sea and we will continue to stand in solidarity with the people of this group and all people on the move – For the right to freedom of movement!