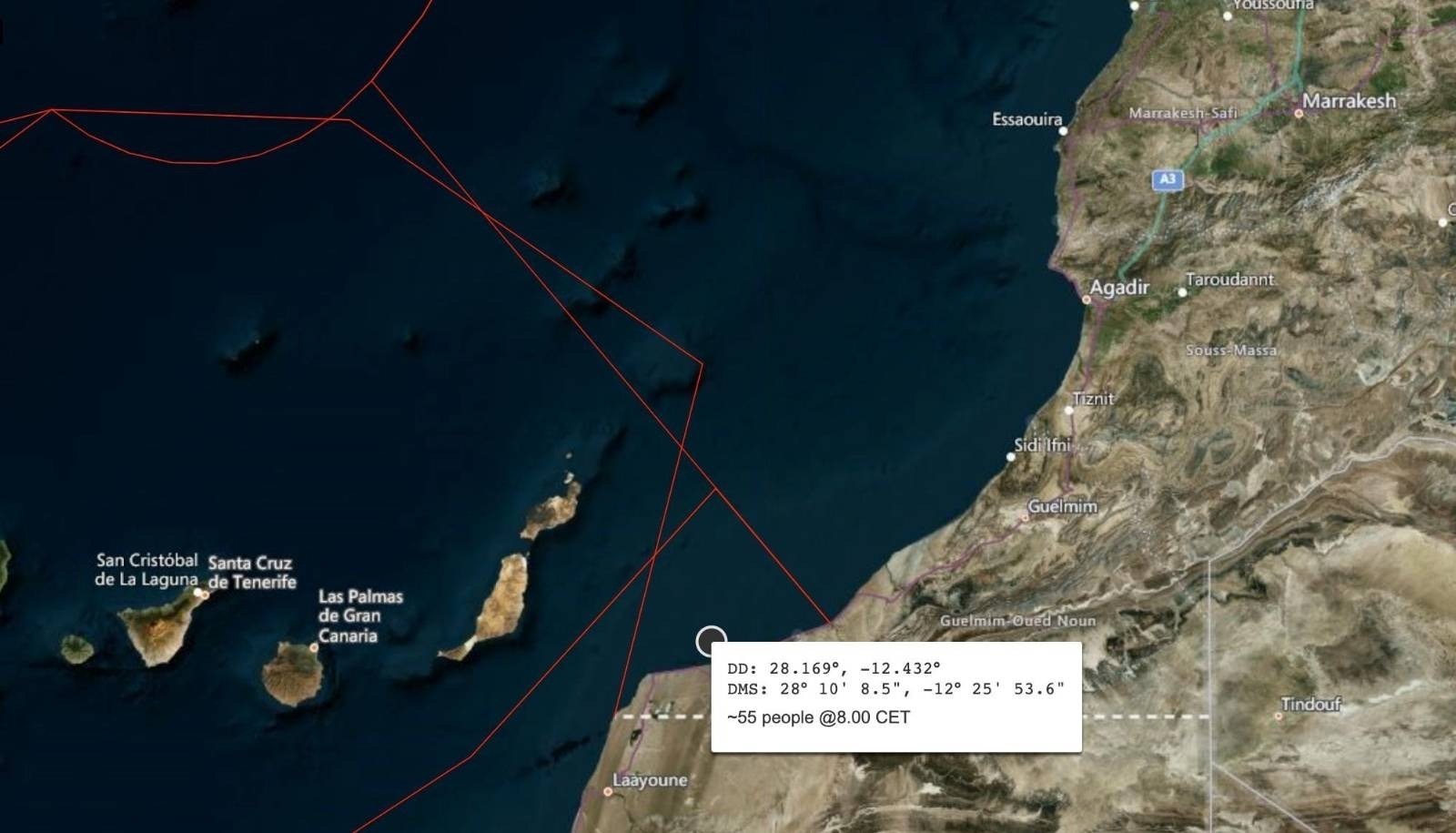 Position of boat at 8:00 CET. Photo: Alarm Phone
On 16 January 2022 at 03:36 CET, we receive information through a relative about a boat in distress. It left Tarfaya at midnight with 55 people on board, including women and children.
05:00 CET We are able to establish direct communication with the boat, but communication is very difficult, as the people on board are afraid and panicking. We understand that water is entering the boat and that they are drifting. We inform the MRCC Las Palmas who tell us that they are already aware of the situation.
06:20 CET We are able to receive the GPS position of the boat "28°09'27.7N, 12°24'14.9W", which is only 7 nautical miles from the Moroccan coast and only 20 nautical miles from Tarfaya. By this time, several people had already fallen into the water. We also reminded the MRCC Rabat that they were obliged to launch a search and rescue operation. After several calls to MRCC Rabat without confirmation of whether or not they had launched the search, at 8:45 CET we were able to speak with the official on duty. The official was unable to confirm that a search operation had been launched. We inform him again that the boat is in great danger and that if they want to fulfil their search and rescue obligations, they should ask the other authorities to collaborate with them.
12:55 CET MRCC Las Palmas informs us that the Moroccan rescue boat Assa has left Tan Tan and is in charge of the search and rescue operation.
14:20 CET MRCC Rabat informs us that their rescue boat Assa will arrive at the boat's position within an hour and that this is the only search and rescue operation underway.
16:02 CET MRCC Las Palmas informs us that the Moroccan fleet boat has arrived at the last position ( 28°10'08.5N, 12°25'53.6W ) and that they have not seen anyone, but are continuing the search. They ask us for a recent position, we inform them that unfortunately since 9:00 CET we have lost all communication with the boat. We ask them to send aerial assistance for the search, but they reply that the operation is coordinated by MRCC Rabat, who must request Spanish collaboration for them to be able to do anything. They also informed us that the weather conditions did not favour an aerial search and that it would take 1 or 2 hours before arriving at the last reported position.
17:30 CET MRCC Las Palmas informs us that the Moroccan authorities have cancelled the aerial search because a Moroccan vessel has found the boat overturned and is assisting on the spot.
18:14 CET MRCC Rabat confirms to us that they have found the capsized boat and are searching for survivors.
18:55 CET MRCC Rabat informs us that there are 10 survivors, 6 women and 4 men, and that they have located 2 lifeless bodies. They confirm that they are continuing to search for more survivors, despite the fact that there is little hope of finding them before nightfall. That same evening, they inform us that they have no further news.
The Moroccan authorities had had confirmation of the position of the boat in danger since 6:30 CET in the morning and it was only at 13:00 CET that they were able to confirm via the Spanish authorities, that the search operation was launched. What did the Moroccan authorities do from 6:30 to 13:00 CET? Did the Moroccan authorities deliberately delay the rescue or did they not have the means to fulfil their international search and rescue obligations?
These 43 deaths could have been avoided!