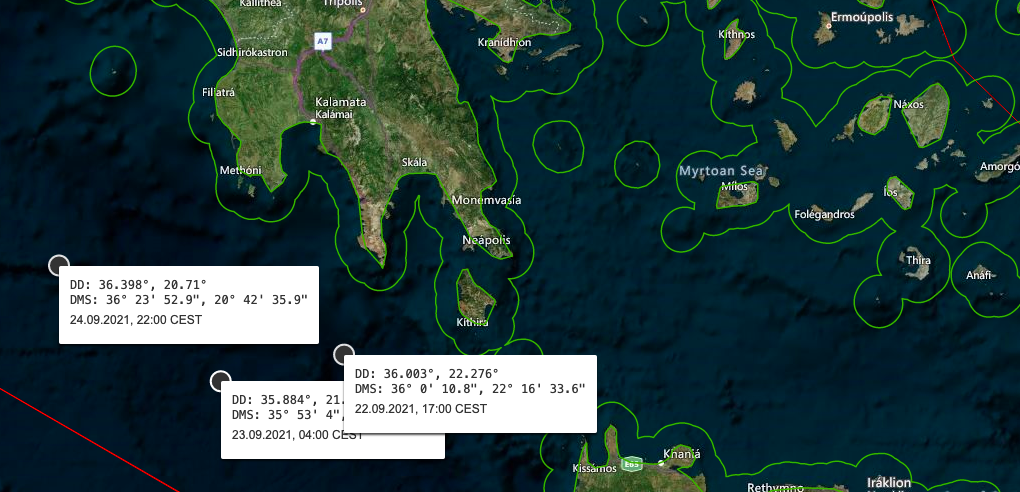 Locations of the 154 people in distress during more than 24 hours of non-assistance. Photo: Alarm Phone
On 23 September 2021 at 08:30 CEST, the Alarm Phone was informed about 154 people in a boat in distress in the Ionian Sea. They were in international waters on the Greek Search and Rescue zone, on their way to Italy. The Alarm Phone immediately alarmed Hellenic Coast Guard as well as the Maltese and Italian Coast Guards.
After more than 24 hours, the travelers were rescued by an oil tanker. Coordinated by the Hellenic Coast Guard, the tanker would bring the people to Paliochora on Crete.
During the transfer to the oil tanker, one pregnant woman drowned after falling in the water. According to survivors, three people were arrested for boat driving and later tortured during interrogation.
The remaining 150 people were taken to Chania where they were held in a secure place for about 14 days. They were not registered, their rights were not explained to them, neither were they told why they had to stay in prison and for how long.
After that, they were brought to detention in Amygdaleza prison in Athens. One month after arrival they were finally registered and informed about their rights there.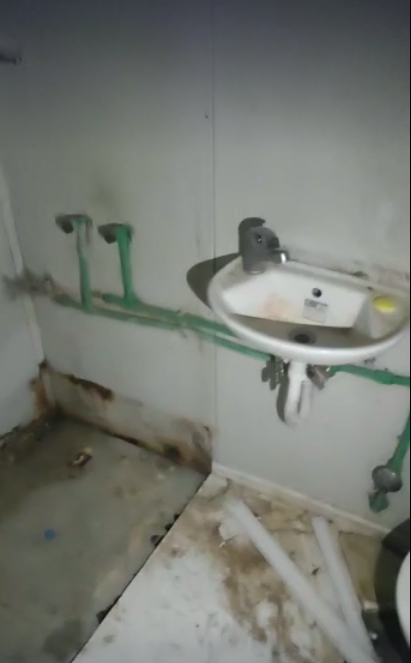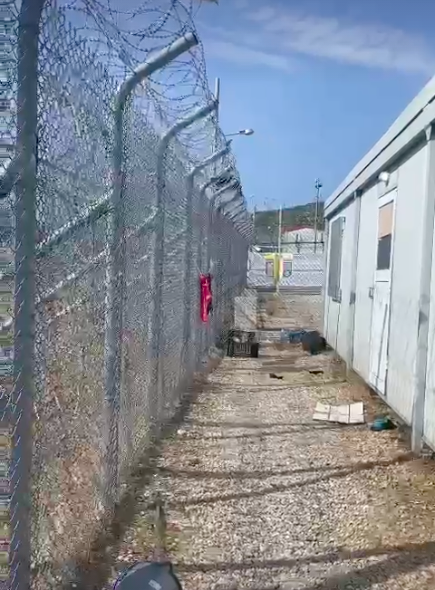 They were brought to detention in Amygdaleza prison in Athens. Photos: Private
After one month of imprisonment, approximately 130 people from the group were released and then put into 2 buses to be taken to a destination that was not communicated to them initially. For the course of the next 10 hours, they received no food. Eventually, they were brought to a camp near Ioannina. The remaining around 20 people were brought to different camps. So finally they are all out of prison.
When we later talked to people on the boat, they told us:
"We, a total of 154 people, young, old, women and children, left for Italy on September 20, 2021 a ship from Izmir, Turkey. Unfortunately, on September 23, our ship broke down in international waters near Italian waters and we start trying to left the ship over the water to survive our self. And finally, by setting fire to a car tire, a big oil tanker ship called Aristofanis came to us and 152 people were rescued after suffering one casualty. Than they bring us to Khaneya Island of Greece and on October 2 they bring us to Aten. As our aim is Italy and we have suffered the greatest psychological damage, I ask you to reach our voice to the humanitarian and immigrants organisations to take exceptional humanitarian action in the case of accepting this immigrant group, and we are ready to cooperate if documents are needed."
It is another example of the hostility with which shipwreck survivors are treated in Greece: deprived of their rights and dignity. We stand in solidarity with them and with all those fighting for freedom of movement.
***
You can find our tweets about the case here.
Positions (all received via relatives, way after the relatives received the positions themselves):
36°00'12.1″N 22°16'32.7″E (timestamp 22/09/2021 17:00 CEST)
35°53'04″N 21°35'54" (timestamp 23/09/2021, 04:00 CEST)
36° 23′ 52.9″N 20° 42′ 35.9″E (timestamp 24/09/2021, 22:00 CEST)