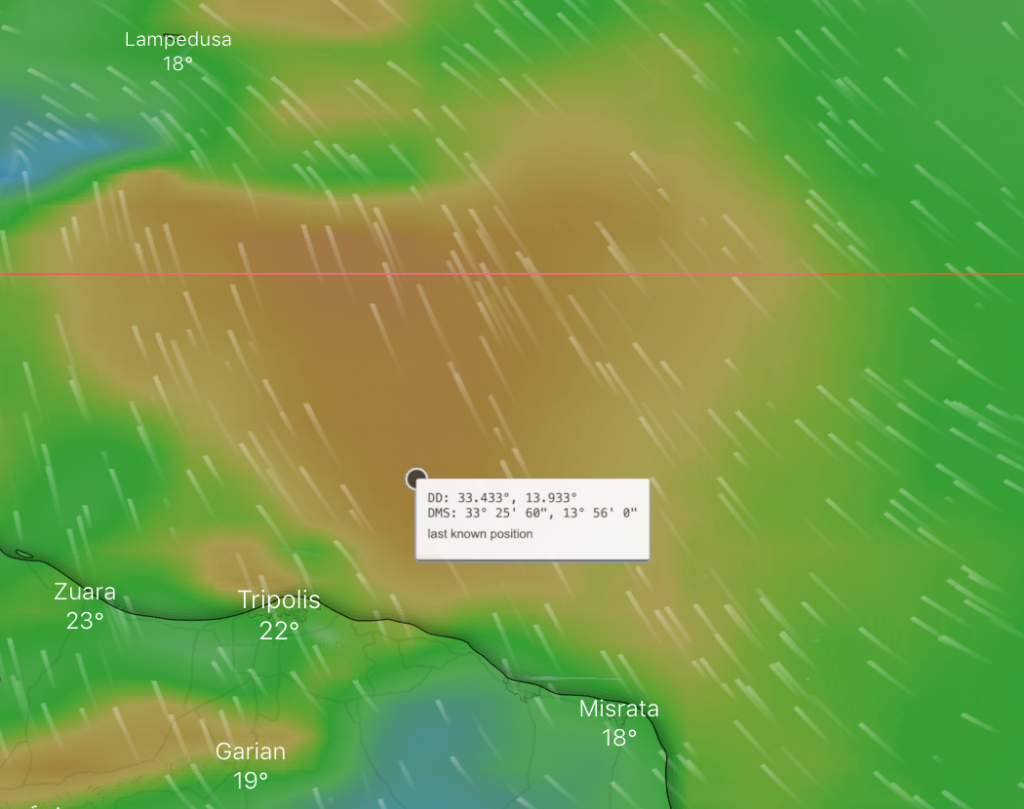 Last known position of the approx. 130 people in a storm off Libya. Source: Alarm Phone
Alarm Phone reports yet another massacre off the Libyan coast: We fear that up to 130 people have lost their lives. The people could have been rescued but all authorities knowingly left them to die at sea. Alarm Phone was in contact with this boat in distress over a period of ten hours, on 21 April, and repeatedly relayed its GPS position and the dire situation on board to European and Libyan authorities and the wider public. The only action undertaken was the launch of a surveillance airplane of Frontex, seven hours after the first alert, which found the boat and informed all authorities and merchant vessels in the area about the critical distress situation.
Despite Frontex spotting the distressed boat from the sky, only non-state actors actively searched for the boat in distress at sea. European authorities rejected responsibility to coordinate this search operation and instead pointed at the Libyan authorities as the 'competent' authorities. The so-called Libyan Coastguard, however, refused to launch or coordinate a rescue operation, leaving the ~130 people out in a rough sea for a whole night.
Our last contact to the desperate people in distress was at 20:15h on 21 April. Despite their relentless efforts to search for the boat, the NGO Search and Rescue vessel OCEAN VIKING of SOS Méditerranée and three merchant vessels came too late. On 22 April, they could only find remains of the boat and lifeless bodies.
In this report, we provide a timeline of events in order to clearly address how this shipwreck unfolded, what actions and inactions were taken by EU authorities, and how this massacre could have been prevented. We show how all authorities in the areas refused to take responsibility to coordinate a swift search and rescue operation.
We show also that the so-called Libyan Coastguard cannot be considered as a competent authority, not only because they conduct mass interceptions to a unsafe place, but also because they regularly fail to rescue drowning people. On 21 April, they intervened to intercept a second boat that was just five nautical miles from the boat with the approximately 130 people but they decided to leave the scene and abandon the boat at sea. The whereabouts of a third boat, carrying about 40 people remains unknown.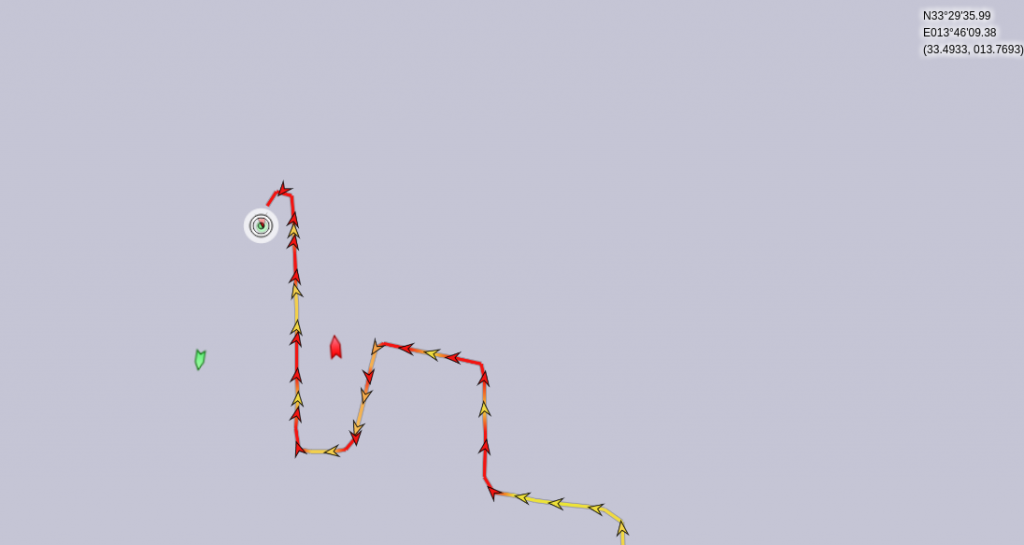 Search by merchant vessels and Ocean Viking. Source: Alarm Phone
Instead of sending rescue assets or ordering merchant vessels in the area to intervene, the European authorities merely sent an air surveillance asset, Osprey 3. In an email, Frontex informed us that they spotted the distress case and informed all authorities. However, Frontex failed to further support a search and rescue operation, with Osprey leaving the scene and returning too late. In the absence of official coordination by any Rescue Coordination Centre, OCEAN VIKING and three merchant vessels carried out large search patterns. When Osprey 3 arrived, they spotted lifeless bodies.
Once more, these events show that death at sea is not an accident but the outcome of actions and inactions taken by European and Libyan actors. And once more, these events prove the need for safe corridors of migration and the abolition of violent border guards and institutions. Both the European and Libyan maritime authorities have demonstrated once more that they are wholly incompetent. They need to be replaced by a Civil Maritime Rescue Coordination Centre that works in the interest of those in distress instead of leaving them to drown in the Mediterranean Sea.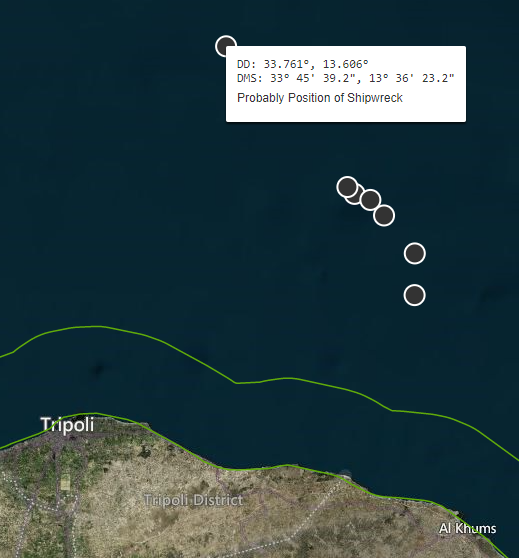 Positions of the 130 People in Distress. Source: Alarm Phone
TIMELINE
On the morning of 21 April 2021, Alarm Phone was alerted by a local fisherman to a boat in distress off the coast of Libya. We received a satellite phone number and the information that there were approximately 120 people on board which had left from Al-Khoms/Libya at approximately 22:00 on 20 April 2021. They had left together with a second migrant boat – which would later be intercepted by the Libyan authorities.
We tried to reach the people on board but were not able to get through. Given the bad weather conditions in the area, we alerted relevant authorities by email at 09:51h CEST despite not having reached the people in distress directly. This means that from that time on, the following actors were aware of this boat in distress: MRCC Italy, RCC Malta, the so-called Libyan Coastguard, UNHCR, as well as NGO rescuers.
Shortly after, at 10:03h, we reached the boat in distress for the first time but due to a bad connection it was not possible to exchange information. At 10:22h, we re-established contact but could merely hear "call the rescue". At 11:00h, we were able to reconnect. They forwarded us their GPS position (N33114519 E014074476) and stated that there were about 130 people on board, including 7 women, one of whom was pregnant. They were on a rubber boat and said that the sea was rough. We immediately informed the relevant authorities and made the case public.
Over the following hours, we repeatedly reached the people in distress and relayed their GPS positions and their testimonies about the situation on board to the authorities. The situation on board deteriorated markedly, and the people in distress were in great panic, telling us that the waves were high and that water was entering the boat. We passed on every relevant information to the authorities by email, and also contacted them via phone. At around noon, we informed MRCC Italy about the merchant vessel BRUNA which was close to the case of distress and could have intervened. However, BRUNA proceeded its course.
At 14:11h, MRCC Italy told us in one phone conversations that we should inform the "competent authorities" about the distress case. These supposedly 'competent' authorities, the Libyan authorities, had not been reachable for several hours. Only at 14:44h could we get through to a Libyan officer who stated that they were aware of three boats and searching for them with their UBARI patrol vessel.
Over the next hours, we remained in close contact with the people in distress and relayed their updated GPS positions to the authorities at 16:15h, 17:16h and 19:15h. We also informed the authorities about the panic on board and the fact that merchant vessels were in the area of distress. At 17:53h, we received an email from MV OCEAN VIKING, directed to the authorities and us, stating that they would change course in search of the boat in distress.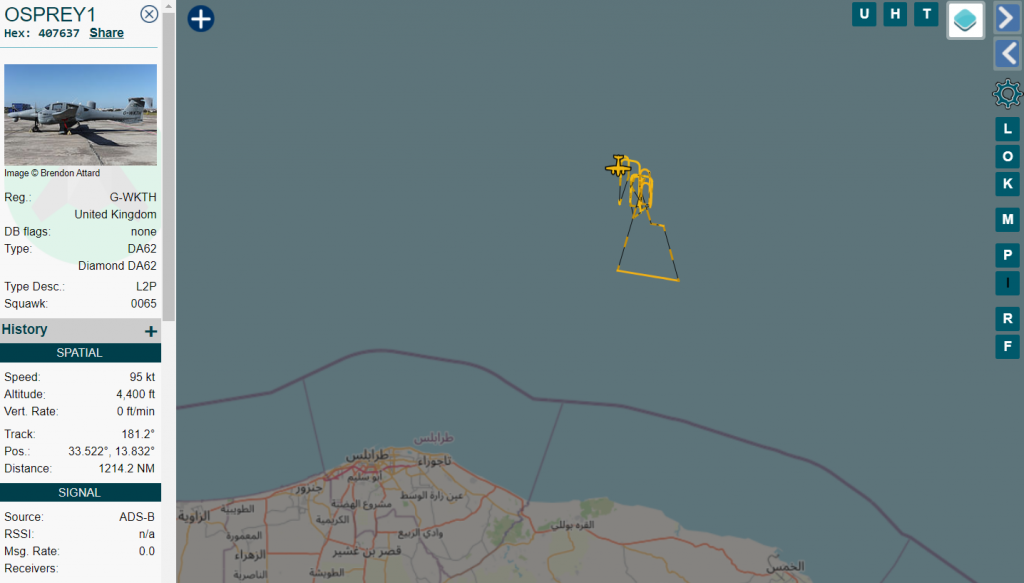 Track of Frontex plane Osprey 1 around 21h. Source: Alarm Phone
At 19:15h, we informed the authorities that the people in distress could see a plane – which we believe to have been the Frontex aircraft OSPREY which we conducted an aerial operation in the area of distress.
At 20:15h, we reached the people in distress for the last time but the call cut before we could exchange information. They had repeatedly said in earlier conversations that their satellite phone was running out of battery.
At 20:52h, we spoke again with MRCC Italy and explained that we were hardly ever able to reach the Libyan authorities. The Italian officer told us: "We are doing our job, call if you have new information".
At 22:22h, we finally reached the Libyan authorities again. The Libyan officer told us that they would not search for the boat in distress as the weather conditions were too bad. We found out that the so-called Libyan Coastguard had intercepted another boat, which had also alerted Alarm Phone, carrying about 100 people – in this case, a woman and her baby died. At 22:55h we informed MRCC Italy that the so-called Libyan Coastguard would not conduct a search operation.
The next day, 22 April 2021, at 7:30h, we spoke with MRCC Rome again, requesting immediate action. The Italian officer said: "Call us if you have new information, we know about the boat." At 7:53h, we informed all authorities once more via email, including Frontex, requesting an aerial operation and guidance for the vessels in the vicinity of the boat in distress: the merchant vessels VS LISBETH, ALK, and MY ROSE, as well as the NGO vessel OCEAN VIKING.
At 8.30h, we also wrote an email to Frontex directly, asking for information about their aerial operation the day prior in the area of distress. At 8.49h, we received the following answer from Frontex:
"Dear Sir/Madam, Thank you for your email. Please be informed that Frontex has immediately relayed the message to the Italian and Maltese authorities."
At 10:42h, we received the Libyan authorities again who denied having any knowledge on the boat in distress. At 11:31h, the Libyan authorities repeated that they had no information on the boat to which Alarm Phone had alerted them several times by email and phone. They also stated that Italy had requested them to give permission for merchant vessels to conduct a rescue operation, which they had given to them. They repeated that they had not gone out, and would not go out, due to the bad weather conditions.
At 17:08h, Alarm Phone received an email from OCEAN VIKING, directed to the authorities and us, stating that they had searched for the boat in distress together with MY ROSE, ALK and VS LISBETH and that they had found the remains of a shipwreck and several bodies, with no sign of survivors. Frontex' Osprey was at the scene. VS LISBETH left the scene, stating that the Libyan patrol vessel UBARI would function as coordinator. However, UBARI was not on scene, and the merchant vessel and OCEAN VIKING were standing by. In the evening, SOS Méditerranée provided a statement: https://sosmediterranee.com/statement-ocean-viking-witnesses-aftermath-of-deadly-shipwreck-off-libya/