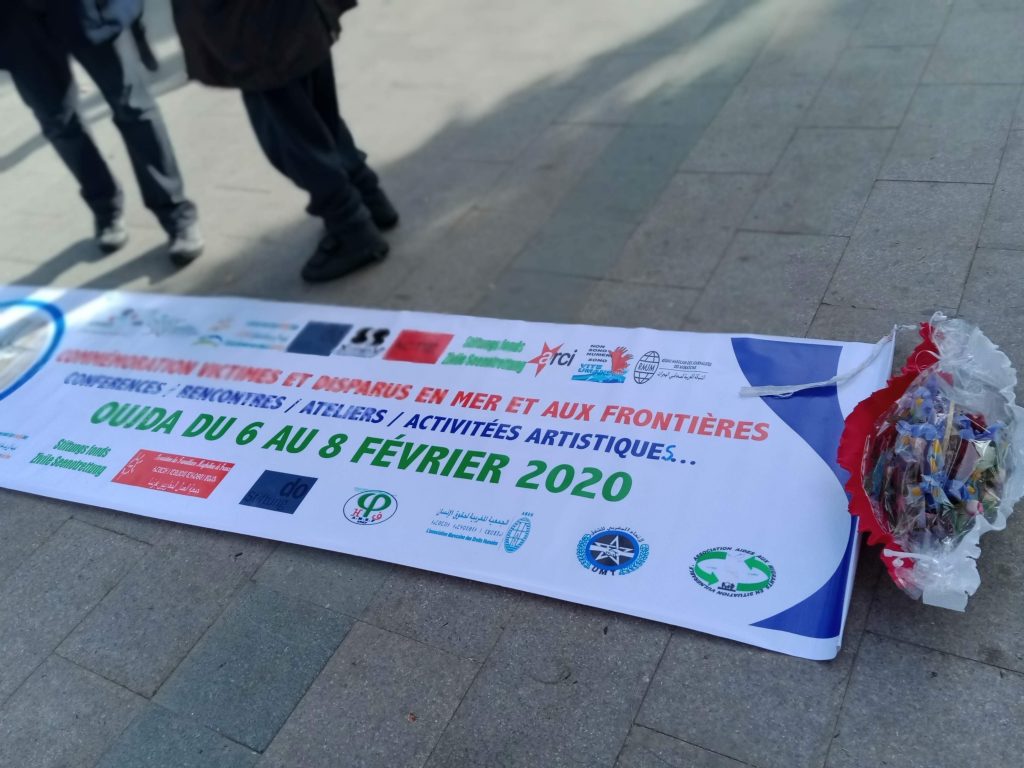 Foto: Babacar Ndiaye
For 6 February 2021, activists from the Alarm Phone network are organising a variety of actions in different cities in Morocco and Senegal. "We all know about the tragedy that happened on 6 February 2014, in Ceuta, at the beach of Tarajal" explains Babacar Ndiaye, Alarm Phone activist and currently preparing the commemoration activities in Dakar, Senegal. "The Spanish Guardia Civil shot migrants who were trying to make it to the beach. Afterwards, there was talk of 14 dead, but there were many more. Since then, we have organised CommemorAction days every year, and this year, with the pandemic, we will gather in smaller groups in different cities, including here in Senegal."
Abdou Maty, Alarm Phone member from Laayoune adds: "Until today, these deaths have not been recognised for what they are: murders. Through our actions, we want to commemorate the lives that were lost. Let us fight for justice, for freedom of movement as a human right! On 6 February, we come together to exchange with the relatives of the dead and the missing at sea. We make our struggles visible, the suffering of the people crossing borders. The 6 February is a day of global CommemorAction!"
In order to ensure the necessary hygiene measures due to the pandemic, there will be several decentralised actions across Morocco instead of one larger event. Among the planned activities are a demonstration "Main sur le coeur – Action aux disparus" in Berkane (eastern Morocco), a solidarity caravan to the beach in Saidia at the Moroccan-Algerian border organised by Alarm Phone Oujda, a minute of silence with the migrant community and a soccer match in Tangier, and prayers and a commemoration ceremony at the harbour of Laayoune (Western Sahara).
Also, outside of Morocco activities will take place to commemorate the deaths at sea. In Dakar, Senegal, a demonstration is organised by Alarm Phone members and other groups outside of the city hall, displaying a list of the shipwrecks that occurred in the Western Med and Atlantic in 2020. In Sokodé, Togo, activists are organising a sensibilisation outreach and radio emission as well as a symbolic action leaving flowers in the Na river. In Agadez, activists and migrants will gather to listen to testimonies from those who lost loved ones at the border, screen films and host debates on the topic of Europe's deadly policies. In Spain, groups of activists are organising demonstrations and online workshops in many different Spanish cities and towns on the 5 and 6 February.
Khady Ciss, Alarm Phone member from Tanger, wants to send a strong message to the European Union: "Immigration is not a crime! The European Union and the Moroccan government have international human rights obligations, but instead, they care more about the protection of their borders than the human lives they destroy! We denounce any form of racism and physical violence, and we demand justice!"
Junior Noubissy, also from Tanger, highlights the crucial work of sea rescue organisations such as the Alarm Phone: "Saving lives at sea is not a crime, but a necessity. We aim at turning the 6 February into a date that is known all over the world. We fight so that one day, migrants will be free human beings."
The killings of 6 February 2014, are not the only incident which Alarm Phone activists organise around in these days. In several European cities and in Tunisia, rallies and demonstrations will commemorate the shipwreck of 9 February 2020, when 91 people were left to die on their journey from Libya to Italy.
Homage to all migrants who have died and disappeared at sea and at the borders!
All our solidarity is with their families and friends!
We will not forget them!