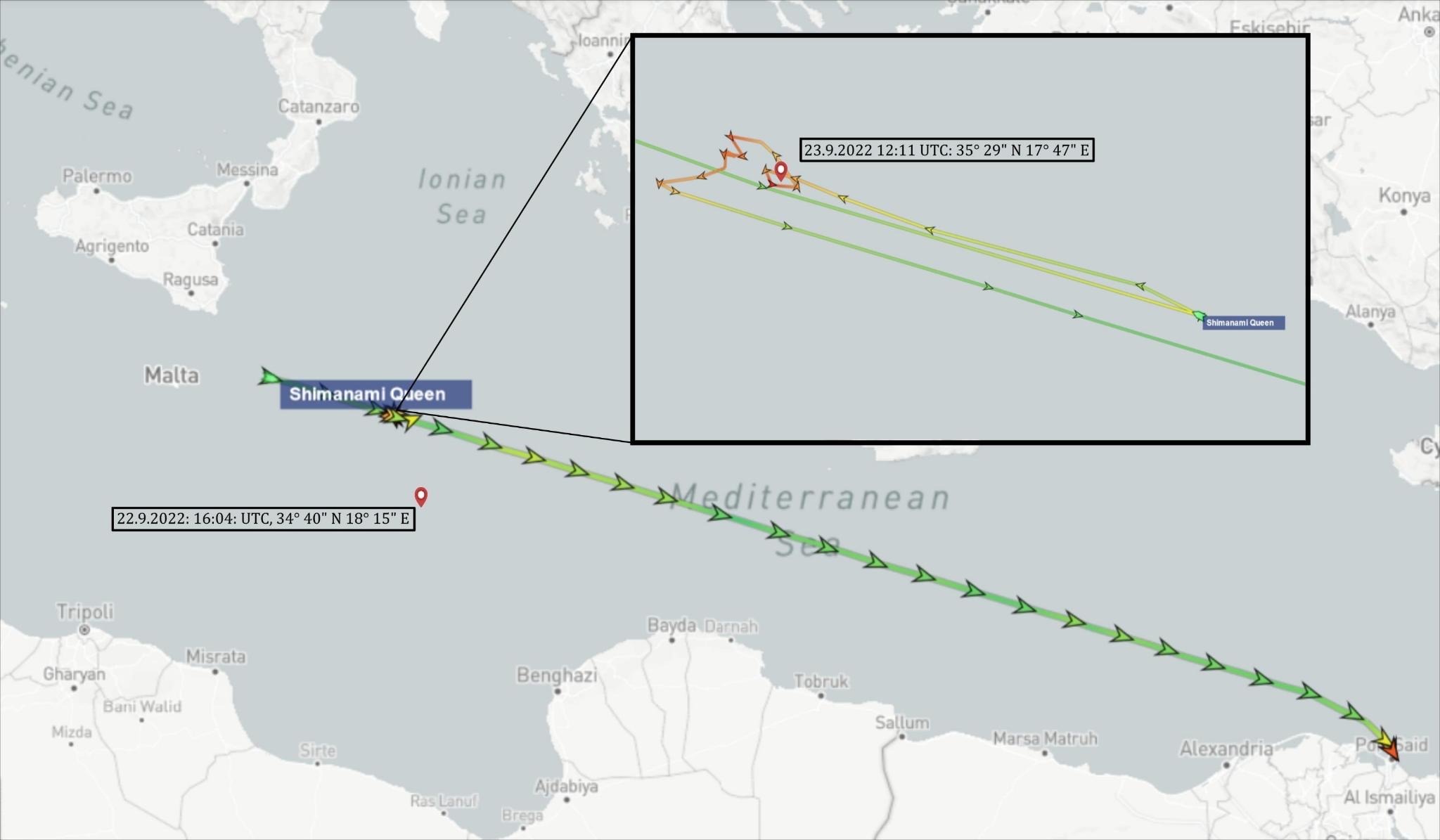 Track of vessel Shimanami Queen Photo: @sea-watch.org
On 26 September 2022, 23 people were sent to Egypt on the instructions of the Rescue Coordination Centre (RCC) of Malta, after being rescued in the Maltese search and rescue (SAR) region by the merchant vessel SHIMANAMI QUEEN, navigating under the Panama state flag. At the time of the rescue, those on board the small boat had already been at sea for four days, in poor weather conditions and with very limited supplies of food and water.
In line with maritime conventions, RCC Malta is legally responsible for coordinating any rescue operations in the event of an emergency or accident within its SAR region. In this specific case, RCC Malta instructed merchant vessels in the immediate vicinity of the boat in distress either to continue their voyage or merely to stay on standby, therefore delaying the rescue significantly. The lack of clear guidance and the unnecessary delays in coordinating the rescue deliberately put the lives of the 23 people on board at imminent risk. This is a common practice by the Maltese authorities to avoid having to engage in a rescue operation themselves and to prevent arrivals in Malta, as witnessed and documented in several cases by civil SAR organisations.
In this instance, RCC Malta also failed to cooperate with civil SAR organisations in such a way as to ensure that the lifesaving operations were carried out as quickly as possible. Following the rescue, RCC Malta used the merchant vessel SHIMANAMI QUEEN to enforce the hostile migration policies of Europe, and of Malta itself, by instructing the ship to take the rescued people to Egypt.
Malta violates the principle of non-refoulement
In reference to the non-refoulement principle of the 1951 Geneva Convention (Art. 33(1)), contracting states should not expel or return a person "to the frontiers of territories where his life or freedom would be threatened on account of his race, religion, nationality, membership of a particular social group or political opinion". According to this principle, people rescued at sea must be taken to a place of safety "where the survivors' safety of life is not threatened [and] where their basic human needs can be met".
In this instance, the 23 people were not disembarked in either Malta or Italy, despite these being the closest places of safety to the position where they were rescued, at 144 and 159 nautical miles respectively. Instead the rescued people were forcibly taken 760 nautical miles to Egypt. While Egypt is a signatory to the 1951 Geneva Convention, the country lacks an adequate national legal framework for the protection of refugees and asylum seekers.
As organisations engaging in SAR activities at sea, we denounce the forcible transfer of these 23 people to Egypt and call for consequences to Malta's blatant violations of maritime and international law.
Alarm Phone, Mediterranea Saving Humans, Médecins Sans Frontières/Doctors Without Borders (MSF) & Sea-Watch demand an end to these serious human rights violations in the central Mediterranean and along the EU's external borders, committed directly by European authorities through private companies. European rescue coordination centres must fulfil their legal responsibilities and ensure the immediate rescue of people in distress at sea, with subsequent disembarkation in a place of safety in Europe.
The following is a detailed summary and reconstruction of the key events between 22 and 26 September 2022
Timeline
22.09.2022
14:24 UTC: Mail from Geo Barents to MRCC Rome and RCC Malta, with Alarm Phone in CC, informing about the distress case, sharing a GPS position.
14:43 UTC: Alarm Phone talks to the people in distress and receives a GPS position.
19:52 UTC: Geo Barents emails RCC Malta asking for an update on the distress case and instructions.
20:53 UTC: Alarm Phone emails MRCC Rome and RCC Malta, UNHCR (Italy and Malta), Shipping Companies of the merchant vessels in the vicinity of the distress case SONA STAR, TOKYO PIONEER, HOSANGER, DELTA MED, CHEMROAD DITA and SAR NGOs in CC, sharing again the position of the distress case, highlighting that there are five merchant vessels in the area and that the weather is getting worse.
21:25 UTC: Alarm Phone calls MRCC Rome who acknowledged receipt of Alarm Phone's email saying they can't give any other info. When AP asked about involvement of merchant vessels, the on-duty officer repeated they are not sharing any info, and hung up.
21:30 – 21:37 UTC: Alarm Phone calls RCC Malta three times to ask for information about the boat in distress. Either the phone rings then the line cuts; the call ends in a waiting line or the duty officer does not have access to the emails.
23.09.2022
00:57 UTC: Alarm Phone calls boat in distress. Persons on board give an updated GPS position.
03:26 UTC: Geo Barents emails RCC Malta and requests an update.
05:57 UTC: Sea-Watch calls RCC Malta: "we know about the case, we are working on it but we don't have an update yet", "there is an ongoing search for them" [recorded].
07:01 UTC: Geo Barents sends email to RCC Malta and MRCC Rome to declare the search operation over due to the bad weather (up to 35kn of wind and heavy rain). Geo Barents stated that at that time, it was more than 150 nm away from the last known position and that it received no answer from any of the vessels in vicinity of the boat in distress. Geo Barents reminds RCC Malta as competent authority of the Search and Rescue Region to comply with its legal obligation to coordinate and cooperate to reduce the risks of loss of lives.
07:09 UTC: Sea-Watch calls RCC Malta, still no update. Officer on duty confirms Malta is coordinating the rescue: "right now I am not allowed to say anything but the only thing I can tell is that yes, we are coordinating the case, we are working on it but still we have no information about it". The duty officer knows that the weather is deteriorating [recorded].
07:29 UTC: Seabird 2 spots the distress case in the Maltese search and rescue region. The merchant vessels GAZ SERENITY and HAFNIA TAGUS are on scene.
07:41 UTC: Merchant vessel HAFNIA TAGUS confirms to Seabird 2 that RCC Malta coordinates the case and that they "have been told by MRCC Malta to monitor the boat", HAFNIA TAGUS says "RCC Malta they will be sending another vessel to rescue this boat. [..] Meanwhile we have to stay in position and keep a lookout for this boat and watch the boat" [recorded].
08:20 UTC: Sea-Watch calls RCC Malta: "we do receive your emails", on the question whether a rescue will be launched "I cannot provide this information to you, I provide this information to competent RCC, you are an NGO, I cannot provide you that information", "I cannot provide you with an estimated time of arrival. Yes, we are coordinating the case, we are in contact with the merchant vessels, I can confirm, we know very well the weather situation". When the ground crew asked a last time for the estimated time of arrival of a rescue vessel, the duty officer hung up [recorded].
09:28 UTC: Merchant vessel HAFNA TAGUS tells Sea-Watch that "BOUX5 is coming to assist and they will bring them fuel. The boat need fuel." Furthermore HAFNIA TAGUS states to Seabird 2 "Kindly note that I have been instructed by RCC Malta not to take instructions from you, please contact RCC Malta for further communication" [recorded].
10:08 UTC: Seabird 2 spots merchant vessels GAZ SERENITY, CHINAGAS LEGEND, HAFNIA TANGUS, sheltering the boat in distress. Merchant vessel SHIMANAMI QUEEN altered course towards distress position.
15:20 UTC: Sea-Watch calls RCC Malta: "please understand that you are calling the rescue coordination centre, you are an NGO organisation I cannot share this information with NGOs, I can only share my intentions with my chief, the competent RCC, which you are not", "I can tell you that we are coordinating, we know about the case" [recorded].
17:54 – 18:02 UTC: Merchant vessels HAFNIA TAGUS, GAZ SERENITY; SHIMANAMI QUEEN leave scene of the distress case.
18:35 UTC: Alarm Phone calls merchant vessel HAFNIA TAGUS. Officer confirms people got rescued by another vessel and that he was not allowed to share more info and referred to RCC Malta for more details.
24.09.2022
10:45 UTC: Merchant vessel SONA STAR calls Geo Barents Bridge after Geo Barents has emailed their headquarters. SONA STAR stated that they did not make visual contact with the casualty vessel and were instructed by RCC Malta to resume their course.
17:52 – 18:35 UTC: Geo Barents emails Thenamaris (SEA VELVET), wisdomlines (SAKIZAYA TREASURE), Angloeastern group (CHEMROAD DITA), Nishin Co (TOKYO PIONEER), Misuga Kaiun (SHIMANAMI QUEEN) asking for information on the boat in distress.
25.09.2022
07:32 UTC: Geo Barents receives email from master of merchant vessel CHEMROAD DITA, informing that RCC Malta instructed them to resume their course before they reached the casualty vessel.
09:32 UTC: Merchant vessel CHEMROAD DITA confirms to Geo Barents that RCC Malta asked them if they have fuel for the boat in distress but then HAFNIA TAGUS was already on scene and therefore RCC Malta released them.
26.09.2022
07:15 UTC: Geo Barents calls MISUGA KAIUN office requesting the phone number for the bridge of the merchant vessel SHIMANAMI QUEEN. Employee says that they have been instructed [not clear by whom] not to share information and asks that we contact JRCC Cairo.
08:08 UTC: Geo Barents receives an email from MISUGA KAIUN saying that SHIMANAMI QUEEN rescued the 23 people and asking to contact JRCC Cairo.
10:08 UTC: Sea-Watch calls JRCC Cairo who confirms that persons rescued by SHIMANAMI QUEEN are supposed to disembark in Port Said, Egypt: "we are aware of the case, right now we are waiting for the ship to approach Port Said, to send a Navy ship to take the people back to Egypt". JRCC Cairo also stated: "I don't know why JRCC Malta did not take the people". JRCC Cairo confirmed to Sea-Watch that Malta coordinated that SHIMANAMI QUEEN was sent to Egypt: "Malta took the decision" [recorded].
17:17 UTC & 18:38 UTC: Sea-Watch calls RCC Malta twice. Both times they say they were busy and that Sea-Watch should send an email.
27.09.2022
08:35 UTC: Sea-Watch sends follow-up mail to RCC Malta, receives no reply.