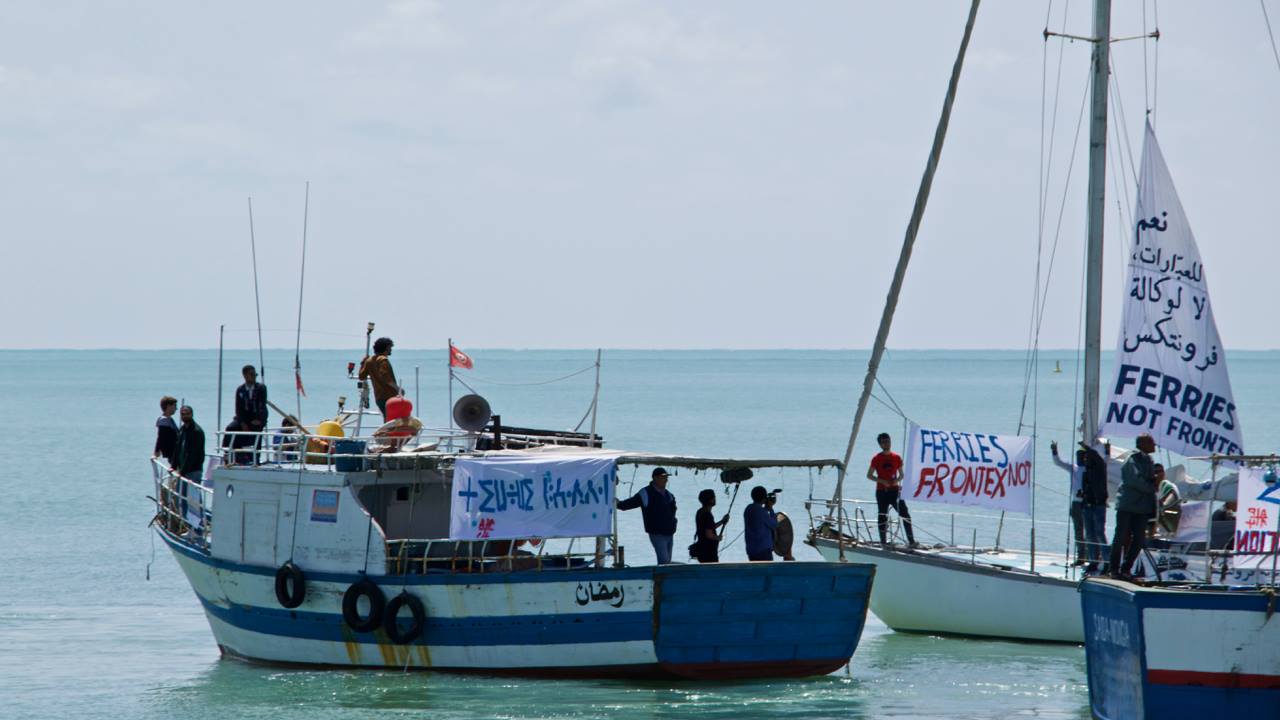 Photo: Alarm Phone
Eight years ago, on 11 October 2014, we launched the Alarm Phone, a hotline for people in distress at sea. We chose that day as it was the anniversary of a disaster that had occurred on 11 October 2013, when Italian and Maltese authorities delayed the rescue of a sinking boat. Due to this delay, over 200 people died.
Over the past eight years, our shift teams are available 24/7 and have assisted over 5.000 boats in distress along the different maritime routes to Europe – the Mediterranean Sea, the Atlantic to the Canary Islands, and since 2022 also across the Channel, from France to the UK. Some of the 5.000 boats carried only five or ten people, most between 30 and 80 individuals, but also frequently more than 100 people, occasionally even over 500 people on the move.
On the phone, we have become witnesses of thousands of people going missing and drowning. We have listened to some of their relatives and friends in their desperate search for their loved ones, in their search for answers. We have also witnessed violent pushbacks and deadly abandonment, and how many of those who called us were captured at sea and forcibly returned to places they had sought to escape.
At the same time, we have experienced innumerable moments of joy, resistance, and solidarity, with people reaching Europe alive or being rescued just in time. We have witnessed how people on the move organised collectively to subvert EU borders, and how they built support structures along their journeys. And we have been part of growing networks of solidarity, from the civil fleet and civil aircraft roaming seas and skies, some merchant vessel crews, to activist grassroots movements that have come together to counteract border violence.
In the Western Mediterranean, between Morocco and Spain, we can still see some instances of proactive rescue operations carried out by the Spanish Salvamento Maritimo, often along the route to the Canaries. However, Spain and the EU as a whole continue to fund Morocco to play Europe's gatekeeper and as a consequence, we have seen horrible border brutality in this region, as recently demonstrated near Melilla. On 24 June 2022, at least 40 people were killed in a racist massacre at the fence of the Spanish enclave – an unbearable scene of neo-colonial violence, carried out by Moroccan forces but underwritten by EU migration and border policies. They are among thousands who are estimated to lose their lives at Spain's borders every year, especially along the Atlantic route.
The war against people on the move is a daily reality also in the Aegean Sea and at the land border between Turkey and Greece. Both the Greek and Turkish governments use people on the move as pawns in their militaristic and nationalistic power plays. While Greek pushbacks have been going on for a long time, they became systematic from March 2020 on. Even people who have already stepped onto Greek islands are forced onto small life rafts and abandoned in Turkish waters. We have to call them what they are: instances of attempted murder. These border crimes are now routine in the Aegean Sea and in the Evros region. In March, the 5-year-old Maria was among those who have lost their lives due to this pushback regime.
In the Central Mediterranean, a pull- and push-back regime has been installed, not least through the collaboration between Frontex drones and EU airplanes with the so-called Libyan coastguards. As assets of the civil fleet are often present in this borderzone, many cases of non-assistance and interceptions could be countered, people rescued, and border crimes documented and publicly denounced. Nonetheless, the Central Mediterranean route remains one of the deadliest in the world, not least as EU member states continue to consciously abandon boats in distress in the most dangerous areas off the Libyan and Tunisian coasts.
An increasing number of those who survived sea crossings to the EU have to use flimsy boats once more when they try to reach the UK. Arrivals across the Channel have increased significantly over the past years. In light of this, we decided in 2022 to integrate the Channel route into the work of the Alarm Phone. Our WatchTheChannel team has carried out research and prepared a distress manual together with other local networks in France and the UK.
All maritime routes are, and remain, politically contested spaces. People on the move exercise their freedom of movement while we as the Alarm Phone network try to enact solidarity along the different routes. Migrant movements and the tenacity of people on the move remain the driving forces in the struggle against European and global apartheid regimes. Thousands of autonomous arrivals continue to challenge the sealing off and the externalising of EU borders. At the same time, self-organised struggles for the right to stay and against racist exploitation inside the EU continue. Relatives and friends of the missing and dead continue to organise CommemorActions to remember and search for their loved ones while protesting the border violence that disappeared or killed them.
We have fought for eight years.
We will continue.
We will never give up.
Alarm Phone
October 2022