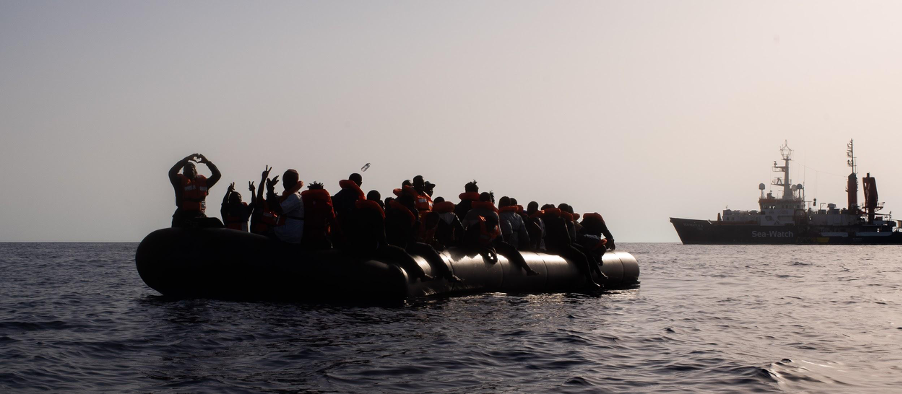 Photo: Chris Grodotzki/sea-watch.org
On 11 October 2020, the Alarm Phone turns six years old. Our network of over 200 activists who live on both sides of the Mediterranean Sea has assisted over 3,300 boats in distress in the three regions of the sea. Since October 2014, we keep this project running, without a break, 24/7. The perpetual violence of the border regime but especially the continuous struggles of people on the move have meant that we had to be alert day and night, ready to stand in solidarity with those trying to cross the sea.
We have received thousands of calls and messages, mostly from people in distress at sea, but also from their friends, partners, and relatives. Over the years, we have witnessed a violent backlash following the historic break-down of the European border regime in 2015. We have documented mass human rights violations, attacks on migrant boats by those formally there to rescue, push-backs by secret fleets or merchant vessels, as well as the interception of thousands back to the places they seek to escape from. We have received messages from those imprisoned in inhumane detention centres demanding their freedom and dignity. We had to listen to voices in agony shortly before they were silenced by the sea and those who have turned the sea into a graveyard.
Many of these voices and stories of suffering have stayed with us, even haunted many of our members. But still, we continue in our struggle, together. We continue because we do not accept that so many lives are ended and people forcibly disappeared in one of the best monitored seas of this world. We continue because people are still not given alternatives to taking precarious boats to find safety and freedom. We continue because European member states and institutions do what they can to criminalise migration and solidarity. Because they try to turn the Mediterranean Sea into a death-zone in order to deter those who still need to, and want to, cross.
How would the Mediterranean look today without the struggles of migration and solidarity that have materialised over the past years? How would it look without the tenacious movements of people who open new corridors through their will to escape? Without the creativity and endurance of the members of the civil fleet who return to the sea despite all attempts to block and criminalise them? Without the 'eyes of the Mediterranean' who resist being grounded and take off to the skies to find boats at risk of capsizing and who counter-monitor Europe's deterrence practices? How would the sea look today without the Alarm Phone hotline that has become part of the existing migratory underground railroad?
'Hello my friend' – that is often how we respond on the phone to those at risk of drowning. Over the past six years, we have made, but also lost, many friends. We promise that we will stay on the phone, day and night, to listen to you, wherever you are.
Our struggle in the Mediterranean Sea is a fight against violent borders, for the freedom of movement, for equal rights and global justice. With every Alarm Phone shift that we do on the phone, we remove a brick from a wall and add it to a bridge.
Alarm Phone, 11 October 2020