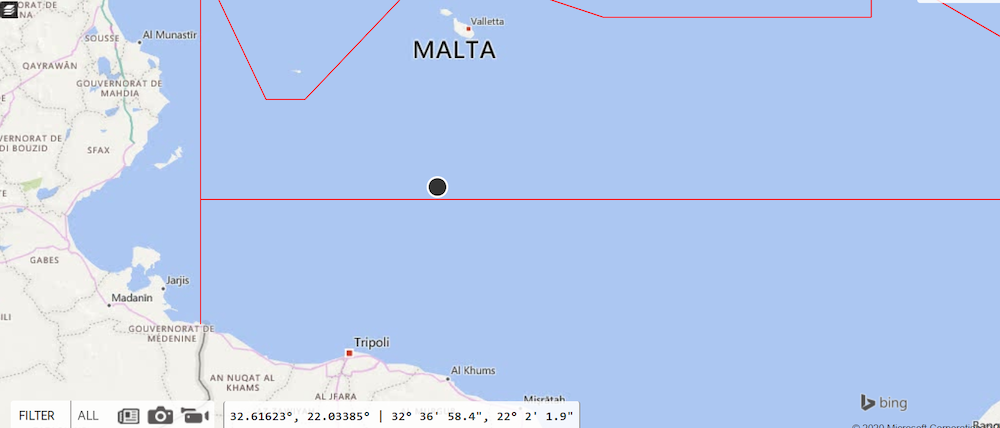 On Saturday, 14 March 2020, RCC Malta coordinated a push-back operation from the Maltese Search and Rescue (SAR) zone to Libya in cooperation with the EU border agency Frontex and the so-called Libyan coastguards.[1] Similar to the events we documented on 18 October 2019, the Maltese authorities instructed the so-called Libyan coastguards to enter a European SAR zone in order to abduct about 49 people and force them back to Libya.[2] Instead of complying with refugee and human rights conventions, the Maltese authorities coordinated a grave violation of international law and of the principle of non-refoulment, as the rescued must be disembarked in a safe harbour.[3] Clearly, Libya is not a safe harbour but a place of war and systemic human rights abuses. Every week, the Alarm Phone receives testimonies of torture, rape and other forms of violence against migrants detained in Libyan camps and prisons.
On the same day, we alerted the Armed Forces of Malta to a second boat in distress in the Maltese SAR zone with 112 people on board.[4] Before their eventual rescue, the people spent about 48 hours at sea. Malta delayed the rescue for more than 18 hours, putting 112 lives at severe risk. Non-assistance, delays, and pushbacks are becoming the norm in the Central Mediterranean, causing trauma in survivors, disappearances and deaths, both at sea and in Libya.
Europe continues to delegate border enforcement to the Libyan authorities to evade their responsibility to rescue the distressed to Europe. We hold Europe accountable for the abuses and suffering inflicted on migrants at sea and in Libya. We condemn the role of European institutions and member states, including Malta and Italy, in these human rights violations through bilateral agreements as well as the financing, equipping, and training of the so-called Libyan coastguards.
Summary of the push-back by proxy case:
On Saturday 14 March 2020, at 15:33h CET, the Alarm Phone received a distress call from 49 people, including one pregnant woman and three children, who were trying to escape from the war in Libya. They had left Tripoli the evening before on a white fiberglass boat. They shared their GPS position with us, which clearly showed them within the Maltese SAR zone (34° 26′ 39 " N, 14° 07′ 86″ E, at 15:33h). The people on board told us that they had lost their engine and that water was entering the boat. We immediately informed RCC Malta and the Italian coastguard via email. We received updated GPS positions from the people in distress at 16:22h (34° 26 81′ N, 014° 08′ 56″ E) and  at 17:07h (N 34° 27′ 12″, E 014° 09′ 37″), both confirming once more that they were drifting within the Maltese SAR zone.
At 17:42h, RCC Malta confirmed via phone that they had sent two patrol boats for the two SAR events in the Maltese SAR zone to which we had alerted them: one for the boat of 49 people and another one for the rubber boat with 112 people on board. Soon after, at 17:45h, we talked to the 49 people on the boat who told us that they could see a boat heading in their direction. Unfortunately, the conversation broke off and we were not able to clarify further details. This was our last contact to the people in distress after which we could not reach them any longer. Since then, we have tried to obtain further details from RCC Malta, but they claim to not have any information.
However, confidential sources have informed us that a Frontex aerial asset had spotted the migrant boat already at 6:00h when it was still in the contested Libyan SAR zone. At 18.04h, the Libyan coastguard vessel Ras Al Jadar intercepted the boat in the Maltese SAR zone at the position N34° 26', E 14° 07'. This means that the European border agency Frontex, MRCC Rome as well as RCC Malta were all aware of this boat in distress and colluded with the Libyan authorities to enter Maltese SAR and intercept the migrant boat.
On Sunday 15 March 2020, at 7:00h, we were called by relatives of the people on board who told us that the people in distress had just informed them that they had been abducted by a Libyan vessel from within the Maltese SAR zone and returned to Libya, where, according to their testimonies, they were imprisoned and battered. In the afternoon, we were called by the people who were on the boat, and they testified that before the push-back occurred they saw a helicopter circling above them. About 30 minutes later, according to their testimonies, a vessel of the so-called Libyan coastguard arrived on scene. The people stated that the Libyan officers behaved brutally toward them, beating them repeatedly. They also stated that they were prevented from filming and documenting these abuses as their phones were confiscated. Moreover, the people reported that they had travelled together with another boat, a white rubber boat with around 60 people on board (including 7 women and 1 woman with a nine-month-old infant). Also this second boat[5] was intercepted and returned to Libya and its passengers experienced similar forms of violence and abuse.
Further evidence of the events can be requested via: media@alarmphone.org
___
[1] https://twitter.com/alarm_phone/status/1238850047758008320
[2] https://alarmphone.org/en/2019/10/23/back-to-the-libyan-warzone/
[3] Violation of SAR conventions as well as Art. 3 of the European Convention of Human Rights and Art. 33 of The Convention relating to the International Status of Refugees.
[4] https://twitter.com/alarm_phone/status/1238707826857594880
[5] https://twitter.com/AngiKappa/status/1238850559026900996?s=20