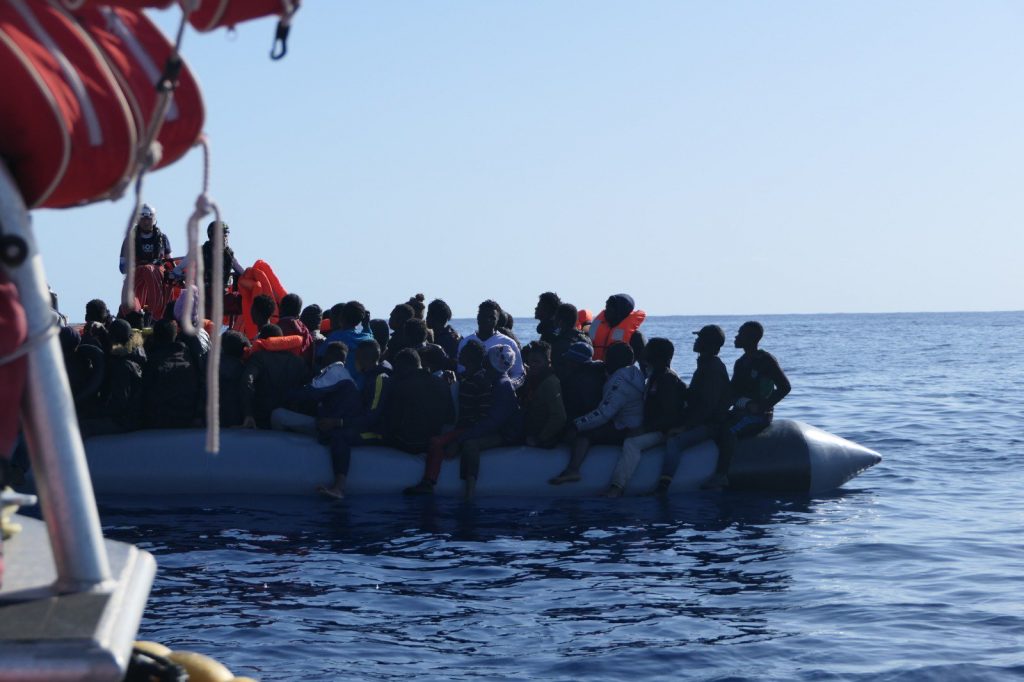 The Ocean Viking rescues one of the boats that had called the Alarm Phone. Source: MSF
Over just four days last week, 19-22 November, the Alarm Phone was alerted to 13 boats escaping from Libya, carrying about 730 people. Of those who called us, around 420 people were rescued to Europe, 287 by NGO vessels[1] and 133 by the Maltese coastguards, and about 190 people were intercepted by the so-called Libyan coastguards and forced back to Libya. One boat with about 25 people returned independently to Libya. For one boat with 94 people on board, we cannot account – we do not know what happened to them. Apart from these 13 boats that reached out to the Alarm Phone, we know of several other boats that were intercepted by Libyan forces with hundreds of people on board and we know of approximately 182 people who arrived in Italy autonomously. We can thus assume that overall about 1,500 people were trying to flee from Libya over four days in November.
The boat that reached out to the Alarm Phone on the 21st of November, and that cannot be accounted for, carried 94 people, including 13 women and several children. The people on board told us that the tubes of their rubber dinghy were deflating before our contact to them broke down. Since then, we have not heard of them. Two NGO vessels were searching for them the whole night, without success. Authorities in Malta and Italy were informed but they refused to coordinate a rescue operation. This boat does not match any of the boats intercepted by the so-called Libyan coastguards and we fear that yet another shipwreck might have occurred that will remain invisible.
On the same day, the 21st of November, a fisherman in Libya informed us about another boat that had left Libya on the 20th of November and which had not reached out to the Alarm Phone. There were about 100 people on board. The fisherman witnessed and convincingly testified that he and his colleagues rescued as many people as they could – about 30 people – but came too late for about 70 others who drowned. The fishermen tried to inform the Libyan authorities but they were not reachable. One of the fishermen has repeatedly spoken to the Alarm Phone but is too scared to release further evidence because of potential repression by the Libyan militias. Authorities, international organisations, and the media refuse to account for this shipwreck, although it is now confirmed that at least 6 bodies were found on the shore of Al Khoms in Libya.
These deaths at sea are kept invisible. European authorities are heavily monitoring the area off the Libyan shores in order to coordinate mass interceptions back to Libya. Yet, the fate of several boats is unknown and we will probably never get answers as nobody is searching for those who are missing. European authorities, often portraying themselves as humanitarian actors, refuse to take part in rescue operations and simply surveille the Mediterranean from the air. Their only aim is to enable illegal push-backs by proxy, forcing thousands back to the Libyan warzone.
Collective Resistance by Migrants, AP and the Civil Fleet
That 1,500 people are seeking to escape Libya in four days in November highlights that migration continues through the winter months where attempting the crossing is even more dangerous. In addition to the shipwrecks off Libya, 20 people drowned on November 24 with the coast of Lampedusa in sight. This shows that people are risking everything to escape the inhumane conditions in Libya. The Mediterranean remains one of the deadliest borders in the world. People should not have to risk their lives at sea to find a place of protection.
365 of those fleeing Libya over the past week were rescued by the Search and Rescue NGOs. What would have happened if they had not been there? Further mass deaths and illegal pull-backs to the Libyan warzone and back into torture camps. These deaths are not accidents and could be prevented. European authorities, however, continue to finance and strengthen their collaborations with Libyan militias, while criminalising the only actors that attempt to support people in reaching a place of safety, confiscating their ships and obstructing their operations.
We will continue in our everyday struggles to support migrants crossing the Mediterranean. We will not cease to call for a radical shift in migration policies. We demand:
Safe migration routes and the end of border violence!
The immediate release of NGO boats – stop the criminalisation of rescuers!
The end of European deals with Libyan militias!
The end to illegal refoulement through European aerial surveillance!
Safe passage and freedom of movement for everyone!
WatchTheMed Alarm Phone
Footnote:
[1] In addition, 78 people, who had not reached out to Alarm Phone, were rescued by the Search and Rescue NGO Aita Mari.